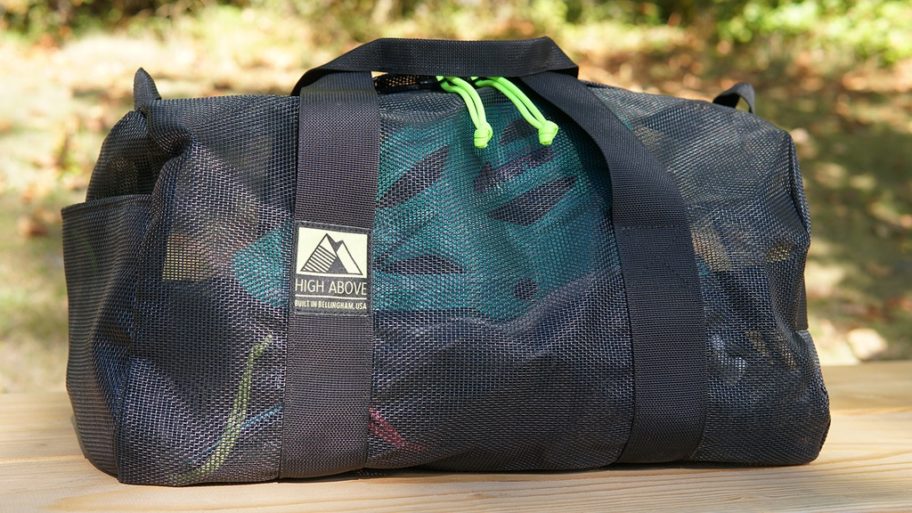 Simple, yet refined, the open mesh Lost Lake Duffel is the everything bag that you've always needed but, until now, never existed. It's the answer to dealing with smelly, wet bike, running and climbing gear.
High Above Designs aren't just interested in making just another bag. Their past successes of hip packs demonstrate their commitment to making superior quality products that are highly functional. The Lost Lake Duffel is no exception. When they set out to create this bag, they considered all of their favorite products and what they liked about them. Simplicity, durability, and quality manufacturing are at the top of their list.
Thoughts => What a great idea, a nice sturdy open mesh duffel bag to take care of your recreational gear, in two sizes and two colors. The simple set up with the mesh design allows you to see the contents, and it provides plenty of ventilation for wet and smelly items. It's constructed with the Phifertex material for a rugged bag that won't tear or fall apart, even after being in the sun.
They just launched a Kickstarter campaign for The Lost Lake Duffel Bag, and they need your help to get the product created. If you've used any of the High Above products, you know the integrity and crafts that they put into their work.
The Lost Lake duffel is intended to be the bag that you use every day. Whether hauling sweaty gear from the gym, packing for the kid's soccer game, or stuffing it full of all of your camping supplies, it's the one bag you'll reach for every time. While its overall goal is similar to that of other bags – to get your gear where it needs to go – we think the Lost Lake Duffel is an even better option.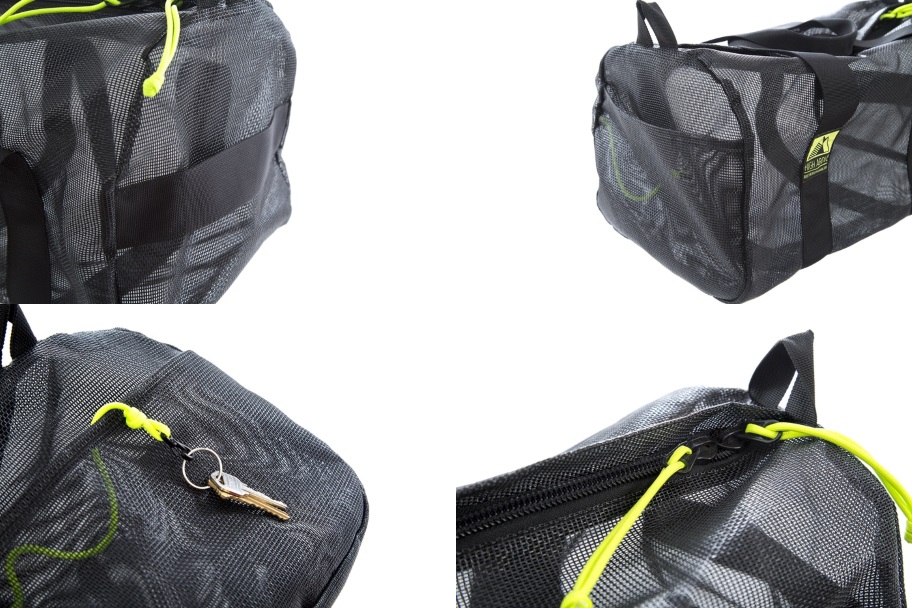 Here's why:
Versatile: The Lost Lake Duffel is our go-to bag for camping/hiking, climbing, cycling, paddling, running, skiing/snowboarding, yoga, travel and kids' gear.
Durable: Made with a unique material called Phifertex®, the Lost Lake Duffel is extremely durable and UV stable. The fabric will never degrade in quality from sitting in the sun. It won't snag, tear, or fade. Ever.
Antimicrobial: Phifertex is a waffle-like mesh that is infused with Microban antimicrobial technology, helping alleviate odors from sweaty, wet gear. While letting air cycle through the bag prevents odors, it also lets loose dirt fall to the ground, so you're not carrying around part of the beach when you pack up your towel.
Easy-Access: The mesh makes it easy to see through the bag to find exactly what you're looking for, making sure your gear doesn't get lost in a dark duffel abyss.
Packs Small: When not in use the bag packs down very small for easy storage.
US Made Zipper: The zippers are #10 YKK- the highest quality zippers on the market, and also made in the USA.
MIL-Spec Webbing: The webbing is military grade nylon, ensuring durability throughout all of your adventures.
Quality Us Manufacturing: We focused on simplicity with design, and left out unnecessary frills, meaning the money you spend goes towards the highest quality materials and manufacturing available. The bags will be made in our home state of Washington so we can stay involved in the process to ensure quality and consistency.
They're creating the Lost Lake Duffel in two sizes: small (~22 Liters) and large (~46 Liters) and two colors (red and black). They've found practical uses for the bags (wet mountain biking gear, beach/picnic supplies, climbing equipment, kids toy storage, gym bag, dog toys, a travel bag to name a few), but the possibilities are limitless. We are like you: busy shuffling between life, adventure, and work. They understand how a simple product can redefine a category and become the one item you simply can't leave home without. They hope you'll support us in our journey to make the most practical duffel bag ever designed for your lifestyle.