These are a few of my favorite things that I keep using this season, including the hand-friendly SQlab 411 Innerbarends, the comfy and protective POC Joint VPD System knee pads, the functional Wolf Tooth B-RAD System mounting system. Along with the useful Dakine Hot Laps Gripper Bag tool bag, the hand isolating Revolution Suspension Grips, the small MSR TrailShot Filter, the gorgeous K-Edge 1x Chain Guide and innovative WristReader reading glasses.
SQlab 411 Innerbarends 
The Innerbarends are highly functional, and the hand and arm relief and hand position alternatives they provide are much appreciated. 
Their Innerbarends or 'Inwards mounted bar ends' are innovative and unique and were designed to be positioned inwards of the grips. The Innerbarends are made from fiber reinforced plastic, have a single clamp bolt design and weigh 102 grams for the pair and retail for $44.99. By moving your hands inwards, your elbows get positioned into the torso, and your upper body gets stretched mildly forward for improved ergonomics and biomechanical advantage and decreased hand fatigue. The relaxed elbow and natural hand position provide relief for the muscles in the arms, shoulders, back, and hands. Bar grips help alleviate stress by giving multiple hand positions on the handlebars and by just offering the ability to move things around while riding.
For further information refer to sq-lab.com and 411 Innerbarends Review.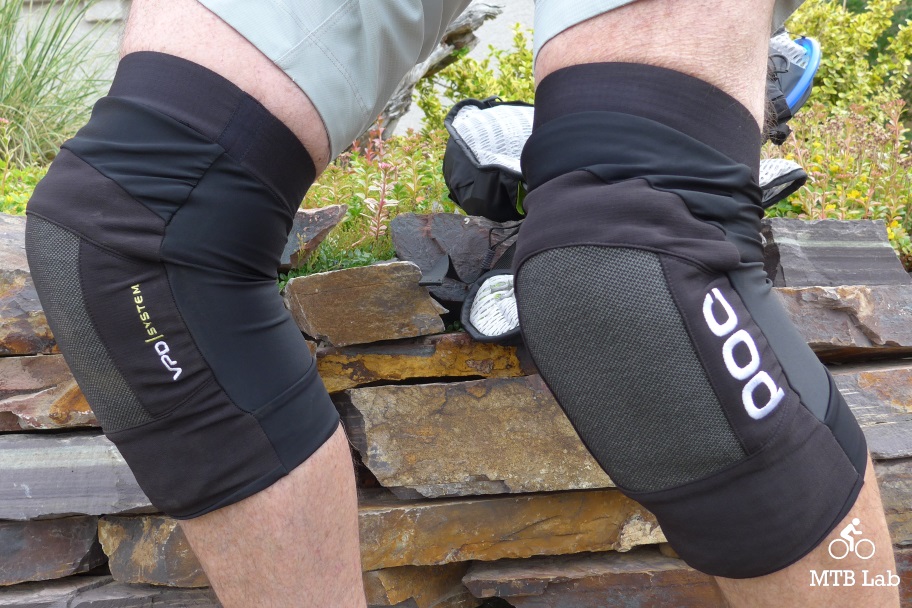 POC Sports Joint VPD System
The POC VPD System Knee is an excellent lightweight, soft armor product, and the shock absorbing VPD material with its wraparound pre-bent molding, the overbuilt construction, abrasion resistant front, rugged stitching, and materials; all make for a durable, extremely comfortable and safe armor product. Highly recommended and my new favorite piece of armor!
The VPD System features a highly efficient ventilation system and an outer fabric which recommenced with high-tenacity polyamide yarns for low friction and high abrasion resistance. The VPD material wraps around the rider's knee and elbow when warm and offers excellent freedom of movement on the bike. The VPD or Visco-Elastic Polymer Dough is a lightweight, flexible and moldable material that hardens upon impact for better protection and shock absorption all of which help to minimize injury. As with all of POC products, the superb soft armor had the excellent build quality and stitching and durability and was designed with the utmost in safety. The Knee retails for $150 and the Elbow for $120, and they come in XS, S, M, L and XL sizes.
For additional information refer to pocsports.com and Impressions – Joint VPD System.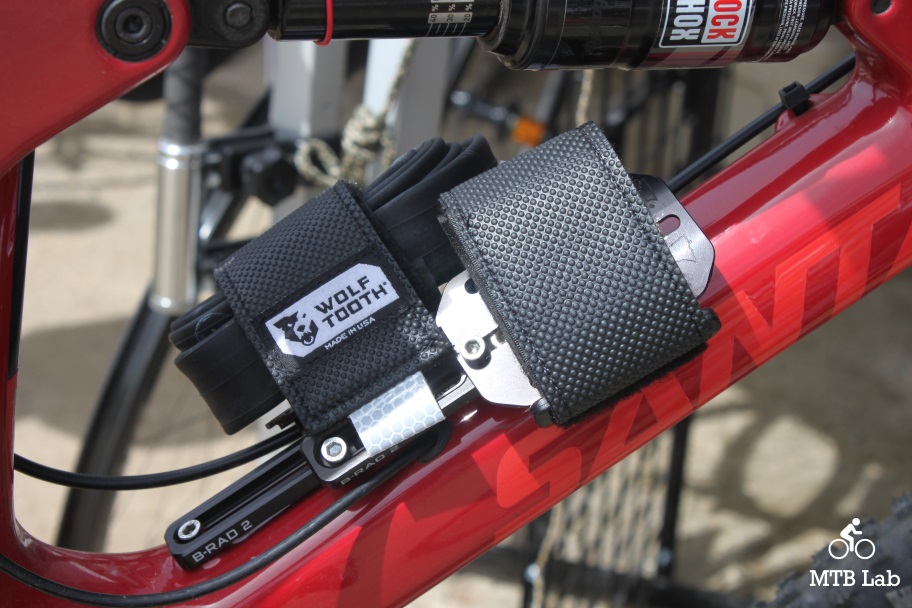 Wolf Tooth B-RAD System
Wolf Tooth is always creating innovative and highly functional components of your bike, and the B-RAD system is hugely trick. It is comprised of a mounting base of various lengths, and you can then optionally add other parts such as a Double Bottle Adapter, the new Half Bottle Adapter and a Strap and Accessory Mount. I liked the Strap which allows you to attach a spare tube to your bike for emergencies. You can mix and match the optional parts to create all sorts of mounting and setup scenarios.
The B-RAD system begins with a series of slotted Mounting Bases. Available in three sizes (B-RAD 2, B-RAD 3, B-RAD 4), B-RAD bases can shift a bottle cage away from inconvenient rear shocks, add room for tools or tubes below a bottle cage, or even provide space for a second bottle on sufficiently-long downtubes. Next, you can mount various B-RAD accessories to your B-RAD base or bases. The B-RAD accessories improve or optimize bottle cage locations, add water/tool/spare parts capacity, and there are many more accessories coming in the future. The Half Bottle Adapter moves the bottle over about half a bottle radius to make the bottle easier to access. Additionally, the B-RAD Mini Strap and Accessory Mount can be mounted to the side of the bottle for more on-the-bike storage, or you can just attach two Mini Strap and Accessory Mounts for maximizing storage.
B-RAD Mounting Bases from $17.95 – Version: B-RAD 2, B-RAD 3, B-RAD 4
B-RAD Double Bottle Adapter $23.95
B-RAD Strap and Accessory Mount $29.95
B-RAD Half Bottle Adapter $23.95
B-RAD Half Bottle Adapter with DogBone $27.95
B-RAD Mini Strap and Accessory Mount $24.95
For further information refer to wolftoothcomponents.com and B-RAD System and Interbike 2017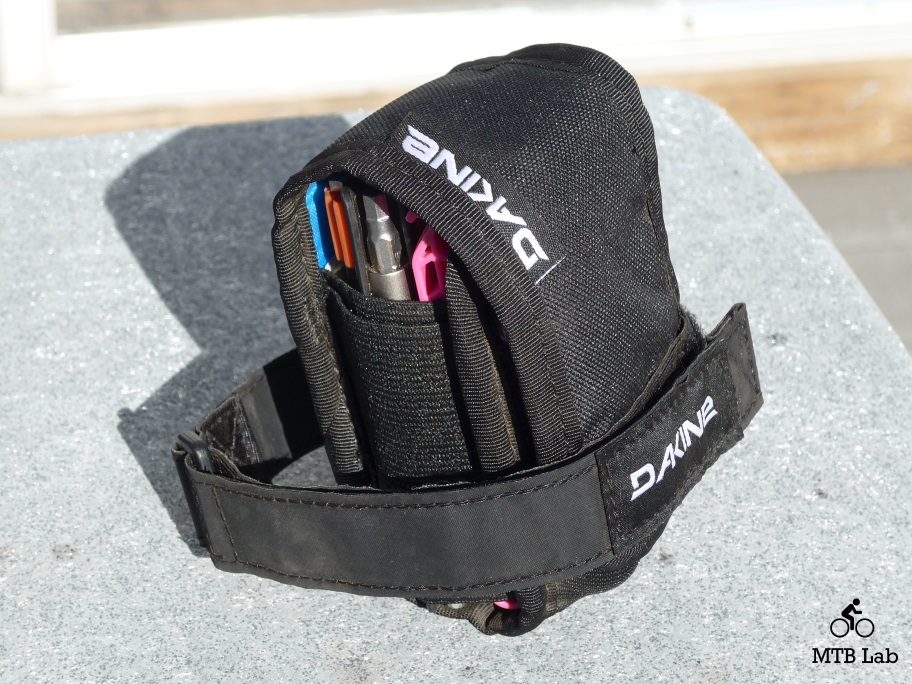 Dakine Hot Laps Gripper Bag
The Dakine Hot Laps Gripper Bag (MSRP $22) is a useful addition to any bike, providing extra storage for tools and tire maintenance items, and can be used for minimalist rides or to lighten the load and space within a hydration pack, which is especially handy when using hip and smaller bags.
The Gripper Bag adds additional storage space for items used only during bike maintenance, repairs, adjustments and emergency's, meaning for stuff that will hopefully be rarely needed. It will fit on most bikes, whether it's on the seat tube, down tube or top tube, all dependent on the frame geometry and shock layout. If needed it can also be attached to the saddle, though that sometimes isn't ideal for long travel suspension bikes.
For additional information refer to dakine.com and Hot Laps Gripper Review.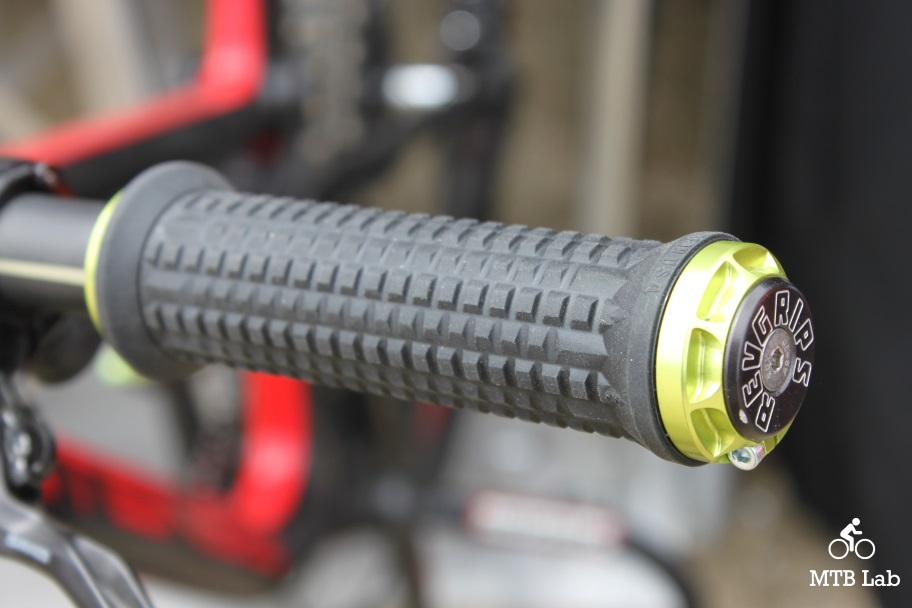 Revolution Suspension Grips
The Revolution Suspension Grips is an innovative system that isolates your hand's and upper body from the shock and vibration propagated through the handlebars from the trail, and this design helps decrease fatigue, repetitive injury and arm pump. The system features a two-collar lock-on configuration, an inner plastic sleeve which is 1/8-inch larger than the handlebar and floats within the shock absorbing inserts or dampers in the collars, and finally a nubbed rubber grip. The lock-on system doesn't allow the grips to spin entirely and when used in person you can feel the minute amount of circumferential rotation, which is only 3-4mm of movement.
It comes in two versions, the tuneable Pro Series Shock Absorbing Grip System for $89.95 which I tested and the fixed Race Series Shock Absorbing Grip System for $59.95. The Pro version comes with tuning washers that provide an adjustable feel from firm to soft, and it comes in various grip and lock-on clamp color options. The fixed tuned Race version offers a medium-soft feel, comes in a Black only color option. Both versions come in three grip diameters, Small (31mm), Medium (32.5mm) and Large (34mm).
The Pro Series at $89.95 for a set of grips makes them quite expensive, but the added benefits for tuning, decreased fatigue, impact absorption, injury prevention, comfort, greater control, more than makes up for the pricing deficit. I am now spoiled after using these for several months, and I am not sure if I could ever go back to using standard grips.
The grips are available through local bike shops as well as online through www.revgrips.com and Revolution Suspension Grips Review.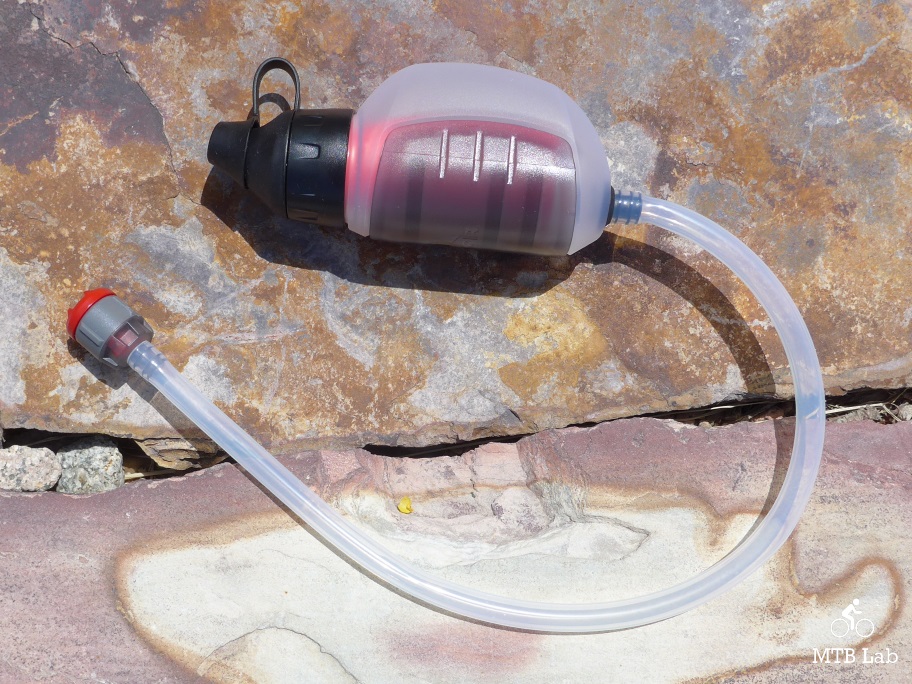 MSR TrailShot Filter
Clean water all day—without the weight. That's the advantage the TrailShot Microfilter provides. It's designed to hide in stash pockets and deploy quickly, and this small water filter lets you drink directly from sources along the trail for instant hydration, and fill your vessels with clean water. Easy one-handed operation filters one liter in a mere 60 seconds, so you can get back on the trail quickly and moving again. At just 142 g (5 oz.), the TrailShot water filter is the ultimate filter for fast-paced, high-mileage adventurers, like trail runners, hikers, fast-packers and mountain bikers.
The TrailShot Microfilter doesn't weigh very much so I found it handy to just toss in my pack for grabbing water when I knew ahead of time that sources would be available. It was easy to use, just drop the prefilter in the water, pop off the main filter top, squeeze the pump ten times and start drinking or fill a water bottle or hydration pack. Simple! When you're done, just pump the last water into your mouth and stash the filter back in your bag. This will be a great item for just about any biker or hiker and will the cats meow for bikepacking.
Tested – Meets U.S. EPA drinking water standards* and NSF Protocol P231 for removal of bacteria (99.9999%), protozoa (99.9%), and particulates.
Pocket-Sized & Light – Like small water bottles, energy chews, mini bike pumps, and tubes, this 142 g (5 oz.) filter disappears in stash pockets.
Instant Hydration – Drink directly from the source—without lying in the dirt—and refill your bottles or hydration reservoir with clean water.
Quick-Deploy – Zero set-up and simple one-handed operation fill 1-liter bottles in 60 seconds.
Simple to Clean – A few shakes help restore flow rates in the field; no tools required.
For more information, visit www.msrgear.com and Just In: MSR TrailShot Filter.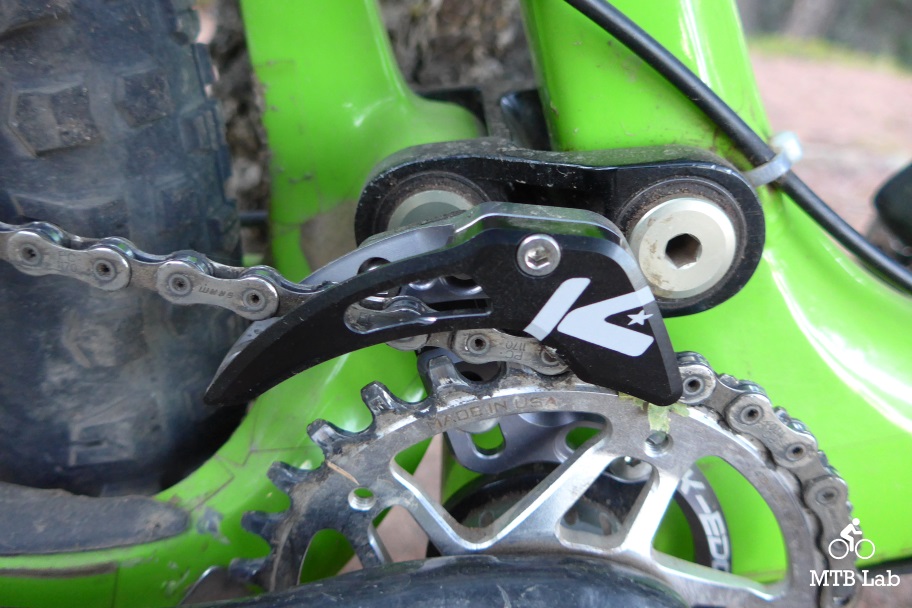 K-Edge 1x Chain Guide
The full-cage design works under abusive conditions and keeps the chain from popping off the chainring or getting sucked. The guide is fully adjustable for height, center-line, and angle and was optimized for 10, 11 and 12-speed drivetrain systems. Its CNC machined from 6061-T6 Aluminum uses stainless steel hardware and has no plastic parts (love that). It works with 28T to 34T chainrings and is made in Boise Idaho and comes with a Lifetime Guarantee against material or manufacturer defects. The chain guide is a work of art and how everything fits together and adjusts is sublime. I was much intrigued that they didn't use plastic in the design, which is usually a place that prematurely fails on most chain guides on the market.
This well-engineered chain guide has proven itself to be brutally durable and well made, and after the initial install and some minor tweaks on the first ride it hasn't moved out of place and has offered rock solid stability.
For further information refer to k-edge.com and Impressions: K-Edge 1x Chain Guide.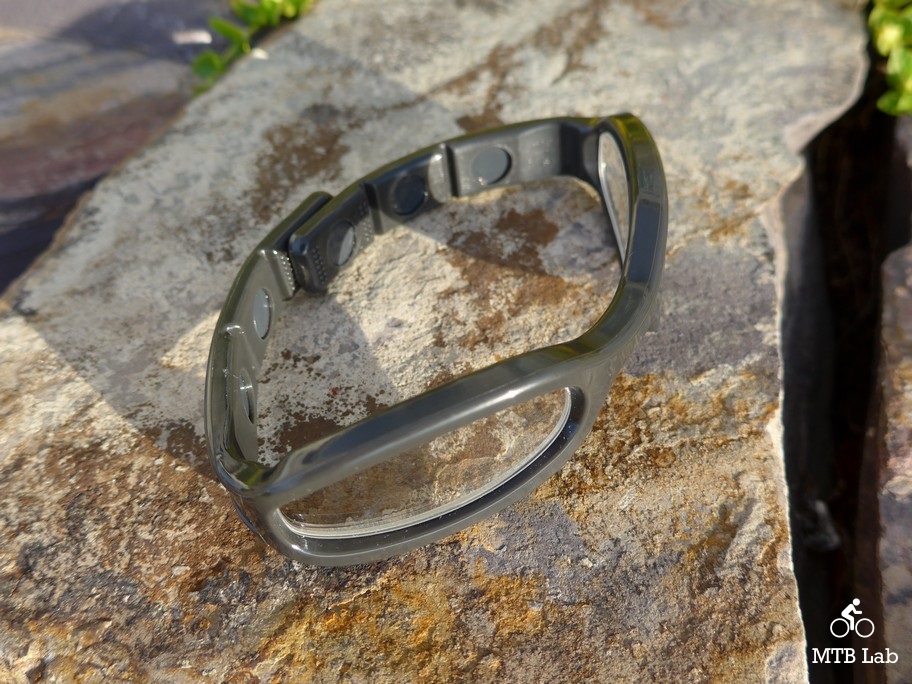 WristReader
Off the Cuff Optics' WristReader is a revolutionary, new reading bracelet which enables you to keep your reading glasses conveniently, comfortably and stylishly on your wrist, close at hand, all day long. The soft, flexible frame has no temple hinges, no nose clips or pads, no traditional temple arms and no earpieces that reach all the way around the ears. Instead, WristReader's frame is one continuous form with ends that terminate at your temples, exerting just the right amount of pressure required to sufficiently and comfortably stay in place across your face.
When you don't need them for reading, just wrap and snap them around your wrist, (or purse strap, backpack or briefcase), and they're quickly secured with our unique + proprietary magnetic clasping system providing a choice of 3 sizes. The lenses are polycarbonate, optical-quality, custom beveled lenses with a scratch-resistant coating, and are currently available in +1.50, +2.00 and +2.50 magnification powers. Wristreaders fit small, medium and large wrists up to 7.5 inches in circumference, come in Amber, Aquamarine, Graphite, Hot Pink, Key Lime Green and Sienna Orange and retail for $49.
They quickly wrap around your wrist or attach to a hydration pack. The WristReaders are sturdy and small so you can stick them in their soft stuff sack and place them inside your bag and bring them with you on a bike ride until they're needed for reading or maintenance/repair work. Plenty of us are moving on in age, and it's getting harder to read things or for us hardcore people, it's working on small bike parts on the trail for repairs and maintenance. I think the wrist readers would be ideal for biking, hiking, outdoor concerts, etc. It took me a few times to find the proper spot for my face to use the Wristreaders comfortably, but once there they worked just fine. I wouldn't naturally use them for reading a novel, but for the short-term use they're more than adequate, and it's nice always to have something you can use to read the small print and work on bike parts handily around.
For further information refer to wrist-readers.com.