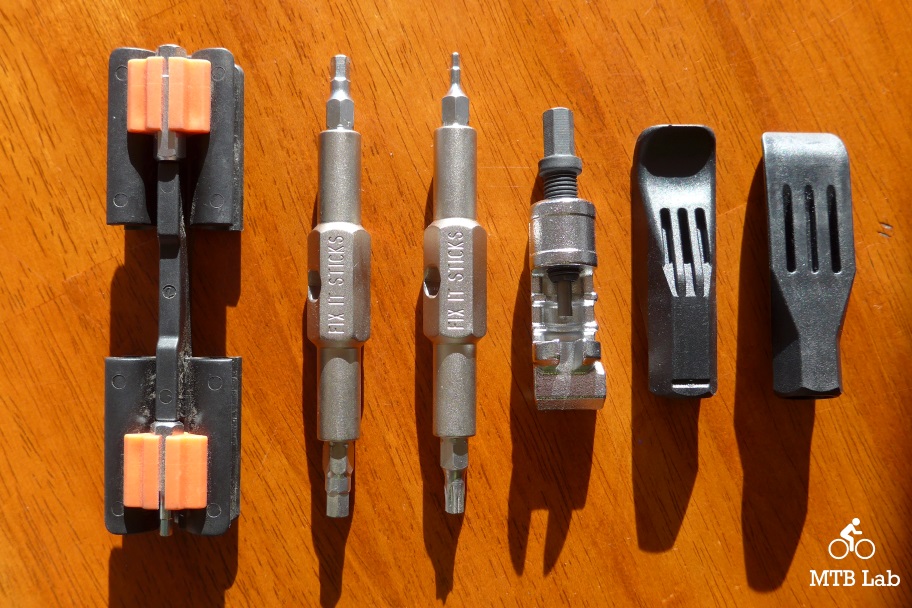 Fix It Sticks
Fix It Sticks has several new tools and accessories including kits for Mountain Bikers and Commuters. They have the trick Chain Breaker, Tire Levers, and a 15mm Wrench, all of which interface with their innovative and highly functional Fix It Stick tool. For organizational purposes, they have the Replaceables Clip that can hold eight bits, and two Replaceables Fix It Sticks. The mountain bike kits include a carrying bag, and two Replaceables Fix It Sticks tools, a chain breaker, eight bits, two tire levers and a Replaceables Clip.
Thoughts =>  The Replaceable Fix It Sticks tool was extremely versatile with its magnetized bit system, and I appreciated that the Fix It Sticks are customizable so I could choose almost any combination of the four bits on the tools ends to match my requirements. When using the clip it was relatively easy to extract the extra bits from their orange rubber holders for swap outs, and the plastic main body held everything securely together. The chain breaker was simple to use, and the rivet popped out with minimal effort, significantly due to the leverage you can apply via the t-handle design of the tools. The tire levers offer plenty of leverage and strength and aren't like the typical flexy levers you usually carry and find in your bike store. 
For further information refer to fixitsticks.com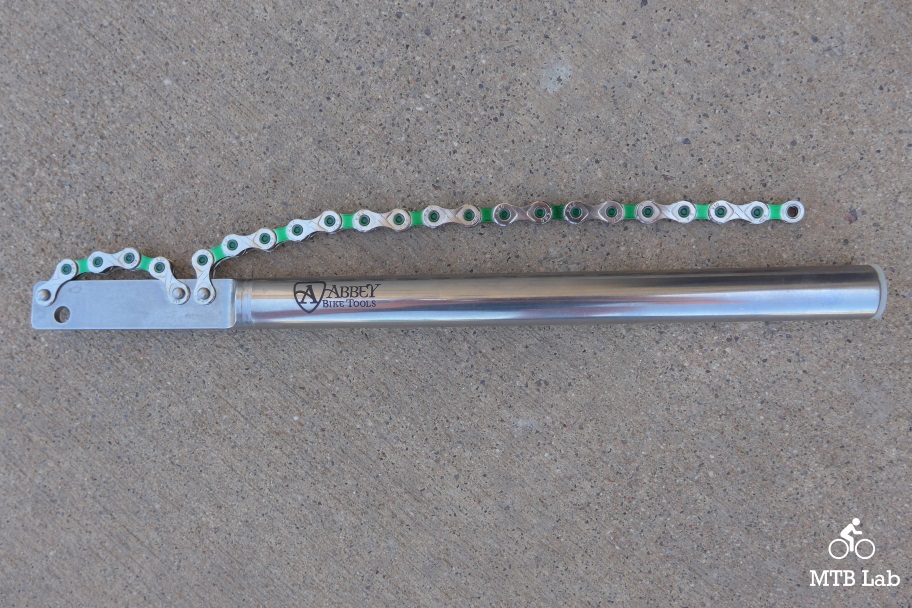 Abbey Tools Chain Whip
A chain whip is a pretty simple tool, but the Whip-It maximizes function and simplicity. The Whip-It is made from a 12″ length of stainless steel to give you enough leverage to loosen even the most stubborn cassettes, and the round handle provides comfort surpassing other flat bar style chain whips on the market. The icing on the cake is that Abbey's signature tool, the Crombie, stores inside the handle of the Whip-It! This means the two tools you use together, get stored together, and travel together, giving you less clutter in your toolbox. The $45 Whip-It comes in two versions, one for single-sided Crombie tools that use a 3/8″ handle and one for the 1/2″ handle of the dual-sided and team issue Crombie tools.
Thoughts => The 12-inch stainless steel handle feels nice in the hands, and the long KMC chain worked well on all of my mountain bike cassettes, and there is a small hole on the top to hang the tool in my shop. The length of the handle provided plenty of leverage to remove stubborn and stuck cassettes, and I never felt like I had to overpower things. Like all of their tools, the Whip-It has a beautiful polished finish, and the welds and rivets holding the chain are beefy.
For further information refer to abbeybiketools.com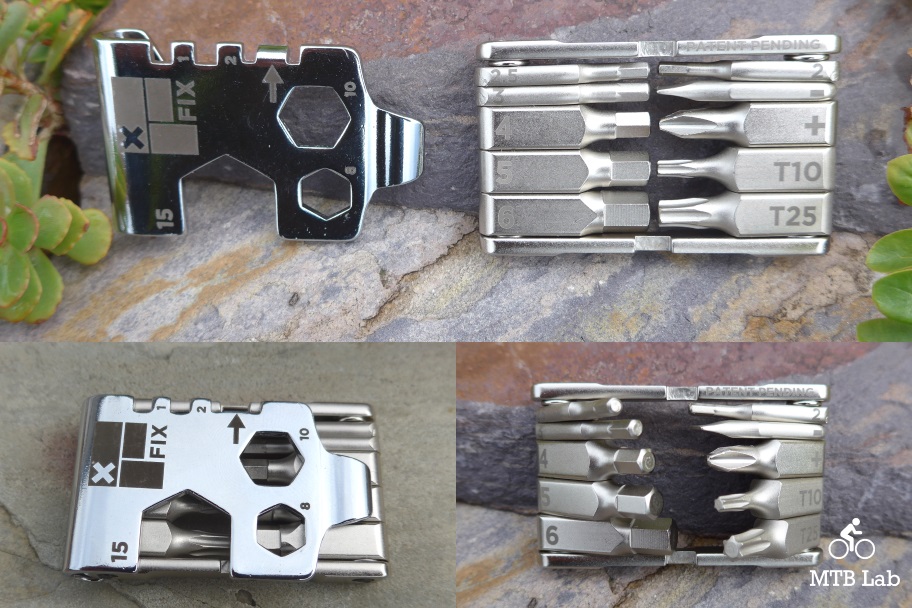 FIX Manufacturing The Wheelie Wrench
Tired of carrying bulky tools? The $30 Wheelie Wrench has 17 essential tools in a compact and easy to carry package. At just a tad more significant than a matchbox it can comfortably fit into the coin pocket of most denim pants.
Thoughts => The Wheel Wrench provides a small footprint which makes it easy to stash in a pocket or pack for on the trail bike repairs and maintenance. Outside of a chain breaker, it contains all the typically needed tool for bicycle maintenance.
2mm thru 6mm hex bits (including 2.5mm
T10 and T25 Torx bits
#2 Phillips screwdriver
Slotted screwdriver
Tire lever
8mm box wrench
10mm box wrench
15mm open ended wrench
Spoke wrenches
For further information refer to FIX Mfg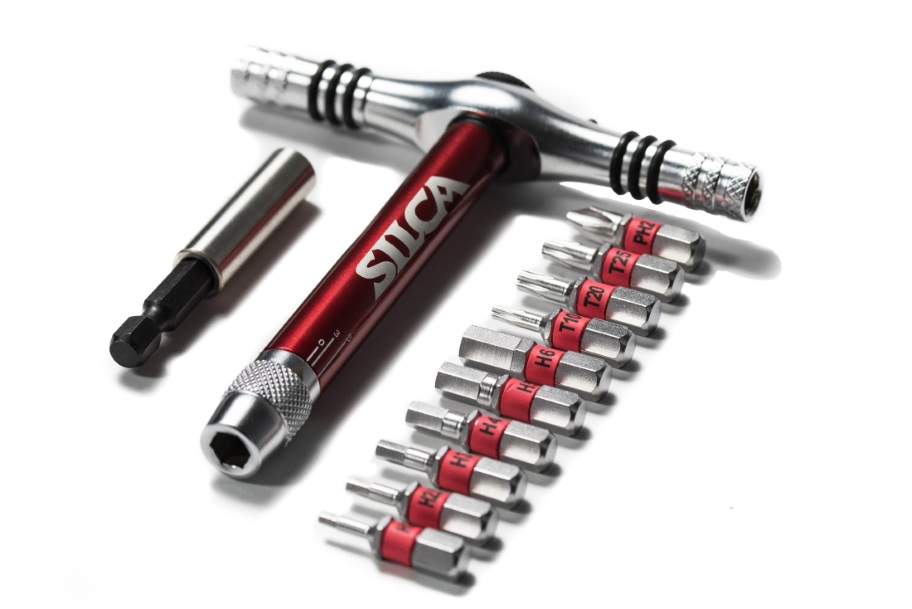 SILCA T-Ratchet + Ti-Torque
At SILCA, innovation is always an ongoing and self-determined process, so they're releasing an upgraded version of their gorgeous T-Ratchet + Ti-Torque multitools. They're built with a combination of titanium and lightweight materials, and the detailed craftsmanship aligns with SILCA's beautifully designed work of art and highly functional tools. This device allows you to quickly and accurately adjust and tighten the high-end components on your bike to an exact torque spec without fear of damage.
Ti-Torque Beam for Measuring 2-8Nm
72 tooth ratchet with convertible magnetic extensions
Fully magnetic components
Steel bit extender
Hex bits (2mm, 2.5mm, 3mm, 4mm, 5mm, 6mm)
Torx bits (T10, T20, T25)
2mm Phillips bit
Duck waxed canvas carrying case (120mm x 70mm x 30mm)
Titanium and Aluminum construction
MSRP – $99
For further information refer to silca.cc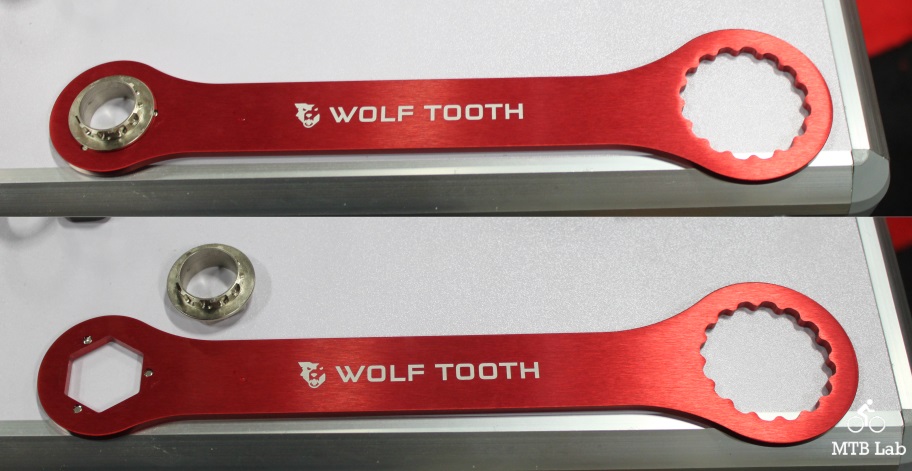 Wolf Tooth Components Pack Tools
Ultralight 1 Inch Hex & Bottom Bracket Wrench
Wolf Tooth created the "Pack Tools" suite of lean and light portable tools that are meant for traveling, road tripping, races, etc., anywhere that weigh conscious is paramount. This ultralight wrench features a 1-inch hex at one end and a 16 notch 44 mm bottom bracket tool on the other. The 1-inch hex end features magnets that quickly couple it to useful steel tools like our Ultralight Sockets. It's manufactured with 7075-T6 Aluminum, weighs 88 grams and retails for $32.95.

Ultralight Chainwhip
This lightweight chainwhip is strong enough to be your go-to chainwhip but light enough that you won't need to leave it at home when on the move. Manufactured out of  775-T6 Aluminum, weighing 170 grams and retailing for $44.95.
For further information refer to wolftoothcomponents.com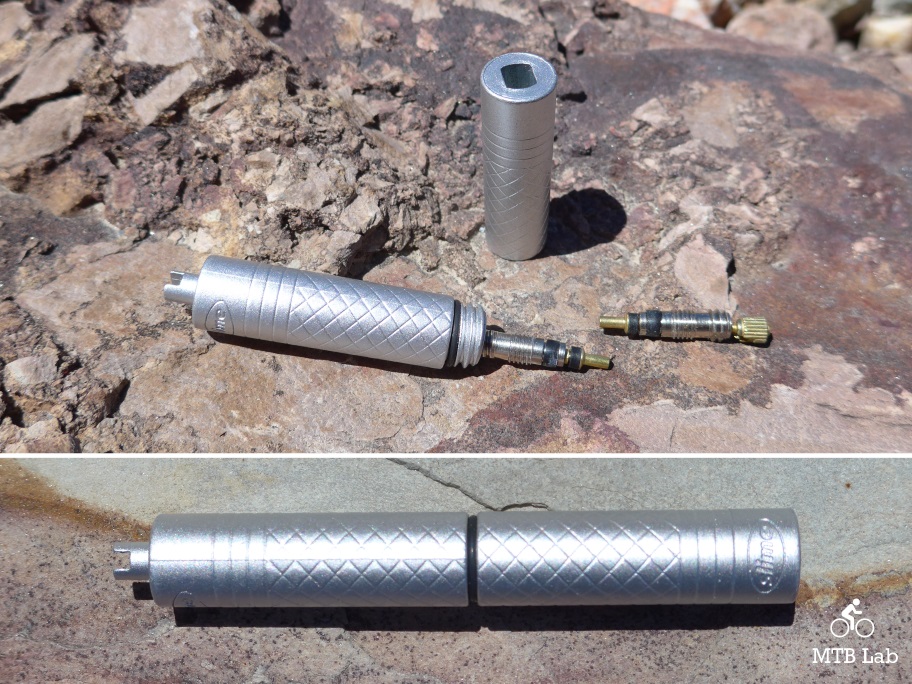 STR Presta/Schrader Valve Core Tool
With a Schrader core remover on one end and a Presta remover on the other, you can't go wrong with this zinc alloy core remover tool. Threads apart in the middle and contains two Presta valve cores with a rubber O-ring for a watertight closure. This is a simple and highly functional little tool, and I have used it multiple times in the field when dealing with a finicky valve core.
Presta/Schrader Tool with valve core storage inside
2 Presta Valve Cores
80mm x 10mm/3.15in. x .39in.
Made of Zinc Alloy
$14.99
For further information refer to slime.com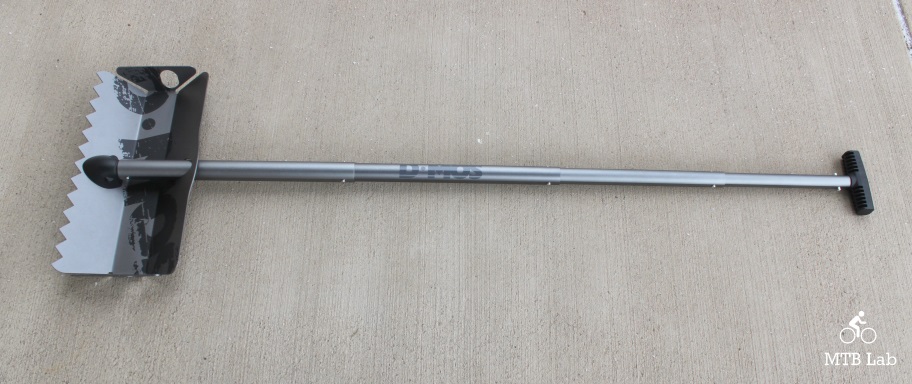 DMOS The Stealth Shovel
The 2-in-1 tool was designed for moving snow and grooming a jump to make picture-perfect corduroy conditions. Also, it makes a great snow shovel for clearing the driveway and walks and digging out a stuck or buried vehicle. I can see it being useful for the garden and trail maintenance. It offers full-sized leverage, is indestructible, and imminently packable and weighs 3.2 lbs.
It's near twice the thickness of an avalanche shovel, and it won't bend or deform. The shovel head is made of 2.5 mm thick T-6 6061 aluminum and packs down to 18" x 9" x 3" size. The adjustable length 1.6 mm 6061 aluminum alloy shaft extends from 18″ to 56.5" to provide plenty of reach and leverage. It was stress tested in laboratory and field conditions in temps ranging from -40 to 110 degrees Fahrenheit. It comes in four color schemes and retails for $89.
For further information refer to dmoscollective.com