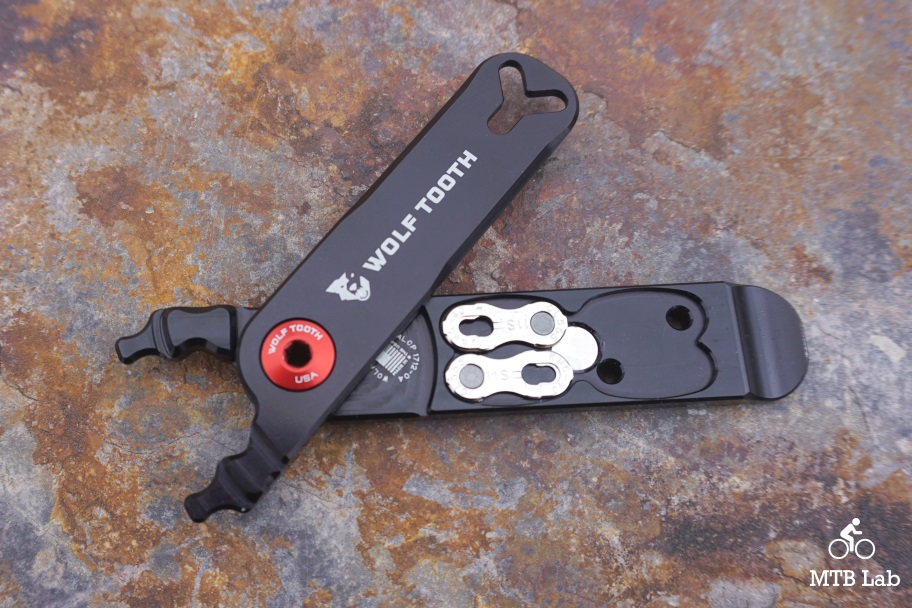 The new Master Link Combo Pliers is a 6 in 1 multi-tool that was developed to provide functions not found in common multi-tool designs. The MLCP is light and compact so you can carry it in your pocket or a pack. It functions as a tire lever, a valve core remover, a valve stem lock nut wrench and of course a set of master link pliers. As a bonus, it provides storage slots for two master links, so you'll always be prepared on the trail. A simple magnet holds the master links securely in place and helps self-close the tool.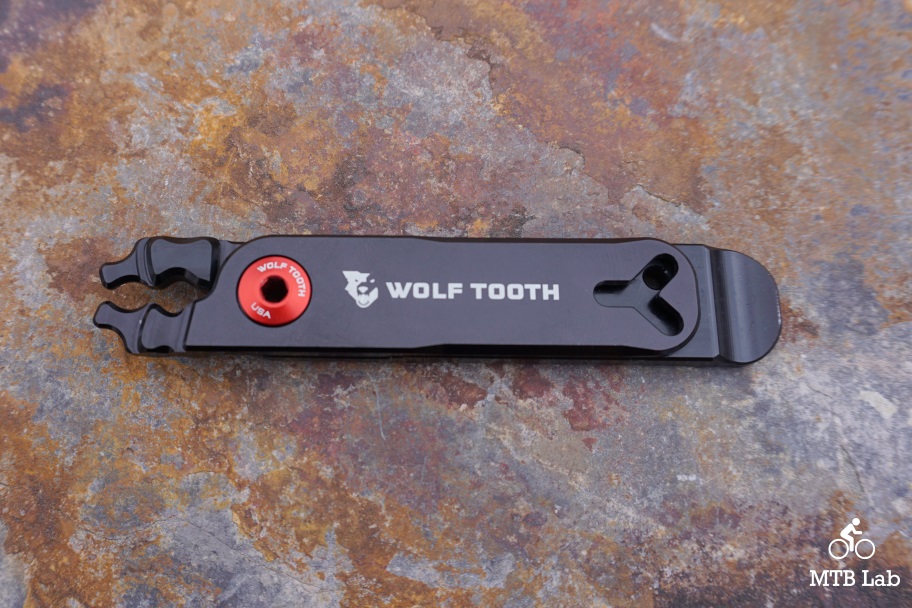 It's made and designed in Minneapolis and is CNC machined out of 7075-T6 aluminum and weighed a light 38 grams. It retails for $29.95 and comes in black or red, and the black version has options for a black, red, blue, green, or gold pivot bolt.
For further information refer to wolftoothcomponents.com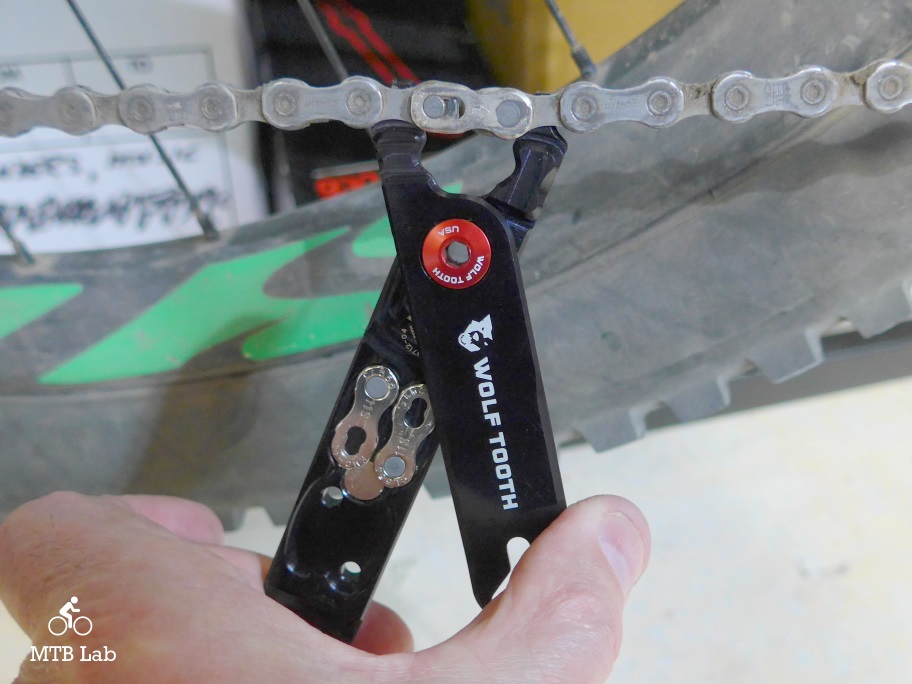 The MLCP's primary function is to either open or close master links on chains, which it does in a simple fashion offering plenty of force to accomplish the task.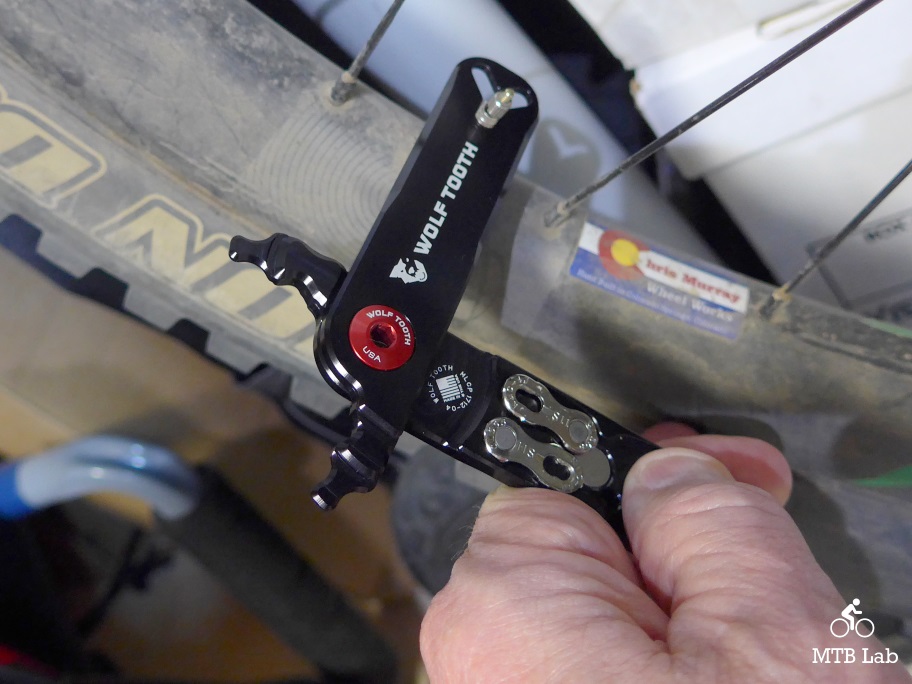 When the MLCP is open one end has a slotted triangular opening that is used to remove and install valve cores (3-way valve core remover), though it can be tricky maneuvering around the spokes.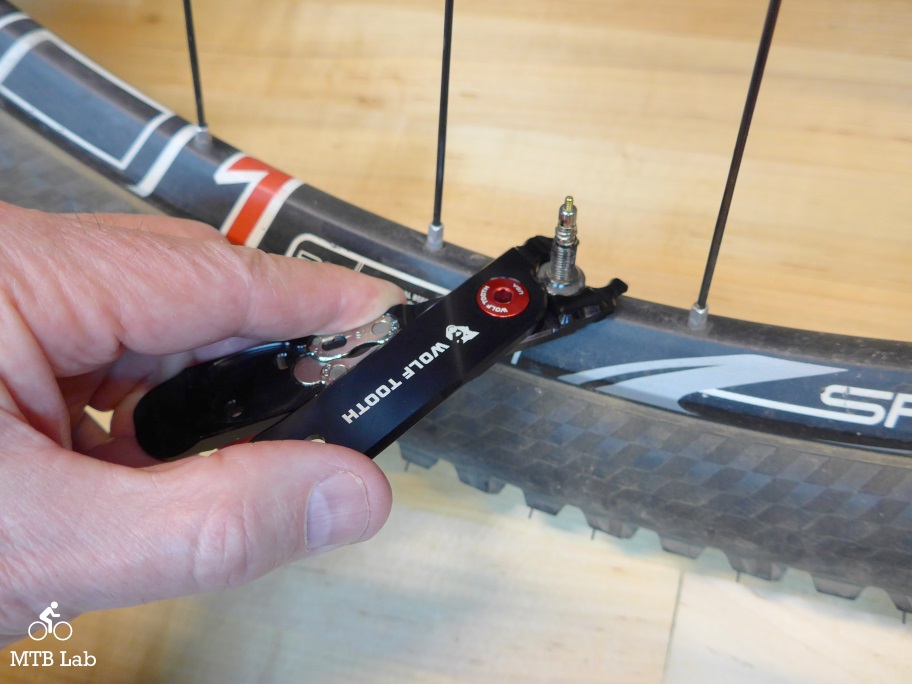 The Plier end of the MLCP can also be used as a multi-functional tool and is ideal for things like tightening valve nuts.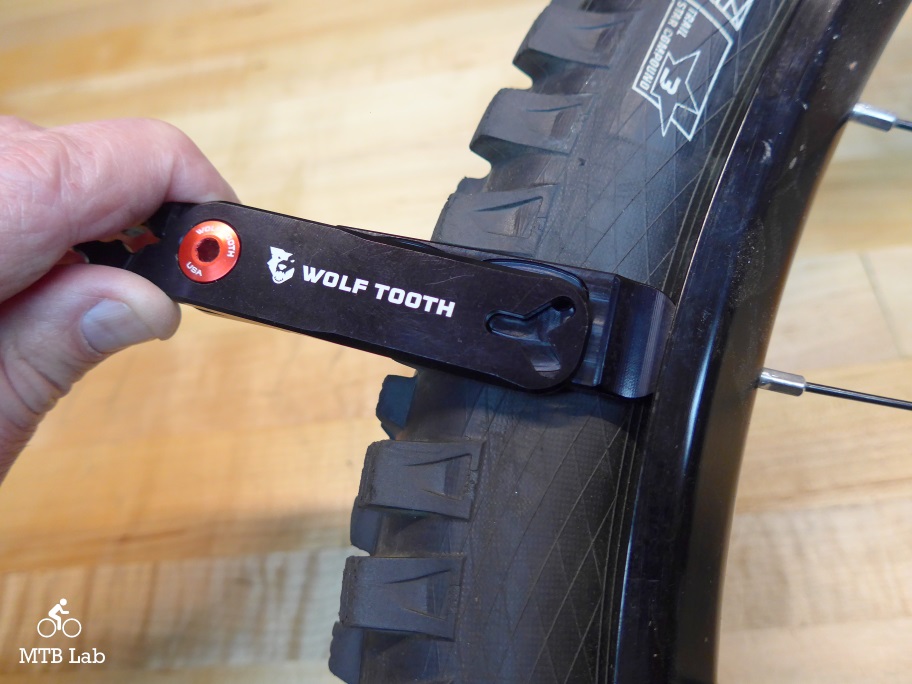 The non-plier end of the MLCP has a tire lever spoon which can be used to install and remove a tire, though since it's made from metal, it's not recommended for use on carbon fiber rims.
Thoughts => What a great little tool, that's light, compact and incredibly functional. Usually, when disconnecting the master link on a chain it's a pretty simple affair and only requires a couple of wiggles to get it loose, but sometimes the master gets crud in it and becomes troublesome to open, and these pliers take care of that issue efficiently. On top of the removal and installation of the master link, it can remove/install a valve core, tighten/loosen a valve lock nut, act as a tire lever and can hold two sets of master links on its inner cavity. The well-made aluminum 6 in 1 multi-tool is amazingly functional for dealing with minor issues out in the field.
9, 10, 11 and 12-speed master links and chains.
Compatible with SRAM PowerLock Link, Shimano Quick-Link, KMC Missing Link and other similar master links.
Designed and manufactured in Minneapolis, MN USA
7075-T6 aluminum, Type II anodized, laser marked logo
Colors – Black, Red. Choice of bolt color on black version.
Master links not included.
Size: 116 mm x 20 mm x 9 mm, weight: 38g
Tire lever not recommended for use on carbon rims.