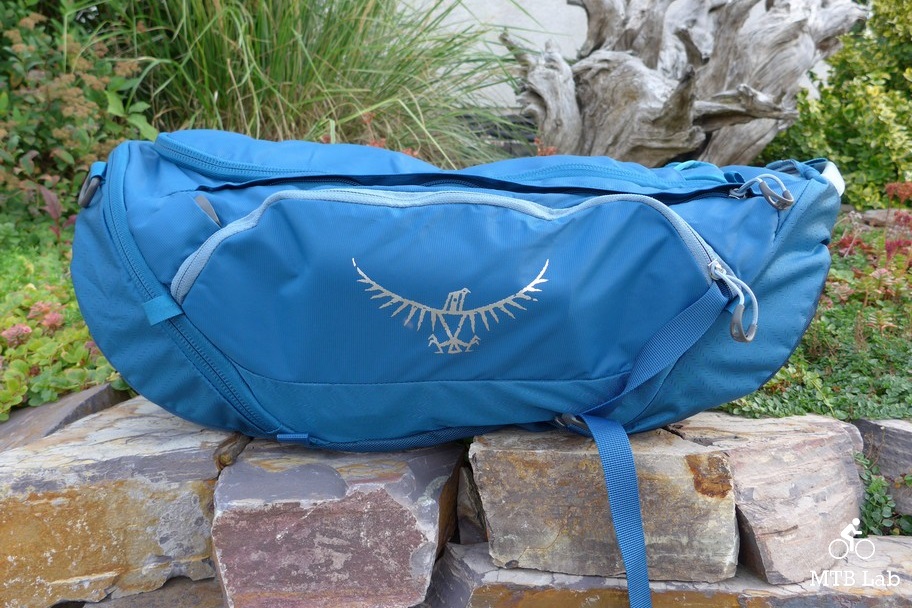 Some of our Best of 2017 items we tested include the organizational friendly Osprey SnowKit Duffel Bag, the light, and comfortable CamelBak Chase Bike Vest hydration pack, the small, and highly functional MSR TrailShot water filter, the superb Pearl Izumi X-Project P.R.O. Mountain bike shoes and finally the stretchy Yaak B-19 belt with its carbon fiber buckle.
Osprey SnowKit Duffel Bag
Earlier this year Osprey launched their GearKit Series of duffels which include the TrailKit, SnowKit, and BigKit and they offer superior organizational and functional characteristics as grab-and-go smart sports bags for any outdoor activity and adventure. Comprised of the airline carry-on friendly 40-liter TrailKit and the 45-liter SnowKit packs, which are ideal for day-use and traveling where tons of gear isn't needed. The TrailKit was designed for biking while the SnowKit was focused for skiing, and can carry essential snow gear (boots, helmet, beacon), though the SnowKit is more than adequate for schlepping biking equipment. The big brother of GearKit suite is the large 65-liter BigKit, which will carry almost everything including the kitchen sink!
We tested the SnowKit duffle, which comes in Anthracite Black, Lightning Grey, and Ice Blue color schemes and retails for $130.
For more information refer to ospreypacks.com and Osprey SnowKit Review.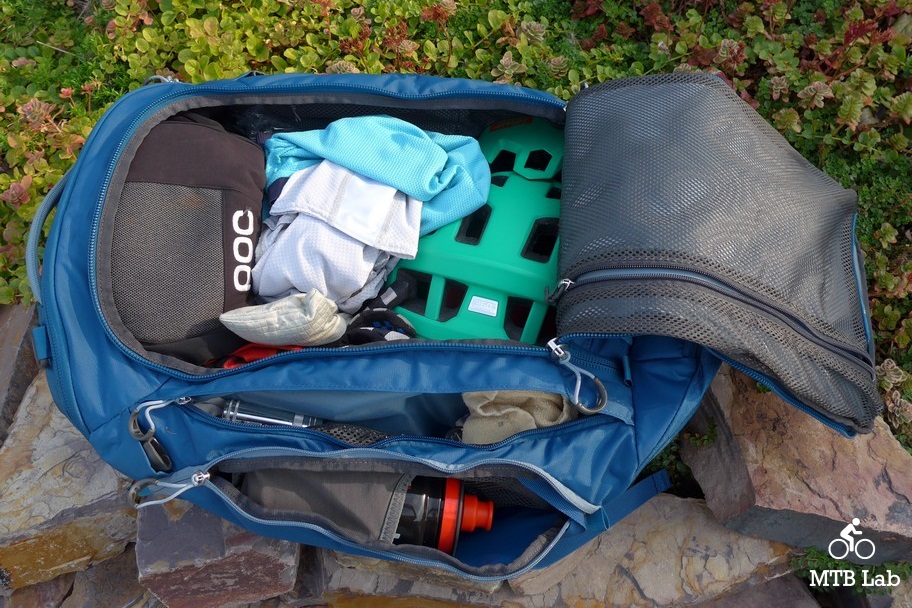 The Osprey SnowKit is a superb duffel and gear bag, with an incredible amount of useful compartments, pockets, and sleeves for the utmost in organizational purposes. I ended up getting the SnowKit over the TrailKit because I wanted the extra space to always carry my helmet in the interior of the main compartment, though if needed I could ways attach it to the top. Toss it around and use it as a duffel or pop out the harness system and use it as a backpack. With the SnowKit you can keep all your bike gear organized in one convenient duffle bag, so you have a place for everything and everything in its place. The SnowKit is fully featured and highly functional, and the well-made duffle uses heavy materials, zippers, and stitching for durability and toughness.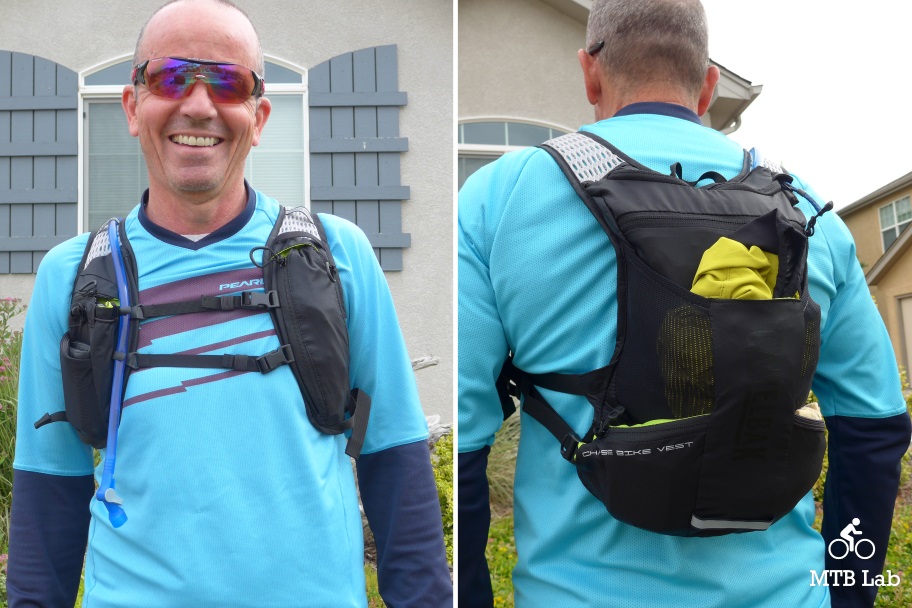 CamelBak Chase Bike Vest
The new Chase Bike Vest takes its design queues from running vests and is based off their Circuit Vest running pack. The Chase has been tailored to be a cycling specific pack with functional pockets on the main body and shoulder harness, a 1.5-liter reservoir, and its built with tougher materials for robustness. Having decently sized pockets on front and back helps distribute weight more evenly for improved stability and comfort. The mesh back panel and shoulder straps are soft, conformable and comfortable and offer exceptional ventilation. The vest rides higher up on the back than a regular pack, so it doesn't utilize a waist belt and instead uses dual sternum straps for stability and security. Additionally, with it high on the back location and it's short length you can still access your bottom jersey pockets. The 4L pack has a 2.5-liter storage capacity with excellent organizational pockets on the main body and the front harness. It comes in two color schemes, Black and Burnt Olive/Lime Punch and retails for $100.
For further information refer to www.camelbak.com and Just In: CamelBak Chase Bike Vest.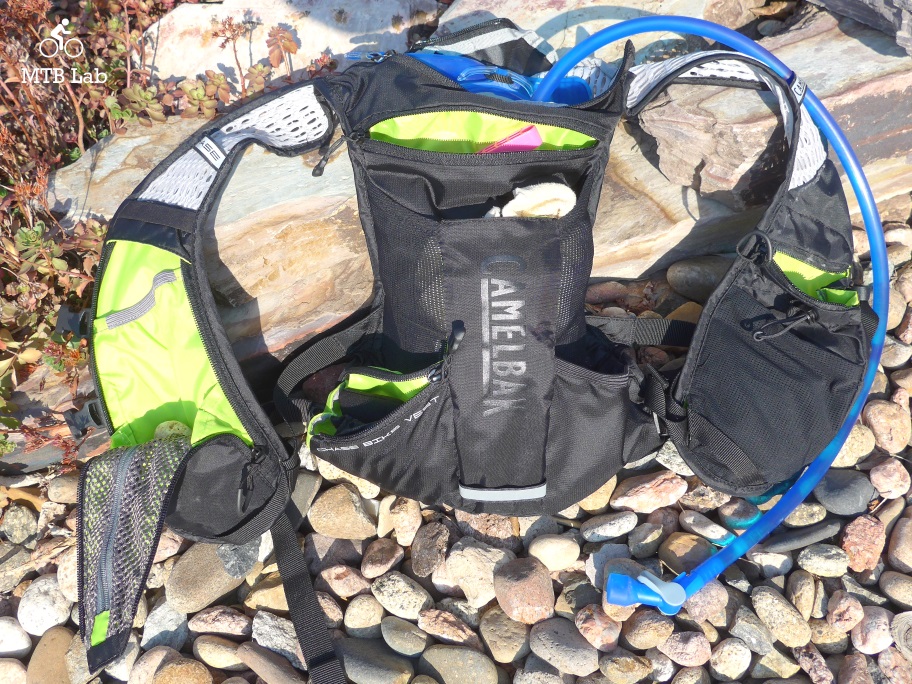 The Chase Bike Vest has become my go-to pack for this season, and its lightness, comfort, excellent ventilation, and conformability were much appreciated. The Chase just disappears on your back and carries its small load in an evenly distributed manner. Even with the small 2.6 liters of storage capacity, it holds a surprisingly decent amount of gear, as long as you're judicious with what you bring it can get you through plenty of rides. The back and shoulder harness pockets provide ample room to carry items and the sleeves at the back and bottom offer the ability to bring a jacket and other apparel items, significantly expanding the carrying capacity. The 1.5 liter Crux reservoir provides enough water for most rides, though for more extended forays you'll need to bring additional water, either on the bike or a soft flask in the pack.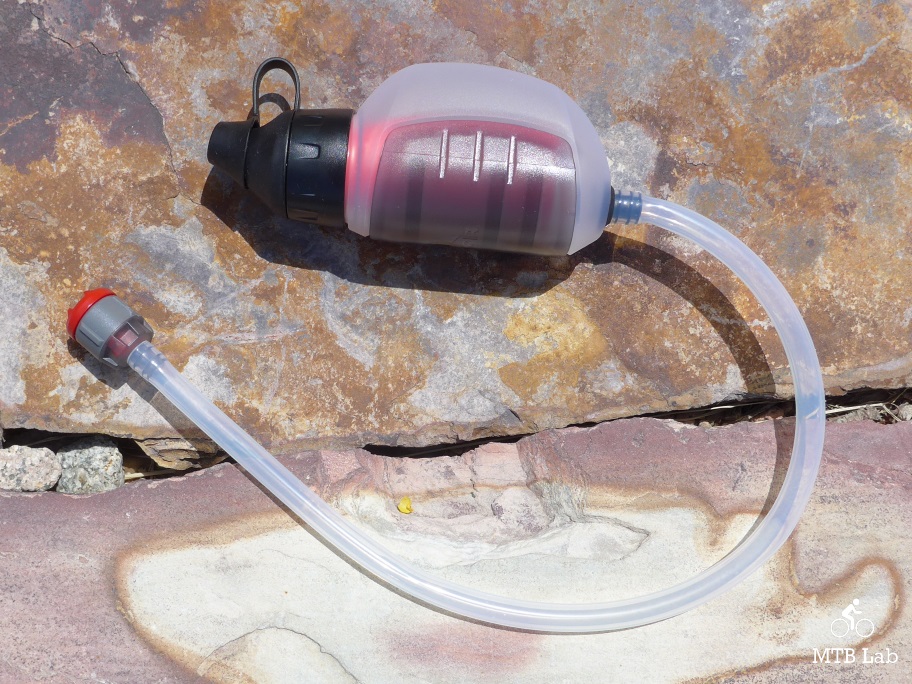 MSR TrailShot Filter
Clean water all day—without the weight. That's the advantage the TrailShot Microfilter provides. It's designed to hide in stash pockets and deploy quickly, and this small water filter lets you drink directly from sources along the trail for instant hydration, and fill your vessels with clean water. Easy one-handed operation filters one liter in a mere 60 seconds, so you can get back on the trail quickly and moving again. At just 142 g (5 oz.), the TrailShot water filter is the ultimate filter for fast-paced, high-mileage adventurers, like trail runners, hikers, fast-packers and mountain bikers.
The TrailShot Microfilter doesn't weigh very much so I found it handy to just toss in my pack for grabbing water when I knew ahead of time that sources would be available. It was easy to use, just drop the prefilter in the water, pop off the main filter top, squeeze the pump ten times and start drinking or fill a water bottle or hydration pack. Simple! When you're done, just pump the last water into your mouth and stash the filter back in your bag. The TrailShot will be a great item for just about any biker or hiker and will the cats meow for bikepacking.
Tested – Meets U.S. EPA drinking water standards* and NSF Protocol P231 for removal of bacteria (99.9999%), protozoa (99.9%), and particulates.
Pocket-Sized & Light – Like small water bottles, energy chews, mini bike pumps, and tubes, this 142 g (5 oz.) filter disappears in stash pockets.
Instant Hydration – Drink directly from the source—without lying in the dirt—and refill your bottles or hydration reservoir with clean water.
Quick-Deploy – Zero set-up and simple one-handed operation fill 1-liter bottles in 60 seconds.
Simple to Clean – A few shakes help restore flow rates in the field; no tools required.
For more information, visit www.msrgear.com and Just In: MSR TrailShot Filter.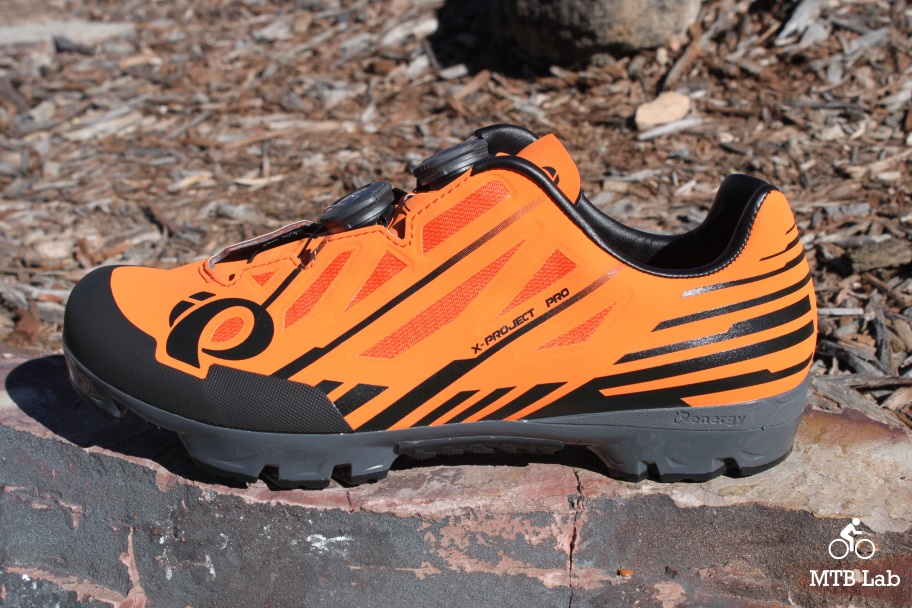 Pearl Izumi X-Project P.R.O.
Their top of line X-Project mountain bike got a redesigned and re-engineered sole that is stiffer and walks better. They moved the carbon sole around, and it now covers from just in back of the toes all the way to the front of the heel. With the redesign, the front toe section now has a more flexible portion which offers improved walkability characteristics. The 3-layer seamless upper has excellent breathability and adapts to your foot shape to eliminate discomfort. For grip and comfort, it has co-molded carbon rubber tips on hollow TPU lugs. Using technology from their running shoes, they have an EVA foam heel for comfort and impact absorption. They feature a double BOA micro-adjustment closure system with a full pop-up release for easy foot entry and egress. They came with the semi-custom 1:1 insole system, which has some mild orthotics, and includes a metatarsal pad and adjustment wedges for the arch and varus in the forefoot. They not only made the shoe more comfortable but when I added an arch insert it provided more toe room for my feet.
They come in 38-47 in 1/2 sizes, and full 48, 49 sizes, and come in Black/Shadow Gray and Screaming Orange/Black color schemes and retail for $350.
For further information refer to pearlizumi.com and Just In: Pearl Izumi X-Project PRO Shoes.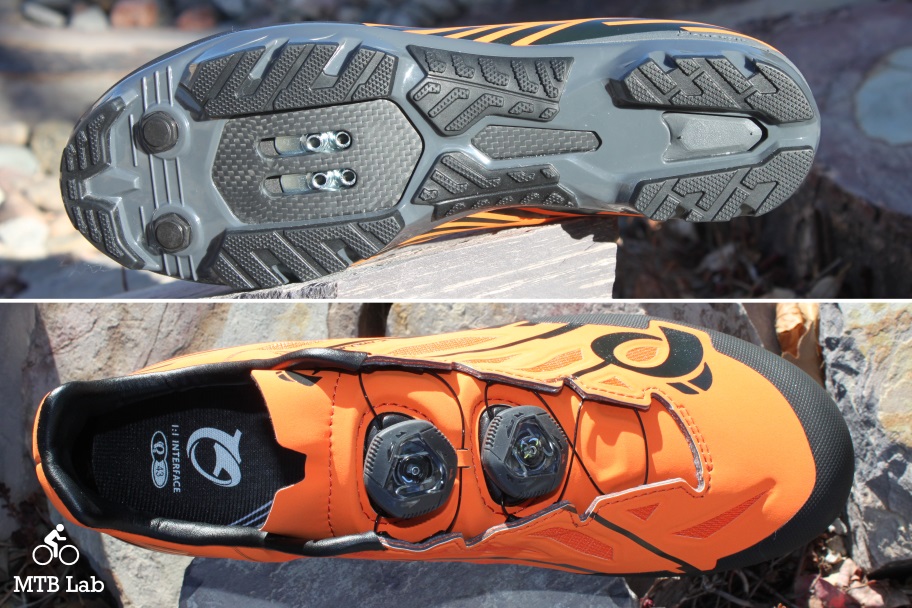 The X-Project PRO are surprisingly comfortable, and the dual BOA closure system provides lots of fine-tuning capabilities. The tongue has decent padding, so there weren't any hotspots from the closure system, and the top BOA helped keep the foot pushed down into the heel pocket while the lower BOA kept the forefoot secure and stable within the shoe. The sole is stiff and powerful which produced excellent pedaling performance, and I could hammer some power into the drivetrain yet they still hiked decently. I didn't feel any heel lift and the heel pocket didn't cause any discomfort or irritation while walking and pedaling. There is some good armor wrapped around the front of the shoe and along the outer side which provided excellent protection when hitting rocks, trees, and bushes. When the dual BOA is released, you can pull up on the tongue and release a lot of slack making it easy to put the shoe on and taking it off. The X-Project PRO is an excellent mountain bike shoe and features a stiff and powerful sole and a highly functional dual BOA closure system, and although expensive it's currently one of my favorite shoes from the last couple of years.
Yaak B-19 Belt
Their B-series belt closure makes greeting the day or answering nature's call quick and easy. It's nonmetallic buckle to ease the hassle of security lines and secure enough to stay put wherever life takes you. And it does it all without any moving parts to let you—or your pants—down. Carbon fiber composites provide strength without adding weight or bulk while custom weather-resistant bands deliver the perfect combination of comfort and security.  The vegan B19 is molded, sewn, and packaged right here in the USA.
It comes in two band lengths, 41″ maximum and 42-53″ and three colors schemes, Ink/Sky Sawtooth ($34.95), Ink ($34.95) and Silver/Turquoise Sawtooth ($29.95).
The B19 Buckle is made of an injection-molded carbon fiber reinforced polyamide material.
All B19 bands measure 38mm (1.5in) across
Performance Stretch bands have a firmer stretch than your traditional elastic belt to keep your trousers where you want them.

The elastic materials used are natural and subject to gradual degradation over time. If your belt ever ceases to perform, please contact them.
Machine wash cold as needed and hang to dry.
For further information refer to yaak.design.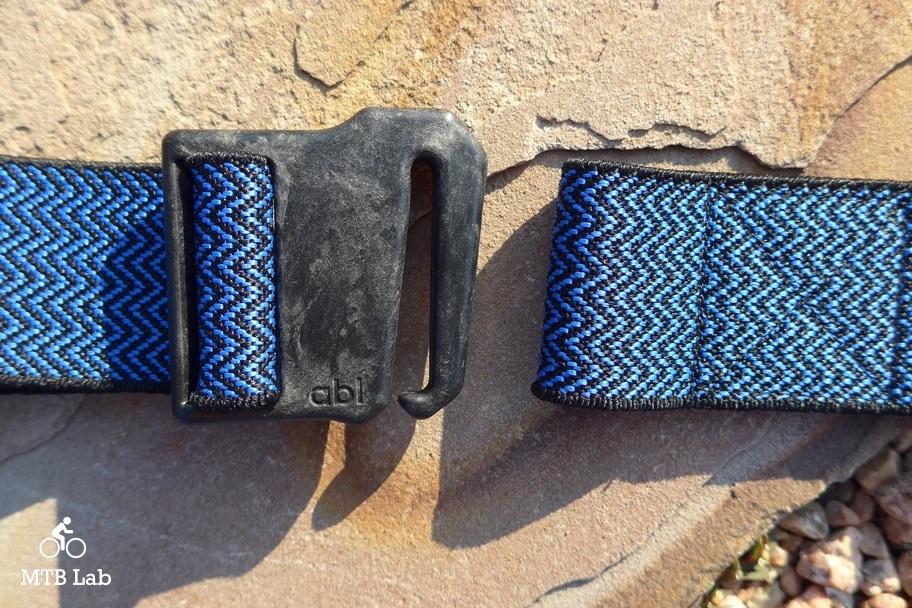 The belt was quite comfortable due to the stretchy and elastic band, and it offered enough expansion for maneuverability while still being tight enough for stability and security. The ingenious buckle hooks easily into the end loop of the band, and due to the carbon-fiber plastic, the clasp never felt cold against the skin, and it's smooth finish never felt sharp. I enjoyed having the easy to use hook design of the fastener as it made bathroom breaks quick and straightforward, as did taking your shorts or pants on and off. The broad nature of the band might not work with every pair of pants, but most outdoor apparels seem to incorporate a more comprehensive loop design in their systems. The Yaak B-19 is an excellent belt, and I wear it almost daily with my jeans and biking pants.