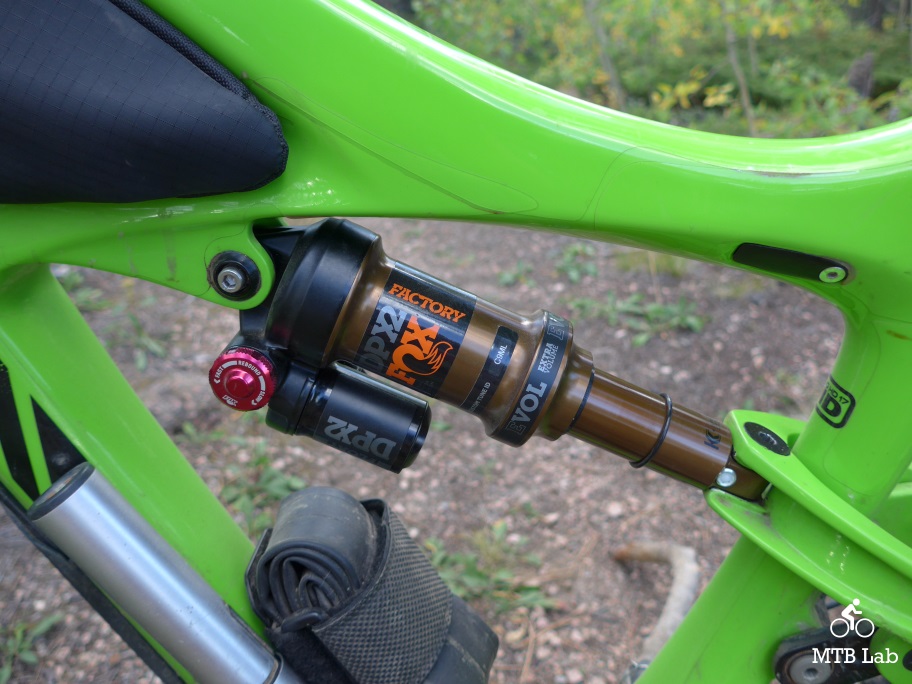 Some of our Best of 2017 items we tested include the FOX DPX2 All Mountain shock which provides excellent control and composure in the gnar, the comfortable Leatt DBX 3.0 helmet, the comfy and protective POC Joint VPD System knee pads and the functional Fix It Sticks mountain bike tool kit.
FOX DPX2
The DPX2 rear shock combines technologies from their trail oriented Dual Piston System (DPS) with their downhill  X2 downhill dampers. The DPX2 is a piggyback style and air-sprung shock that is ideally suited for the aggressive All Mountain rider. It utilizes a twin-tube damper configuration with independent rebound and compression adjustments, their Extra Volume (EVOL) negative air spring, and will come in both metric and imperial sizes.  The top of the line Factory Float DPX2 version with the Kashima Coat retails for $549 and weighs in around 500 grams.
It has three compression damping positions, Open, Medium, and Firm, and the Factory model have ten clicks of additional adjustment to fine tune the Open positions feel. The rebound damping has 14 clicks of adjustment, and it comes with five volume spacers ranging from 0.2 to 1.02 in2 for additional fine-tuning of the shock.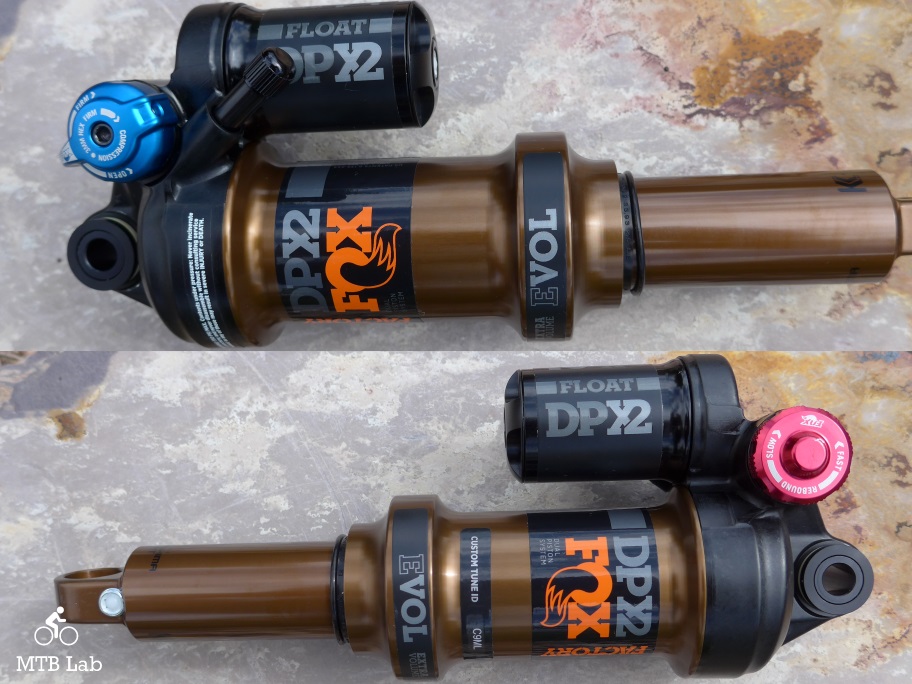 The DPX2 is an excellent All Mountain shock, offering plenty of adjustability, smoothness, stability, and plushness. It provides lots of midstroke support for cranking down and around on the trail without any harsh bottoming out issues. I tended to use it one notch from open for most climbing and trail use and then fully open when flying downhill on the gnarly and rocky terrain. It shines when being brutalized on dropoffs, stair steps, ledges and rock gardens and remains secure and balanced with excellent control and composure.  
For further information refer to ridefox.com.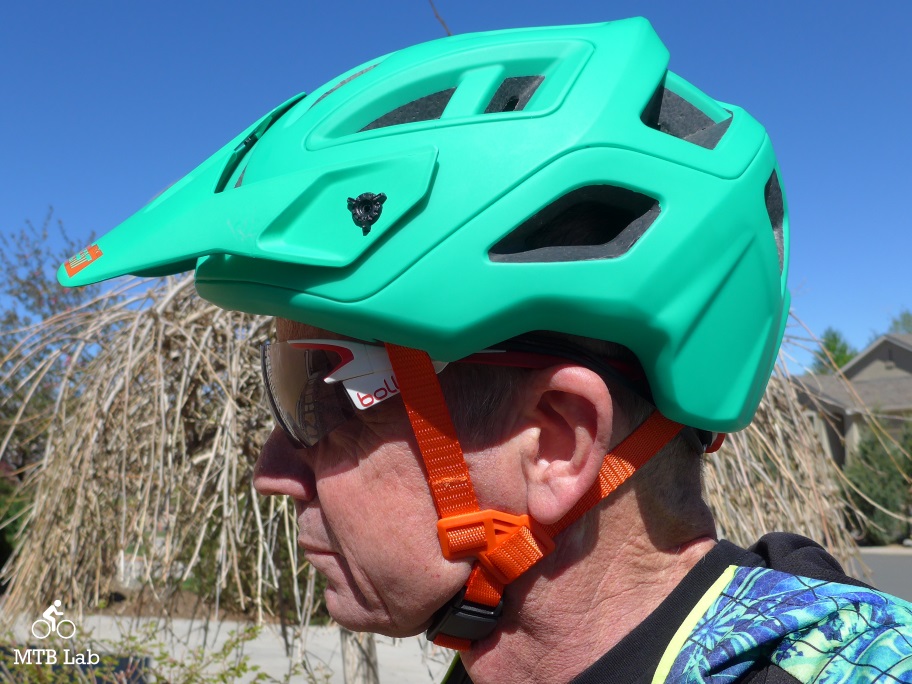 Leatt DBX 3.0
The DBX 3.0 All-Mountain bicycle helmet is designed to carry you safely across any terrain. The combination of 360º Turbine Technology and Armourgel cushioning material gives you premium protection to help you push your limits. An energy absorbing material that is flexible in its natural state, Armourgel hardens upon impact, so the faster or harder you fall, the better it works. Ten turbines made of this Armourgel are set inside the helmet. This technology helps with brain and rotation safety and reduces the head impact at concussion level by up to 30% and the rotational acceleration to the head and brain by up to 40%.
The DBX 3.0 All Mountain Helmet comes in Small (51-55cm), Medium (55-59cm) and Large (59-63cm) sizes, Green, Black, Blue, Orange and Grey and retails for $169.99.
For further information refer to leatt.com and Sea Otter 2017 – Leatt DBX 3.0 All Mountain Helmet.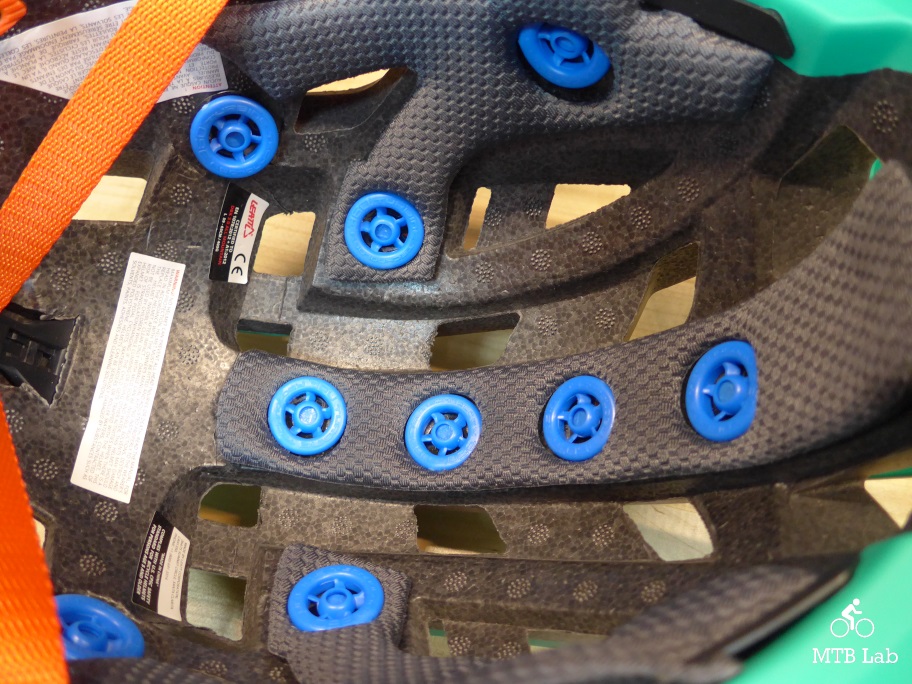 The DBX 3.0 All-Mountain is a comfortable helmet with excellent coverage over the ears and down the neck. The 18 ventilation holes provide lot's of air movement, even during slow speeds, so I never felt my head overheating. The interior was deeply padded adding to the comfort level, and the Fidlock magnetic closure system for the chin strap worked like a charm as did the rear adjustment fitting wheel that was easy to use on the fly. The innovative 360º Turbine Technology is an incredible trick system, and I am glad it's there for my safety and protection whenever I happen to crash.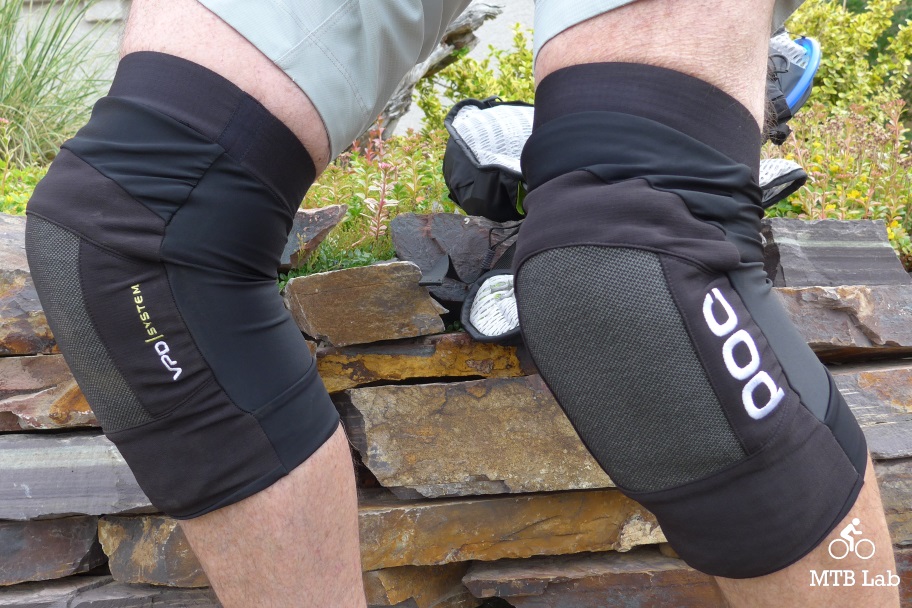 POC Sports Joint VPD System
The POC VPD System Knee is an excellent lightweight, soft armor product, and the shock absorbing VPD material with its wraparound pre-bent molding, the overbuilt construction, abrasion resistant front, rugged stitching, and materials; all make for a durable, extremely comfortable and safe armor product. Highly recommended and my new favorite piece of armor!
The VPD System features a highly efficient ventilation system and an outer fabric which recommenced with high-tenacity polyamide yarns for low friction and high abrasion resistance. The VPD material wraps around the rider's knee and elbow when warm and offers excellent freedom of movement on the bike. The VPD or Visco-Elastic Polymer Dough is a lightweight, flexible and moldable material that hardens upon impact for better protection and shock absorption all of which help to minimize injury. As with all of POC products, the superb soft armor had the excellent build quality and stitching and durability and was designed with the utmost in safety. The Knee retails for $150 and the Elbow for $120, and they come in XS, S, M, L and XL sizes.
For additional information refer to pocsports.com and Impressions – Joint VPD System.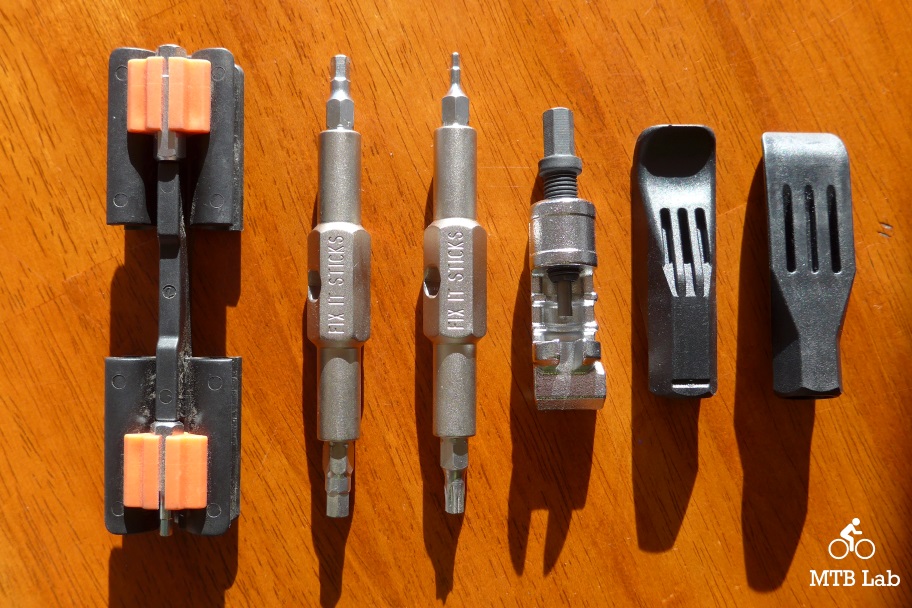 Fix It Sticks
Fix It Sticks has several new tools and accessories including kits for Mountain Bikers and Commuters. They have the trick Chain Breaker, Tire Levers, and a 15mm Wrench, all of which interface with their innovative and highly functional Fix It Stick tool. For organizational purposes, they have the Replaceables Clip that can hold eight bits, and two Replaceables Fix It Sticks. The mountain bike kits include a carrying bag, and two Replaceables Fix It Sticks tools, a chain breaker, eight bits, two tire levers and a Replaceables Clip.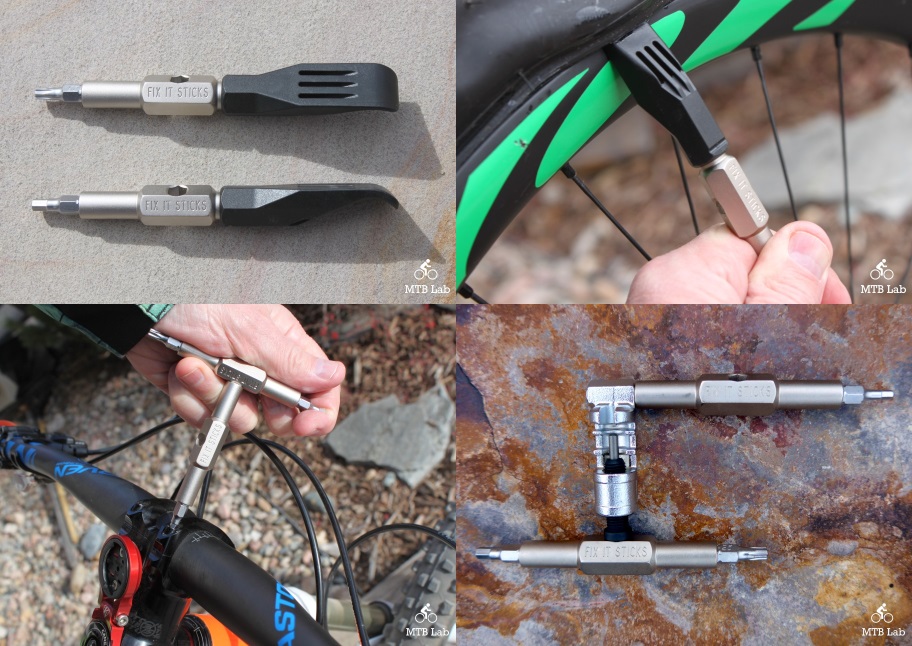 The Replaceable Fix It Sticks tool was extremely versatile with its magnetized bit system, and I appreciated that the Fix It Sticks are customizable so I could choose almost any combination of the four bits on the tools ends to match my requirements. When using the clip it was relatively easy to extract the extra bits from their orange rubber holders for swap outs, and the plastic main body held everything securely together. The chain breaker was simple to use, and the rivet popped out with minimal effort, significantly due to the leverage you can apply via the t-handle design of the tools. The tire levers offer plenty of leverage and strength and aren't like the typical flexy levers you usually carry and find in your bike store. 
For further information refer to fixitsticks.com and Interbike 2017 – Fix It Sticks.