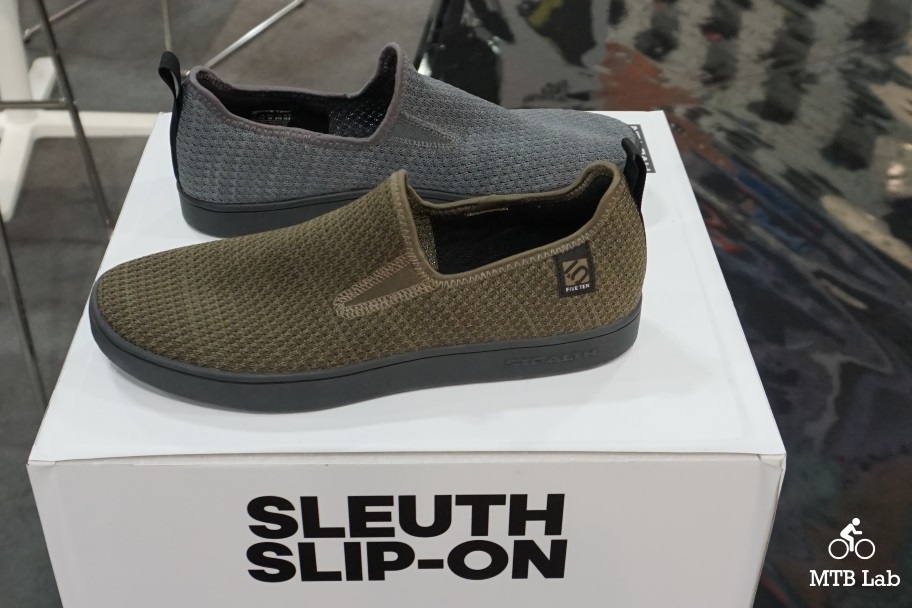 Shoe sightings from the show include Five Ten's Sleuth Slip-On's and Impact Pro MTB shoe, Merrell's innovative Thermo Rogue winter boot and barefoot shoe collection, OOFOS's biomechanically comfy OOfoam sandals/shoes, Birkenstock's massive sandal/shoe lineup, and Muck Boots Arctic Ice winter boots and casual shoe collection.
Five Ten
Sleuth Slip-On
The Sleuth Slip-On has a woven upper that offers a snug, sock-like fit. The non-marking Marathon rubber outsole with Micro-Dotty tread offers a tuned grip for freedom of movement and increased durability for whether you are flying off jumps or hitting the pavement (figuratively speaking!).
Material: Polyester Textile
Benefit: Flats
Weight: 10.9 oz (308 gm)
Micro-Dotty tread
Casual, low-profile woven polyester upper
Die-cut EVA midsole
Marathon non-marking outsole
Colors – Cargo, Gray
MSRP $80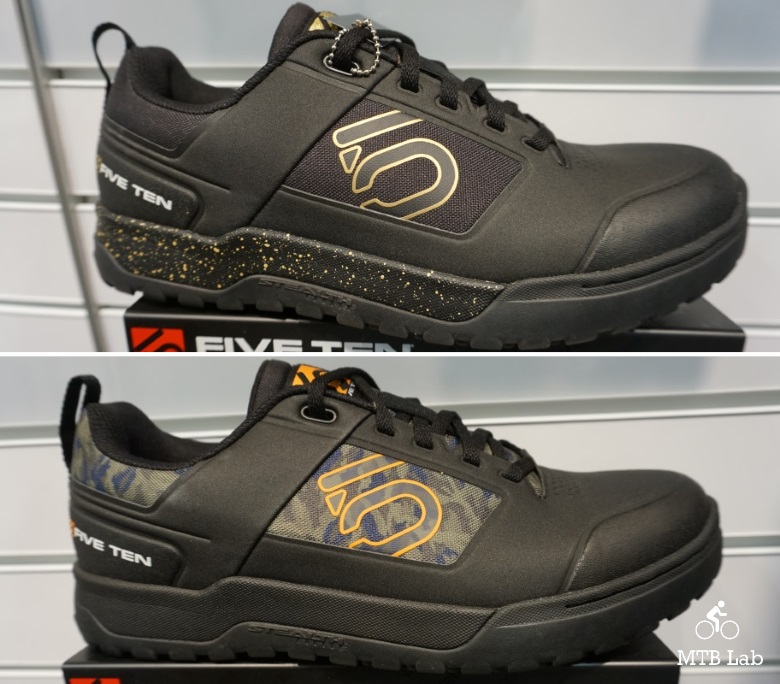 IMPACT PRO
Aggressive, All-Mountain And Downhill Riding – The Impact Pro features a fast-drying synthetic upper and a burly, protective toe cap and an aggressive Stealth S1 multi-dotty outsole sheds dirt and mud while providing a more consistent feel and edge control across the entire pedal.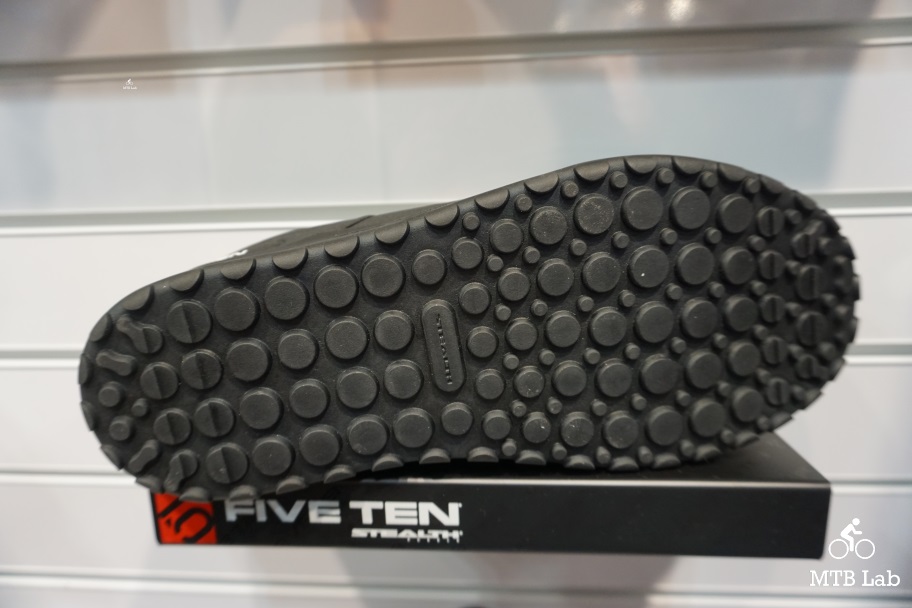 Material: Synthetic/Polyester Textile
Benefit: Stealth, Flats
Weight: 17.4 oz (493 gm)
Abrasion-resistant, fast-drying synthetic upper
Stitched & reinforced toe cap with Poron XRD foam
Durable & supportive, compression-molded PU midsole
Stealth S1 outsole for proven grip and durability
Black/Gold, Black/Camo
MSRP $160
For further information refer to www.adidasoutdoor.com.

Merrell
Thermo Rogue Boots
The Thermo Rogue is a  winter hiker boot and uses state of the art PrimaLoft insulation technology for warmth and features the exclusive antislip Arctic Grip Dura outsole in partnership with Vibram. It features PrimaLoft Gold Insulation Aerogel for unprecedented protection in the face of extreme cold conditions along with ultra-lightweight technology that maintains its insulative properties even when compressed, making it ideal for all-day comfort. For waterproofness, it utilizes a Gore-Tex membrane.
For further information refer to www.merrell.com.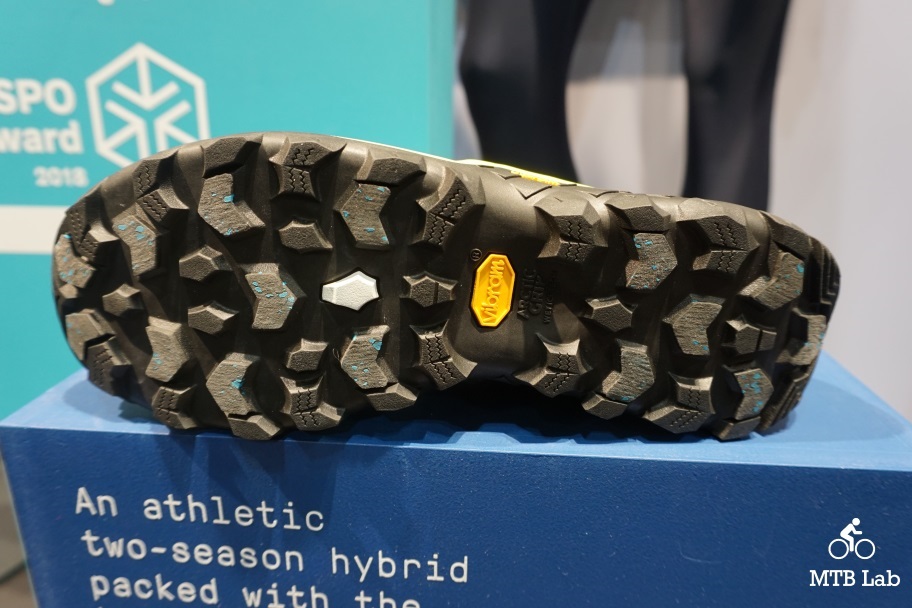 Maintaining traction in intense and fast-changing winter conditions calls for a specially designed outsole, and the Arctic Grip Dura technology combines the most durable wet ice grip compound and specialized lug geometry for stability on ice, snow, slush, and everything in between.
We spoke with Steve Workman, Merrell's Vice President of Product Performance, and he said that athletes are pushing the boundaries on the trail during the winter, and the Thermo Rogue with its highly innovative set of technology is the perfect weapon for those pursuits. This March their Ambassador athletes Mike Chambers and Jason Antin will field-test the new hikers on a human-powered journey on Greenland's Arctic Circle Trail to show the limits and functionality in the real world usage. He was proud of what his team accomplished with the boot and especially that the Thermo Rogue 8 GTX is a 2018 ISPO Award Gold Winner.
Barefoot Shoes
The Bare Access, Trail Glove, and Vapor Glove are part of their minimalistic Barefoot Shoe collection. Multiple brands of shoes are creating this type of shoe, which offers a barefoot styling with thin soles and light protection to offer flexible, natural and real tactile feel for running, working out and other athletic activities.
 The goal with barefoot running shoes is to create a natural, zero-drop experience so that you can have full foot contact in a lightweight, but sturdy design. Running is about the freedom to engage with the outdoors, which is why the equipment is so crucial. No matter what type of runner you are, taking care of your feet is essential. That is why casual joggers and more serious trail runners enjoy the minimalist approach to running shoes.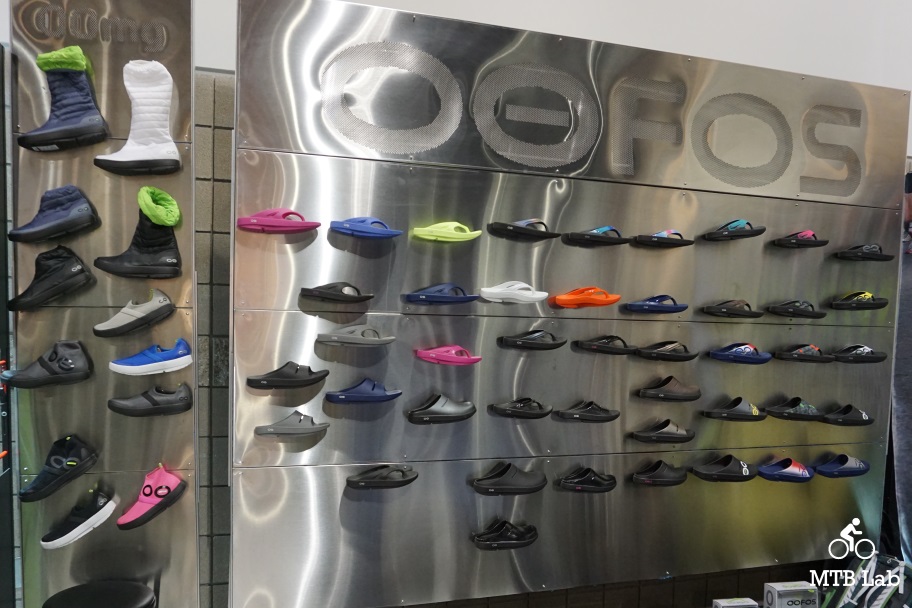 OOFOS
Biomechanically engineered to alleviate the foot stress and soreness caused by your daily grind. Perfect for casual wear, recovery after a grueling run, or relaxing after a long day on your feet. Slip into a pair, and you'll immediately "Feel the OO."
Revolutionary OOfoam technology absorbs 37% more impact than traditional footwear foam materials to reduce the stress on your feet and joints. Our sandals feature a breakthrough in construction that eliminates unnecessary layers and leaves only OOfoam between your foot and the ground. This technology aids in the recovery process and creates an incredibly comfortable sandal you can wear anywhere.
Reduces stress on sore feet, knees, and back
Enables more natural motion
Minimalist construction technology for lightweight
Machine Washable
Shower/beach-ready; moisture and bacteria resistant; doesn't retain smell
For additional information refer to www.oofos.com.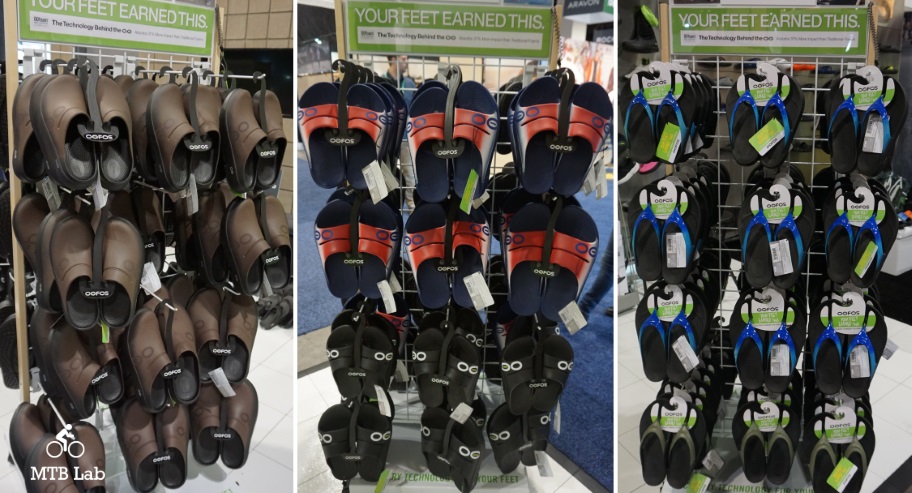 I wore a pair of their OOcloog at the show, and after some initial confusion with my walking in them, which was mostly due to my brain fighting the biomechanical footbed, I quickly enjoyed the squish and relaxing feeling of the shoes, especially when walking for miles at the massive convention layout over multiple days. After more time with them at home, I appreciated them after a bike ride, where they offered excellent recovery and comfort for my aching feet and legs.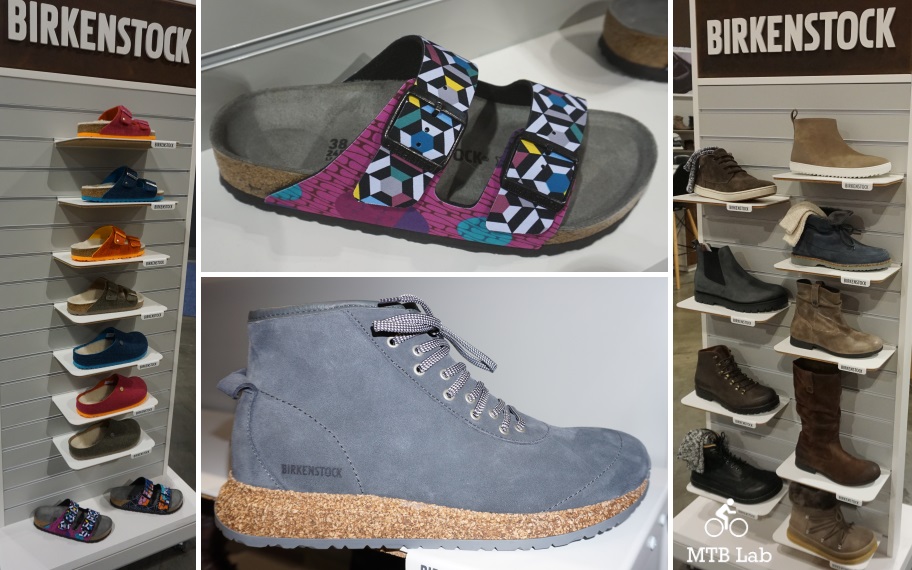 Birkenstock
Birkenstock was the original "hippie" kids sandals in the 70's, but they found a resurgence in 1990's and then again in the 2010's. They have grown over the last couple of decades from the standard Birkenstock sandal to currently have over 100 styles of sandals, clogs, and shoes.
Birkenstock is deeply rooted in the fine art of crafting premium quality shoes that are good for you. Since 1774, Birkenstock has passed this commitment down from one generation to the next. The result is the absolute best in quality, comfort, and support. At the heart of every Birkenstock sandal, clog, boot and shoe is the contoured footbed which they introduced in the 1930s for anatomically shaped insoles with incredible support. Their sole design utilizes four different layers: the first layer of the shoe is the shock absorbent sole, followed by two layers of jute fibers, and a firm corked footbed, and the last layer is the footbed line which is soft suede.
For further information refer to www.birkenstock.com/us.
Muck Boot
The Original Muck Boot Company story began in 1999 with the sole purpose of building the most comfortable, high-performance footwear on the market. The need for a more comfortable boot for use in messy and tough conditions led to the design of The Original Muck Boot Company branded footwear. Every boot in the line is expected to deliver the same 100% waterproof quality and comfort that inspired the original footwear. Over the last two decades, the line has grown to over 60 styles of rubber and leather footwear, all designed to stand up to tough conditions, whether on the farm, in the city, or in the great outdoors.
Arctic Ice Boots
Featuring the most advanced Vibram outsole technology to date, Muck Arctic Ice Series Extreme Conditions Mid-Height Rubber Men's Winter Boots are specifically engineered to deliver grip and performance on wet ice. The Arctic Grip Outsole pods offer the most advanced traction in wet ice environments, and the multi-direction lug design provides sure footing on multi-surface terrain. The outsole of these winter boots also features the Vibram Icetrek full base layer for unparalleled traction on dry ice. From a comfort perspective, the thick CR Flex-Foam is flexible, 100% waterproof, and possesses excellent heat-retention properties. The fleece lining ensures exceptional warmth and delivers a comfort rating of -60 °F to 50 °F (depending on model). Tough Spandura and an extended rubber shaft round out the cold weather coverage of these waterproof winter boots.
For men, the new Fairfield leather casual collection with Muck's waterproof and comfort components! For women, the Liberty Collection serves up three stellar silhouettes: ankle, alpine, and wedge! That's right – a wedge from Muck, in waterproof leather, natch.
For further information refer to www.muckbootcompany.com.