The newest iteration of the Manitou Mattoc fork offers a supple and smooth platform with a wonderful mid-stroke plushness. The Manitou McLeod is a hidden gem of a rear shock with climbing prowess and descending plushness, while the FOX DPX2 All Mountain beast provides excellent control and composure in the gnar.
Manitou Mattoc
Mattoc is the performance benchmark for mountain bikers the world over, and for a good reason: Unparalleled adjustability, excellent damping performance, and Manitou's renowned reliability. Low-friction dust seals improve small bump sensitivity, IRT air spring adjustability creates a plush beginning stroke with excellent mid-stroke support, and a new Comp-level performance package brings Mattoc performance to more riders.
The forks have a 34mm chassis, a deep-hollow forged aluminum crown, their sturdy reverse arch design and utilize their Hexlock SL 15mm QR. The 27.5 has Boost and Non-Boost versions with 160mm of travel (44mm offset), the 27.5+/29 is Boost with 100mm or 120mm (48mm offset), and the 29+  is Boost with 100mm or 120mm (51mm offset). The upscale Pro model features the Dorado Air spring, the MC2 Compression Damping, the TPC Rebound cartridge and provides adjustments for low-speed and high-speed compression, hydraulic bottom out, rebound, beginning-stroke and middle/end-stroke air pressure.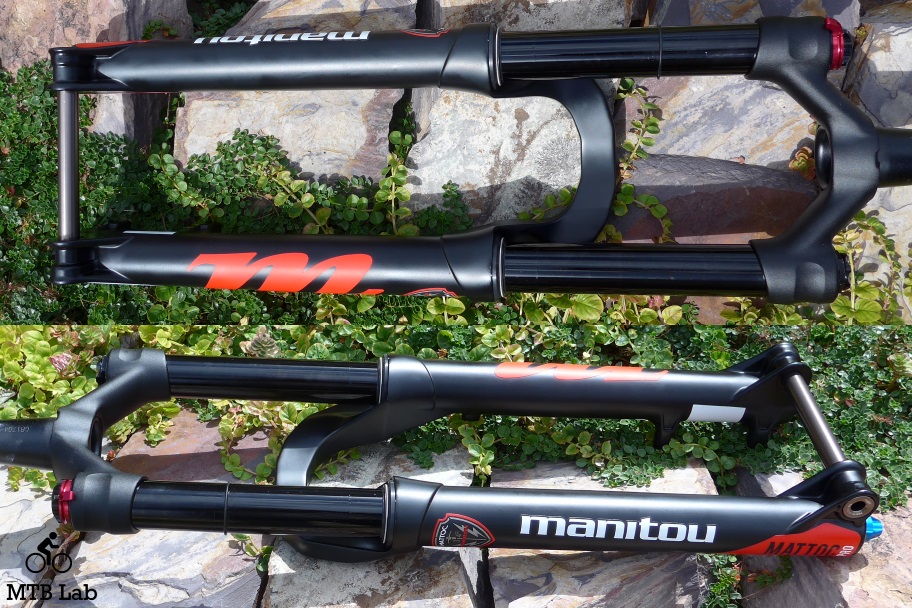 The travel throughout its stroke is supple and smooth, with low stiction and drag, and its plush ride offers excellent support and control. The fork provides excellent small bump and superb medium bump compliance with a high degree of plushness, and it ramps up in stiffness for big hits and more substantial stuff. The latest iteration of the Mattoc is a sweet fork and is undoubtedly on par with any of other forks on the market.
For further information refer to manitoumtb.com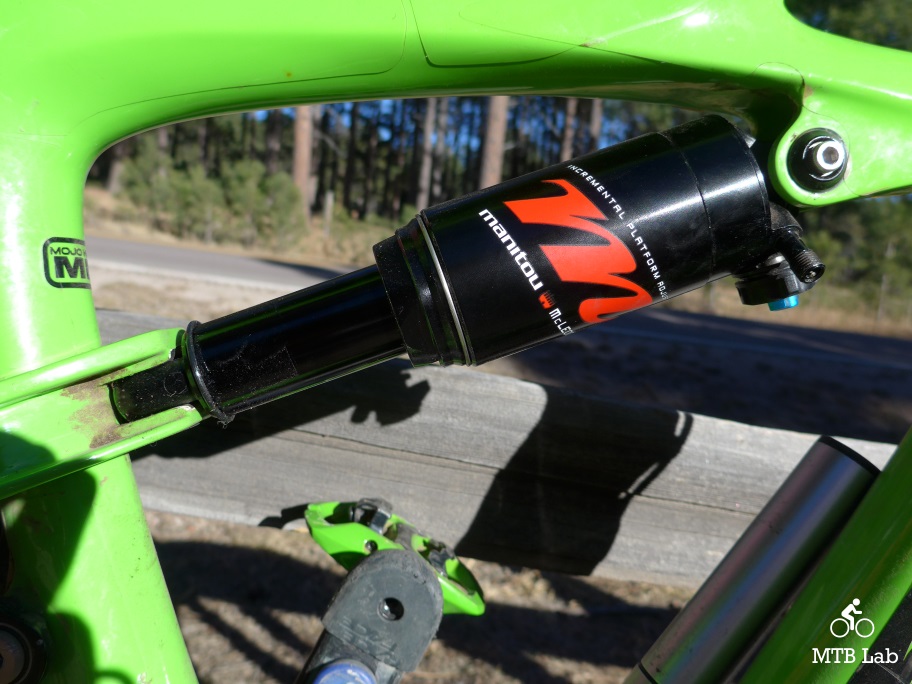 Manitou McLeod 
The McLeod is Manitou's air spring rear shock and its simplicity, features, functionality and builds quality are all outstanding. It's easily externally tuned with air pressure, rebound and their 4-position Incremental Platform Adjuster, which provides everything from a fully plush to firm ride. The shock is meant for trail bikes with medium to long travel, and comes in the usual sizes for that realm, and will compete with the Rock Shox Monarch and FOX Float shocks. They went with an all-black body color and red decals to match up their Mattoc and Magnum forks, and for durability and an upscale look, they used waterslide decals.
It's made from 7050 aerospace grade aluminum, weighs 270 grams and retails for $320 and comes in a range of sizes: 152 x 32 (6.0″ x 1.25″), 165 x 38 (6.5″ x 1.5″), 190 x 50 (7.5″ x 2.0″), 200 x 50 (7.875″ x 2.0″), 200 x 56 (7.785″x 2.25″) and 216 x 63 (8.5″ x 2.5″).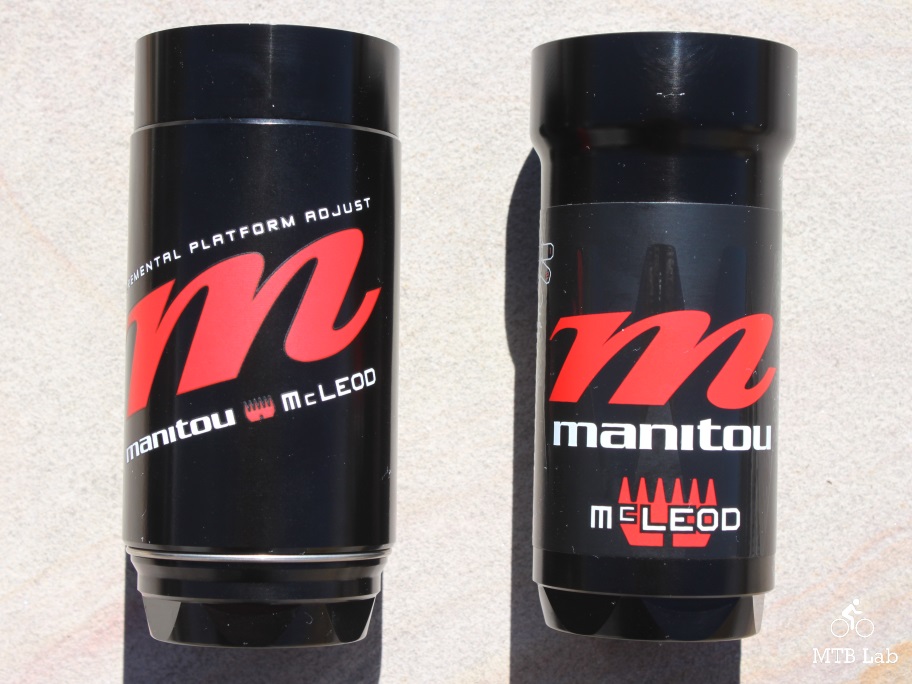 I found the Manitou McLeod had excellent small bump compliance and plushness through most of its travel, along with excellent platform and bottom out capabilities. Its supple action provides improved traction over a variety of terrain. It's climbing prowess is where it shines, and it elevated the already excellent HD3's dw-link suspension to another level. It felt very supportive in the mid-stroke with an improved plushness on the top end of the travel, and the dual air King Can's addition made for a buttery smooth finish. If you want your shock tuned for All Trail, use their use the regular air can and when ready for All Mountain/Enduro use plop on the King Can for improved downhill capabilities and plushness in the gnar. 
For further information refer to manitoumtb.com.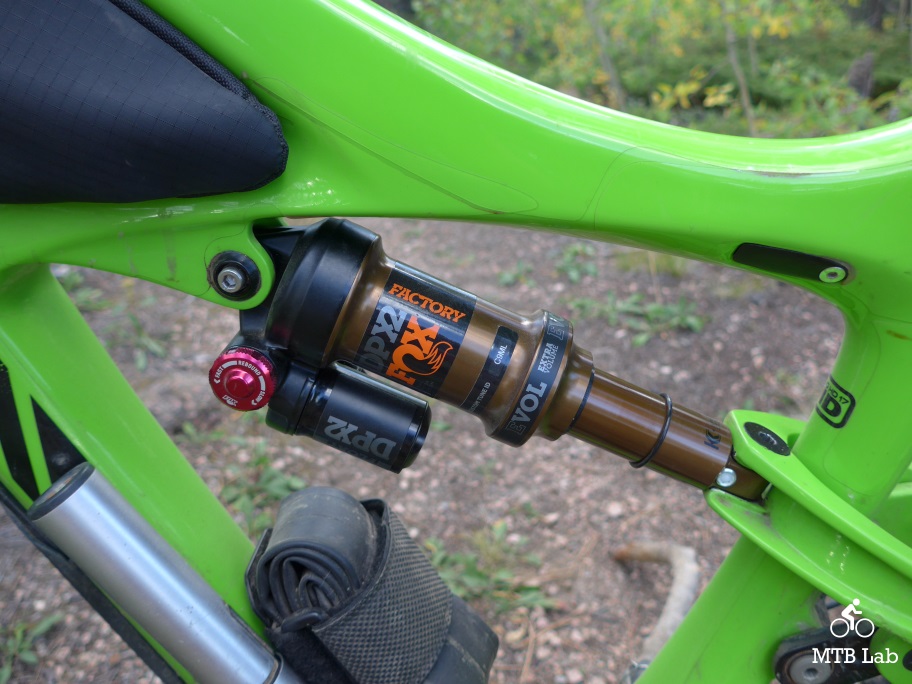 FOX DPX2
The DPX2 rear shock combines technologies from their trail oriented Dual Piston System (DPS) with their downhill  X2 downhill dampers. The DPX2 is a piggyback style and air-sprung shock that is ideally suited for the aggressive All Mountain rider. It utilizes a twin-tube damper configuration with independent rebound and compression adjustments, their Extra Volume (EVOL) negative air spring, and will come in both metric and imperial sizes.  The top of the line Factory Float DPX2 version with the Kashima Coat retails for $549 and weighs in around 500 grams.
It has three compression damping positions, Open, Medium, and Firm, and the Factory model have ten clicks of additional adjustment to fine tune the Open positions feel. The rebound damping has 14 clicks of adjustment, and it comes with five volume spacers ranging from 0.2 to 1.02 in2 for additional fine-tuning of the shock.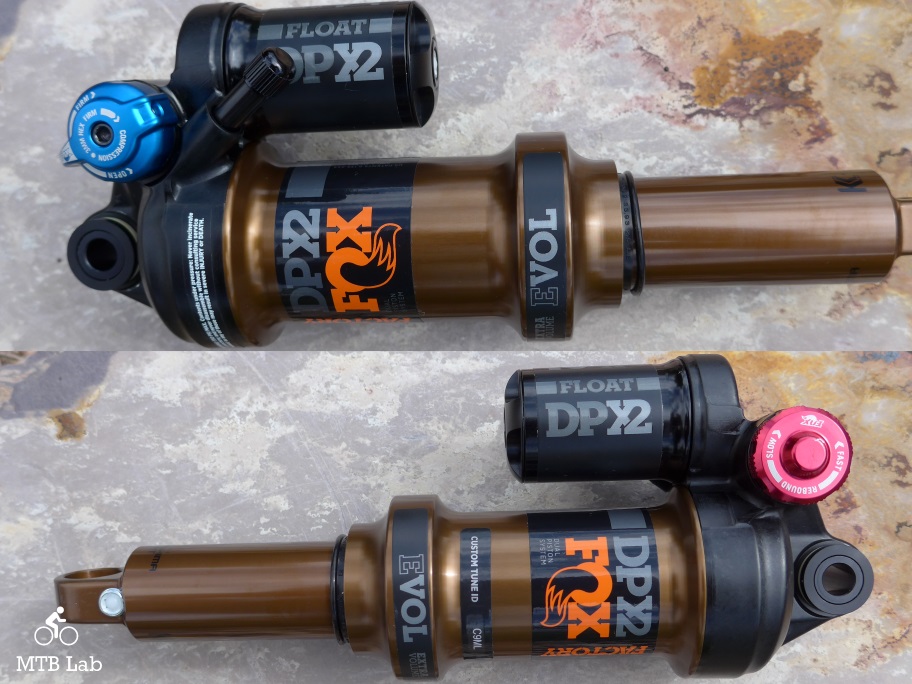 The DPX2 is an excellent All Mountain shock, offering plenty of adjustability, smoothness, stability, and plushness. It provides lots of midstroke support for cranking down and around on the trail without any harsh bottoming out issues. I tended to use it one notch from open for most climbing and trail use and then fully open when flying downhill on the gnarly and rocky terrain. It shines when being brutalized on dropoffs, stair steps, ledges and rock gardens and remains secure and balanced with excellent control and composure.  
For further information refer to ridefox.com.