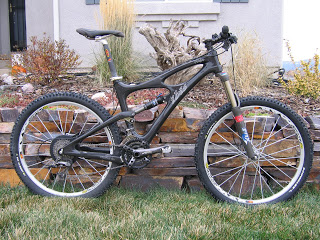 This is creation day of Grams Web Site dedicated to lightening up the weight on a mountain bike. This will applies to full suspension, hard tails and normal mountain bikes.
This site will contain observations and testing of light weight parts. It will also be a web store for those parts that receive the "Gram Seal of Approval".
My current toy and main test bike is the Ibis Mojo (shown above) . It is a Carbon monocoque frame and swing arm with 5.5 inch of travels. My other test bike is the Specialized Epic Ultimate frame which is carbon fiber tubes with Titanium lugs. Both of these bikes are works of art.