GRAYL Ultralight – The World's Best Purifier [+Filter] Bottle
The GRAYL Ultralight Purifier Bottle system is the fruition of a four-year long design process. The system is fast and easy to use to produce clean and purified water from almost any water source. It provides full spectrum protection and removes Pathogens (virus, bacteria, and protozoa), many heavy metals and chemicals along with particulates, such as sediment and silt. It only takes three simple steps; fill, press and drink; and in less than 15 seconds it creates 16 oz of clean water for consumption or storage.
GRAYL currently has a Kickstarter campaign running until Mar 5th, 2016 for the system; please refer to Kickstarter-Grayl-Ultralight.
The Ultralight Purifier Bottle system will come in Black or Orange colors and will retail for $60, and also will come as a kit with one replaceable filter for $85. Estimated availability is June 2016.
GRAYL also makes two other Purifier Bottle systems including the stainless steel Legend ($70-$90) and the plastic Quest ($50-$80). Pricing is dependent on the choice of their three different filters: the TAP Filter, the TRAIL Filter, and the TRAVEL Purifier. The new Ultralightis supposed to be 50% lighter than it's brethren. Refer to thegrayl.com for additional information.
Grams Thoughts
The Ultralight Purifier Bottle seems like an incredibly innovative and functional water purification system, with a big highlight being it fits in a bikes water bottles cage. I have used chemical purification methods and many other filtering systems which tend to be cumbersome to use. The Ultralight is simple and easy to use with its three-step process. It will be extremely applicable to hiking, camping, multi-hour bike adventures and bikepacking. Also, when traveling to exotic places where the water sources are not the safest is will be an ideal companion. On uber long bike rides, you can use it to refill your hydration reservoir, or you can ditch the reservoir/bottle and just bring the Ultralight bottle. Another benefit to filtering on the trail is that the water supply in many locations can be at a cooler temperature, providing a refreshing and invigorating drink.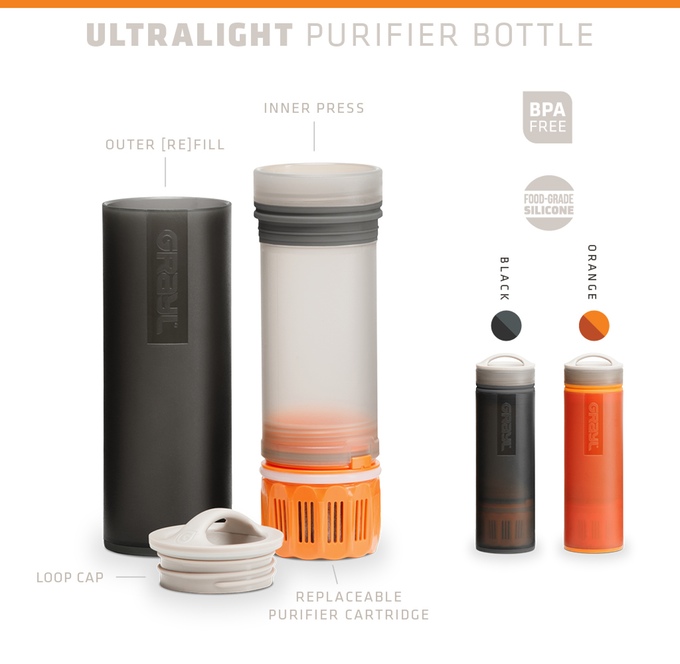 Ultralight System
The four piece system weighs 10.9 ounces and consists of the outer refill cup, the inner press, a replaceable purifier filter and a screw top cap. It can be used on the trail and any outdoor adventures, during global travel when dealing with questionable water sources, and at home during emergency disasters.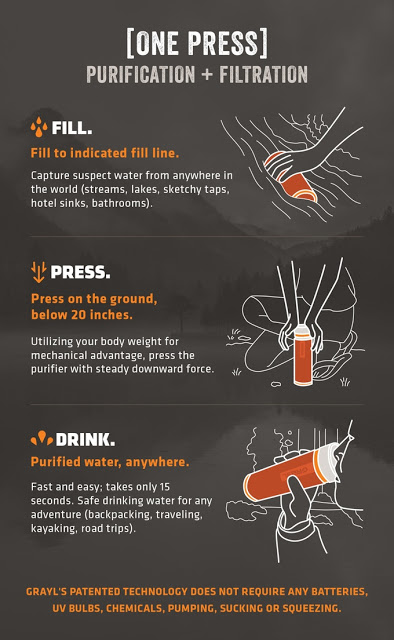 ONE PRESS
It only takes three simple and easy steps to purify a water source:
Re[Fill] at any stream, lake, sketchy tap, hotel sink, or bathroom; anywhere in the world.
Press on the ground (or below 20 inches). Fast and easy, takes only 15 seconds.
Drink purified water, anywhere. Safe drinking water for any adventure.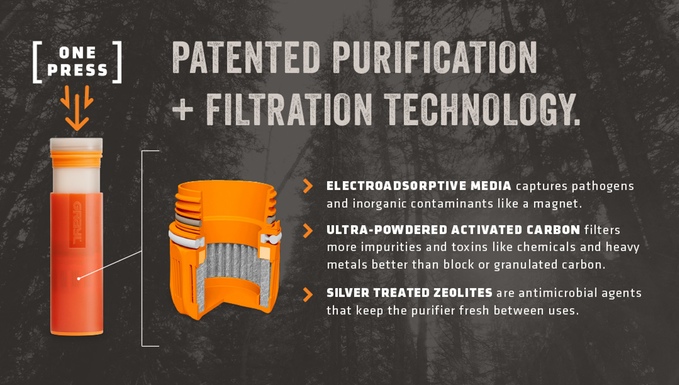 Electroadsorptive Purification
The filter is powered by a patented electroadsorptive media capable of removing submicron pathogens and inorganic contaminants. When pressing water through the filter, electroadhesion and ion exchange create a powerful submicron trap for pathogens (viruses, bacteria and protozoan cysts). Additionally, the purifier media contains many embedded layers of ultra-powdered activated carbon which create a large surface area for removing toxins like chemicals and heavy metals. Silver treated zeolites, a natural antimicrobial, inhibit growth and keeps the purifier fresh between uses.
Removes 99.9999% of viruses (e.g. Rotavirus, Hepatitis A)
Removes 99.9999% of bacteria (e.g. E coli, Salmonella)
Removes 99.999% of protozoan cysts (e.g. Giardia, Cryptosporidium)
Filters (e.g. sediment, dirt), many chemicals (e.g. chlorine, benzene) and heavy metals(e.g. lead, arsenic)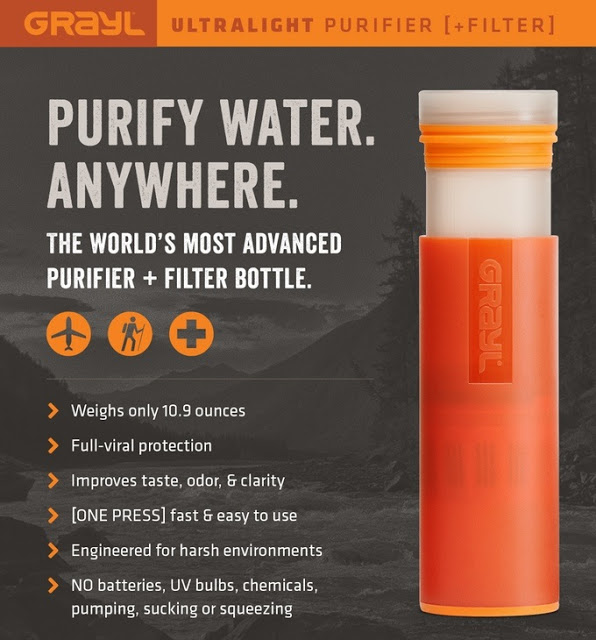 Specs
Removes 99.9999% of viruses(e.g. Rotavirus, Hepatitis A)
Removes 99.9999% of bacteria(e.g. E coli, Salmonella)
Removes 99.999% of protozoan cysts(e.g. Giardia, Cryptosporidium)
Filters (e.g. sediment, dirt), many chemicals (e.g. chlorine, benzene) and heavy metals(e.g. lead, arsenic)
Size: 9.625″ (24.5 cm) H x 2.875″ (7.30 cm)
Weight: 10.9 oz (309 g)
Capacity: 16 oz (473 ml)
Fast Flow Rate: 15 seconds per 16 oz (2 liters/minute)
Lifespan of Replaceable Purifier Cartridge*: 300 uses (40 gal/150 L)
Active Technology: Electroadsorption, ultra-powdered activated carbon and silver treated zeolites
Antimicrobial: Yes
Chemical-free: Yes
BPA free materials: Yes
Meets NSF/ANSI Standards: 42+53
Designed in USA
Purifier media made in USA | Ultralight Bottle made in China