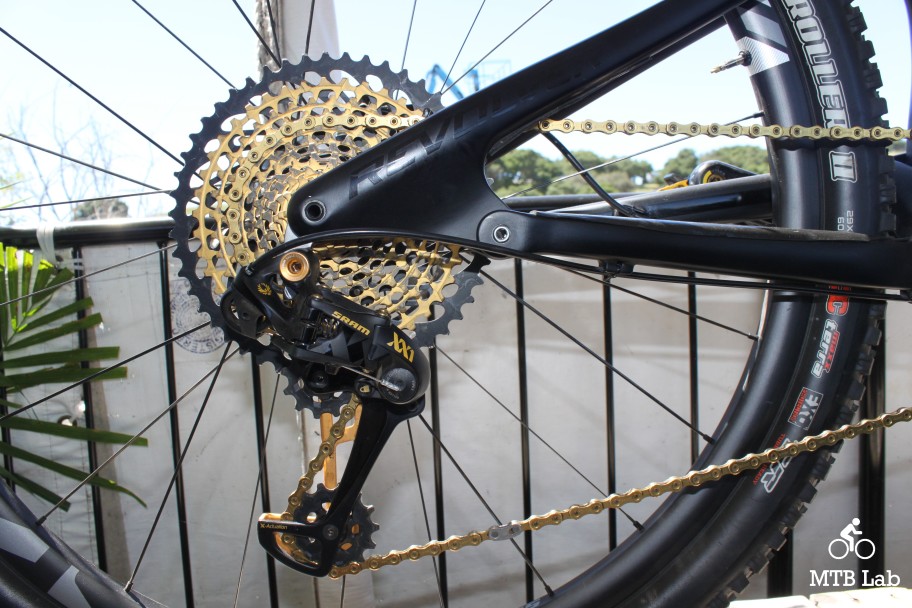 It warmed up significantly for Day 3 of the Sea Otter Classic and the cloudless, and bright sunshine made the temperatures feel darn hot in comparison to the previous days inclement weather pattern. The SRAM Eagle 12-speed drivetrain was on display as was Shimano's XT 11-46T cassette, the Trek Farley EX 9.8 and 8 full suspension fat bikes and Box Components innovative 11-speed drivetrain system. Bontrager had the Drop Line dropper post and XR4 TI, SE4 TI, Barbegazzi (fat), Chupacabra (Plus) tires and the LineXXX and KoveeXXX wheelsets, and WTB had their Trail Boss 3.0 Plus tires, and e*thirteen had their burly TRS tires. Apparel company Eleven Nine's Crankitup is their mountain bike short while the Uprising is ideal for road and mountain use, Bern had the FL-1 roadie helmet, and Fezzari had the upgraded TIMP Peak 2.0 while iSSi had their wildly colored pedals on display.
SRAM
The new 1x 12-speed Eagle drivetrain will come in XX1 and X01 variants and utilizes a dinner plate sized 10-50 tooth cassette. The Gold accented XX1 looks sharp in person though the X01 does have an individual Stealth scheme that will likely look better on most bikes. The groups will be available in June with pricing at $1480 for XX1 and $1193 for X01, which includes cranks, BB, chainring, cassette, chain, derailleur, and shifter. The individual prices: cranksets are XX1 $425 and X01 $390, chainrings are $99, cassettes are XX1 $420 and X01 $360, chains $60-$85, derailleurs are XX1 $289 and X01 $220 and trigger shifters are XX1 $162 and X01 $127.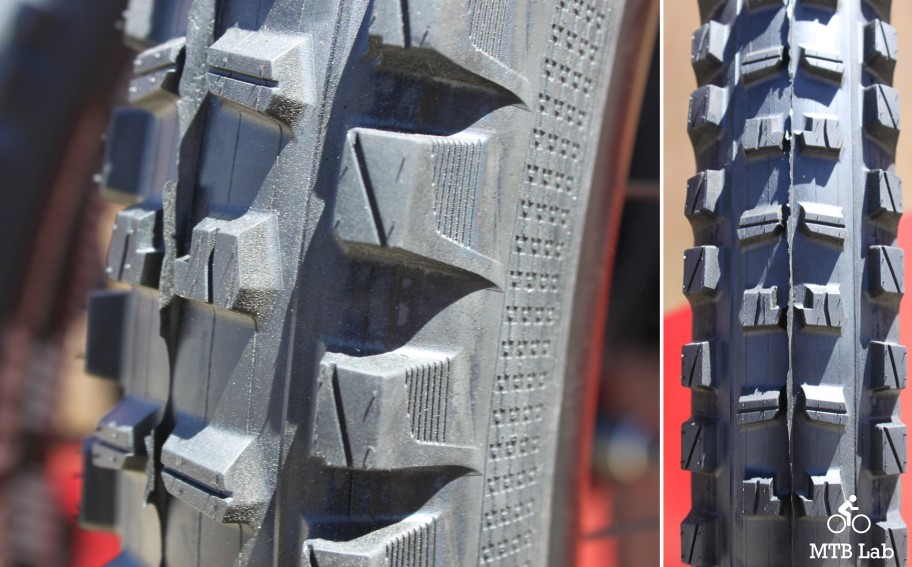 e*thriteen
The brand new TRS tires were built from the ground up, starting with a clean design slate to come up with a tough and aggressive tire for riders that want to push the envelope. The shoulder side knobs are innovative and have a line of Sipes to help with transitions from a straight line to cornering and back, and provide excellent braking traction. The TRS tires come in 27.5″ and 29″ sizes, and in two compounds and measure out to a real 2.35″ width. They come in two versions, the Race Level with a Sticky Triple compound and the Plus Level with Durable Dual compound, with prices ranging from TRSr 65o $69.95, TRS+ 650 $56.95, TRSr 29 $71.95 and TRS+ 29 $58.95.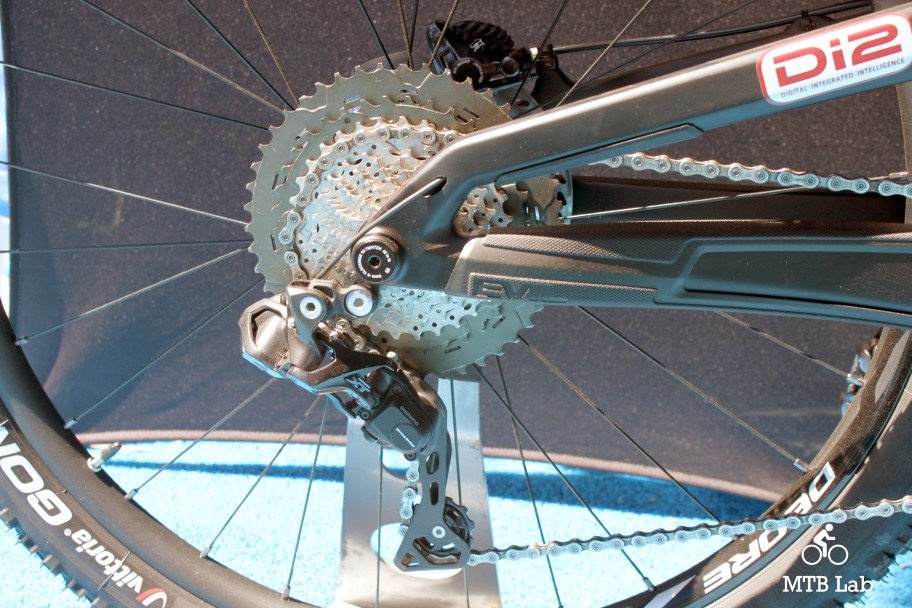 Shimano
The trick new dinner plate sized CS-M8000 XT 11-46 cassette will allow you to run a larger front chainring to emulate more closely the gearing range offered by the SRAM 10-42 cog. The 11-46 is also compatible with the current  XTR or DEORE XT rear derailleurs. The ramping on the cog looked highly engineered and should offer the always excellent smooth shifting performance of their cassettes.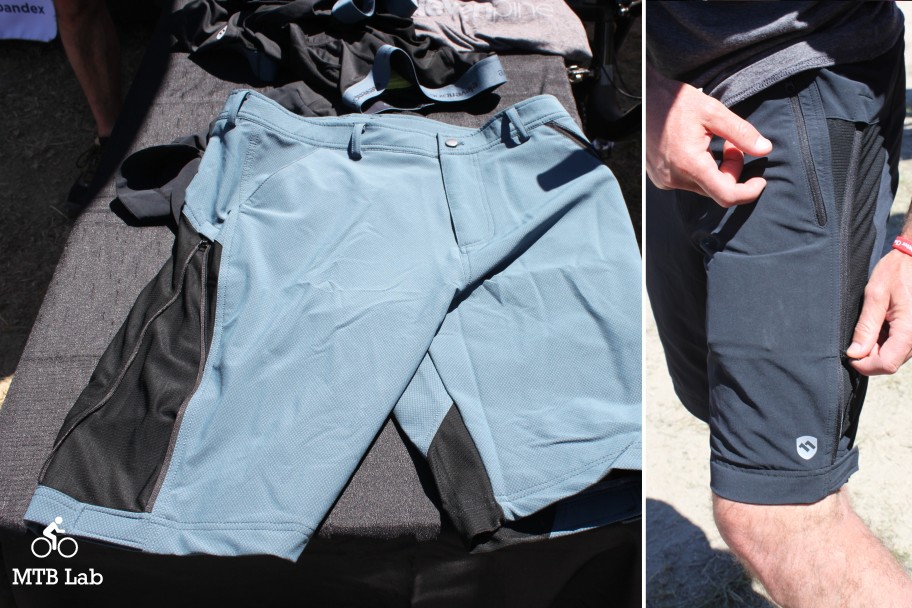 Eleven Pine
Their shorts utilize their innovative 11P system to give bicyclists a high-performance alternative to wearing spandex, and it includes discreet side zippers that transform shorts into either technical, form-fitting shorts or loose, comfortable and fashionable shorts. The Crankitup is their mountain bike oriented model while the Uprising is ideal for road and mountain use. We'll have a review out shortly with the provided test samples.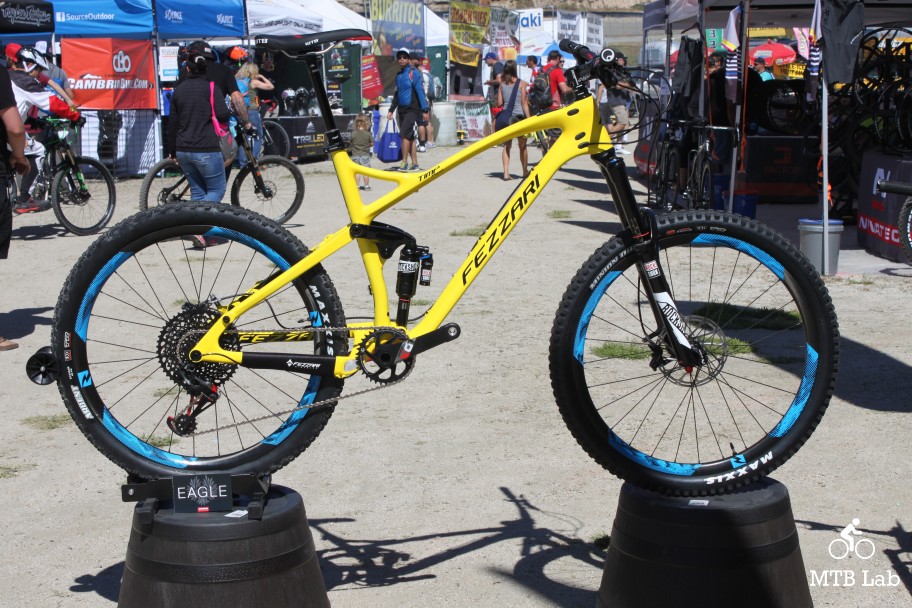 Fezzari
The upgraded TIMP Peak 2.0 is a carbon full suspension All Mountain bike with 150mm of travel. It features Reynolds carbon wheels, a RockShox Pike fork and Monarch Plus shock and Reverb dropper, SRAM Guide brakes and gets the trick SRAM X.0 1×12 Eagle drivetrain. They lowered the bottom bracket for better cornering and control, and they tweaked the rocker link. Fezzari's direct to consumer pricing offers an affordable $5899 price point.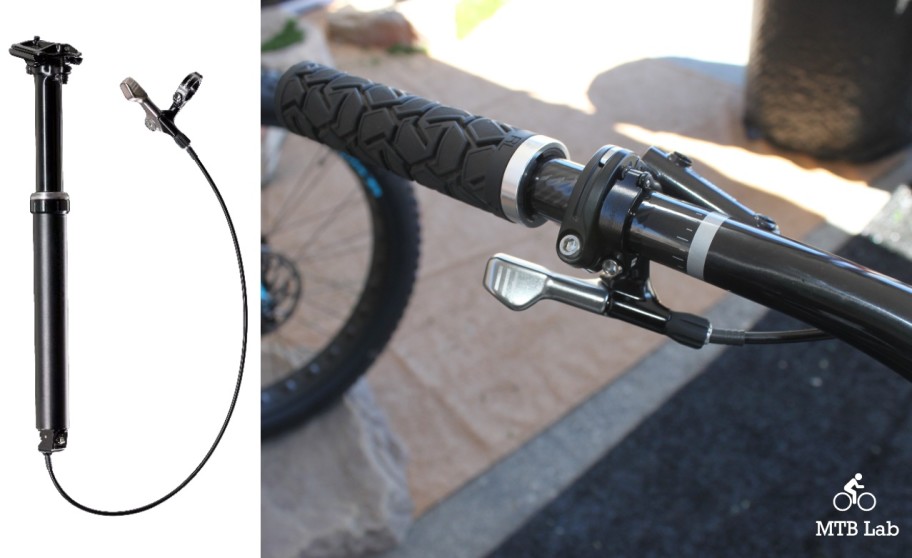 Bontrager
The new Drop Line dropper post uses an Air sprung hydraulic locking cartridge and to prevent rotation has a keyed chassis. The internally routable post uses remote cable actuation with an under bar lever, comes in only a 31.6mm diameter and 100, 125 and 150mm of travel and costs a reasonable $300. They have a 35mm handlebar lineup, including the LinePro carbon version for $180 and the standard Line for $80, and both come in 750mm and 800mm widths and 15mm and 27.5mm rises.  Miscellaneous other additions are a LinePro and Line stem in 40, 50, 60, 70 and 80mm lengths and 0 rises, which cost $90 and $40 respectively. And last but not least are the LinePro pedals at $100.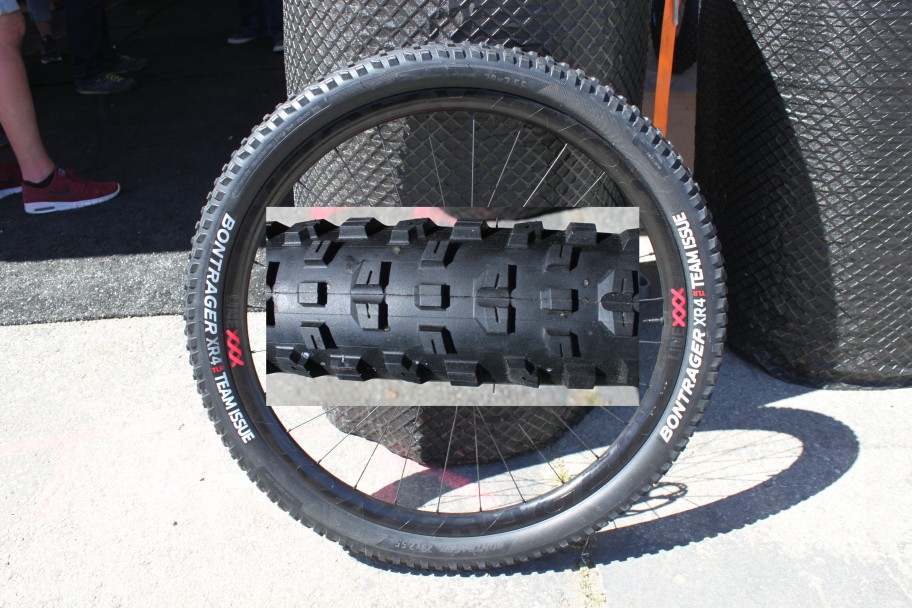 They have several new tires models with highlights to the XR4 TI (supple protection) and SE4 TI (maximum durability) which comes in 2.4″ widths and 27.5″ and 29″ sizes and my favorite the semi-fat 29er in 2.55″ width, all of the tires retail for $70. They also have the Barbegazzi fat tire in 26″ x 4.70″ and 27.5″ x 4.50″ sizes for $120 and the Chupacabra Plus tire in 27.5″ x 2.8″ and 29″ x 3.0″ for $120. Also, they have two carbon wheelsets with 29mm inner widths, the All Mountain/Trail LineXXX (27.5″ and 29″) and the lighter cross country KoveeXXX (29″), all of which have DT 240 hubs and retail for $2499.98.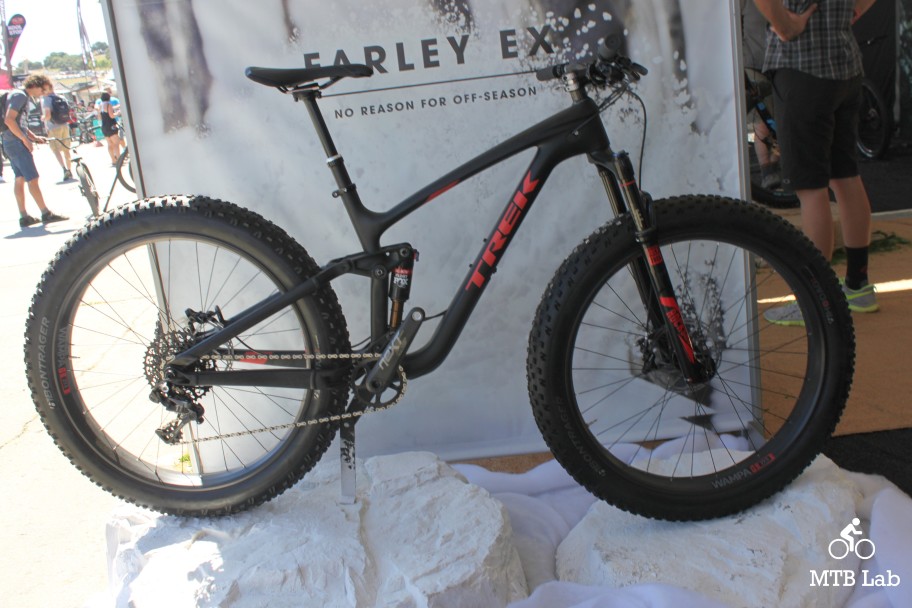 Trek
Trek debuted the new Farley EX full suspension fatbike at Sea Otter. The bike comes in the Farley EX 9.8 version which has an OCLV carbon front triangle and alloy rear, and the full aluminum Farley EX 8. The bikes have 120 mm of travel, Bontrager Hodag 27.5 x 4.5 tires, FOX EVOL shock with RE:aktiv damper, and RockShox Bluto RL fork. The carbon EX 9.8 comes with the Bontrager Drop Line dropper post and Wampa carbon wheels and SRAM X01/X1 1×11 drivetrain, while the alloy EX 8 gets the SUNringle Mulefut wheels, KS eThirty Integra dropper post and the SRAM GX 1×11 drivetrain.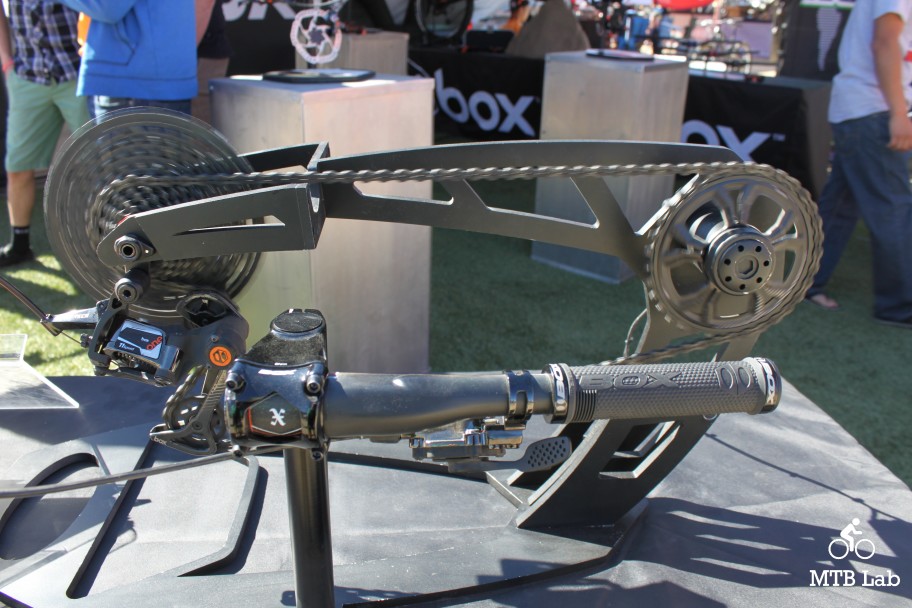 Box Components
Their 11-speed drivetrain system is pretty trick, and it's nice to see a manufacturer battling against the two big 'S' behemoths. The system has an 11-40T or 11-42T cassette and uses their innovative PivotTech rear derailleur and PushPush shifter. At the shifter housing juncture on the derailleur, they utilize the spring loaded PivotTech cable system which can move out of harms way and help resist damaging impacts and prevent hanger breaks. I liked the PushPush shifter which allows downshifts by pushing directly inward on the paddle end.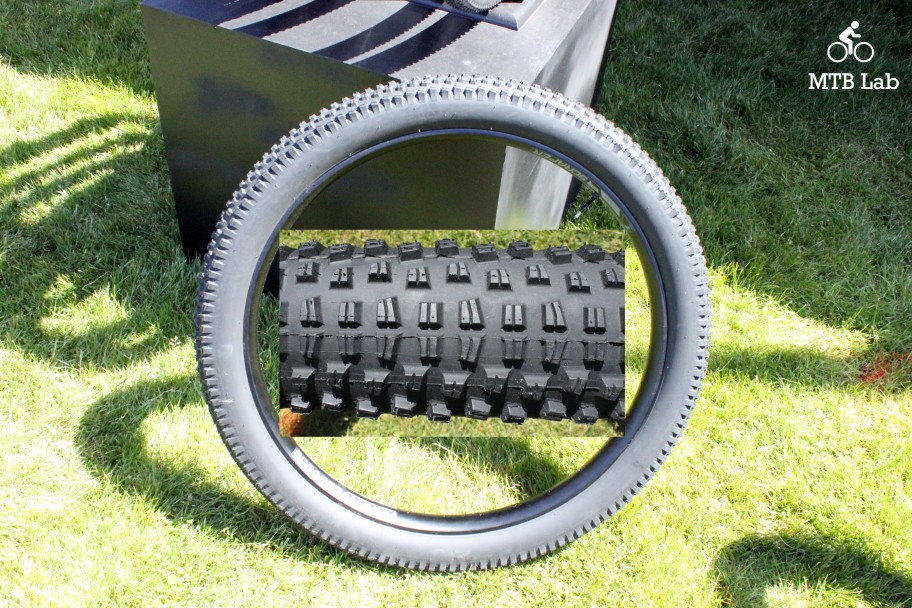 WTB
The WTB Trail Boss covers a lot of bases, and this All Trail tire is fast and light, and has good traction and braking qualities, and can work in multiple conditions and are still tough enough to be ridden aggressively. They now have morphed it up to a 3-inch Plus sized tire, and the tread pattern, rounded profile, and knob design will offer improved float, traction, and braking for Plus compatible bikes.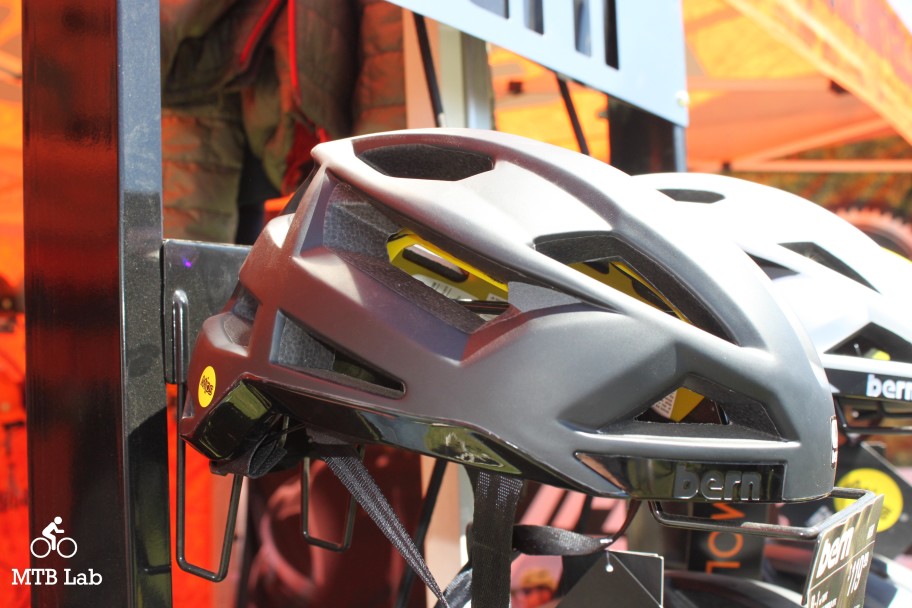 Bern
The new Bern FL-1 is their first foray into a roadie helmet. It uses an ultra lightweight inmold EPS, has 18 vents, a low profile fit and uses the Boa Bern Yoke which is a proprietary and breathable 360-degree adjustable system responsible for near-perfect fit. The FL-1 will be available in a variety of colors, starting at $99.99 without MIPS and $119.99 with MIPS. A mountain bike version with a visor and several off-road design tweaks will be available later in the year.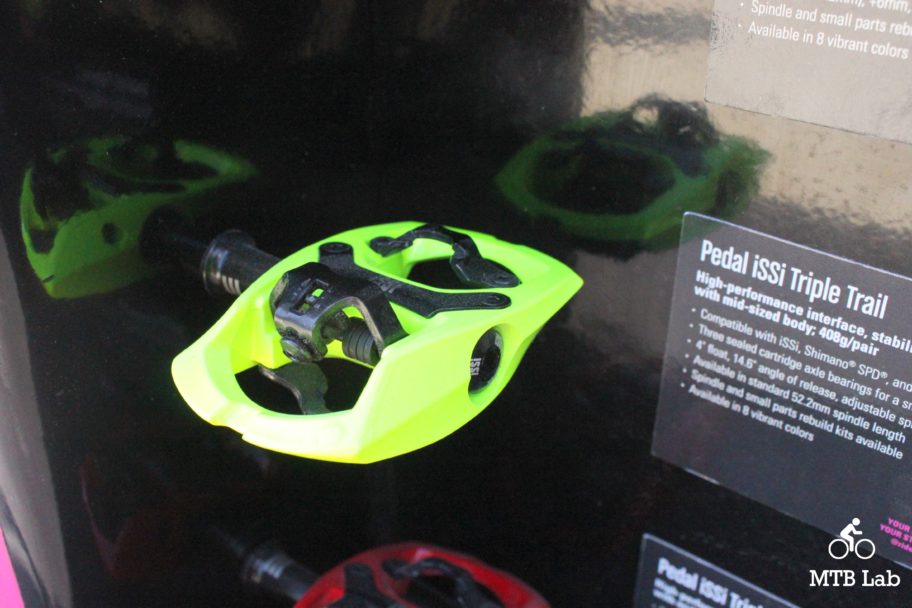 iSSi
They're a relatively new brand in the pedal marketplace, but they make four models, the iSSI Road, the city/touring iSSi Flip, and the mountain bike iSSi Trail and iSSi II. The iSSi II can function for both Road and Off-Road, so it's a minimalist workhorse. All of the models come in a slew of fun colors, from standard Black and Silver to wild neon tones.
The most interesting one to me was the Trail model, which comes in two versions, the Triple Trail with three sealed bearing for $125 and the Double Trail with a sealed bearing and a bushing for $100. The Trail has a wider platform which offers a solid and stable pedal contact for shoes and protects all the mechanisms from rocks and terrain obstacles. The Trail pedals come in eight colors and are compatible with SPD and Wellgo 98a cleats. They use Chromoly spindles with a 52.5mm length, have adjustable spring tension and a 4º cleat float.