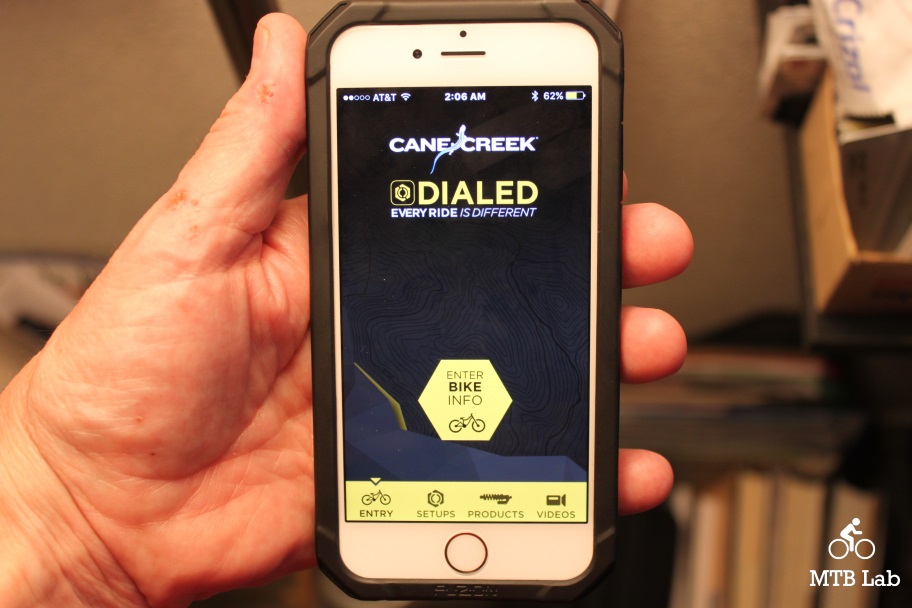 Cane Creek has released Dialed a free mobile application for their Double Barrel rear shocks that turns your smartphone or tablet into a suspension tuning guide and troubleshooter. The app is available for iOS and Android operating systems and provides the ability to get base setup information and has the capabilities for tuning and tweaking and offers assistant steps and videos.
Their Double Barrel shock technology allows a vast range of tuning settings, with separate adjustments for air, low and high-speed compression, and low and high-speed rebound along with the volume spacer additions and reductions. It takes some extra work to get their shocks tuned correctly for your weight, riding style, and personal preferences, and although it's not a hugely complicated process, it takes some patience and tinkering. The base tune's that they offer on their website for particular bikes works extremely well, and you could easily live with that functional setup, but the extra edge, control, and precision you can get from tweaking things are where the shock shines. The usability and functionality of the Dialed app are the perfect helpers to assist you in tuning the DB shocks for the best in ride quality.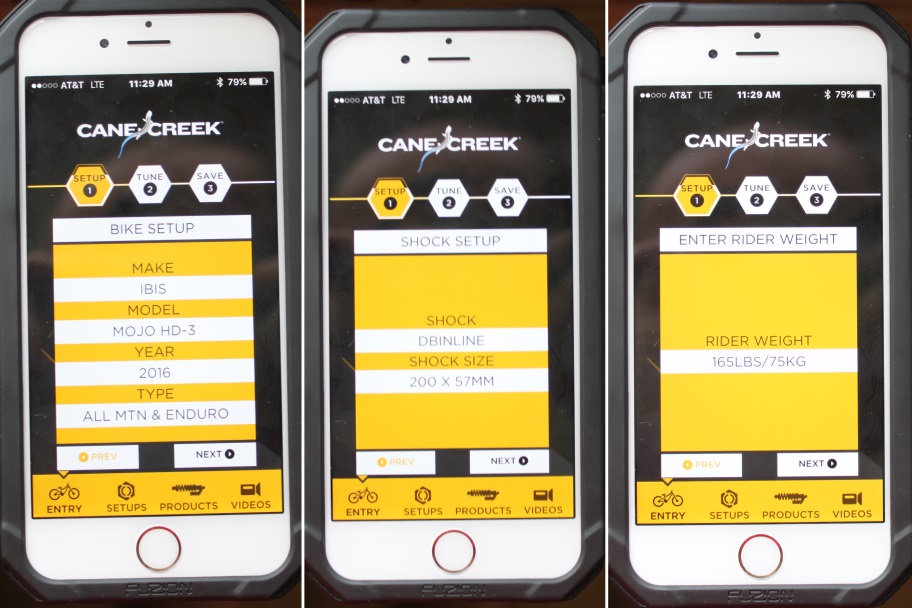 You initially enter the pertinent information for your bike including the make, model and year, followed by shock model and other shock data if required. After it asks you to confirm the shocks size, you then enter your rider weight and a personal name for the setup.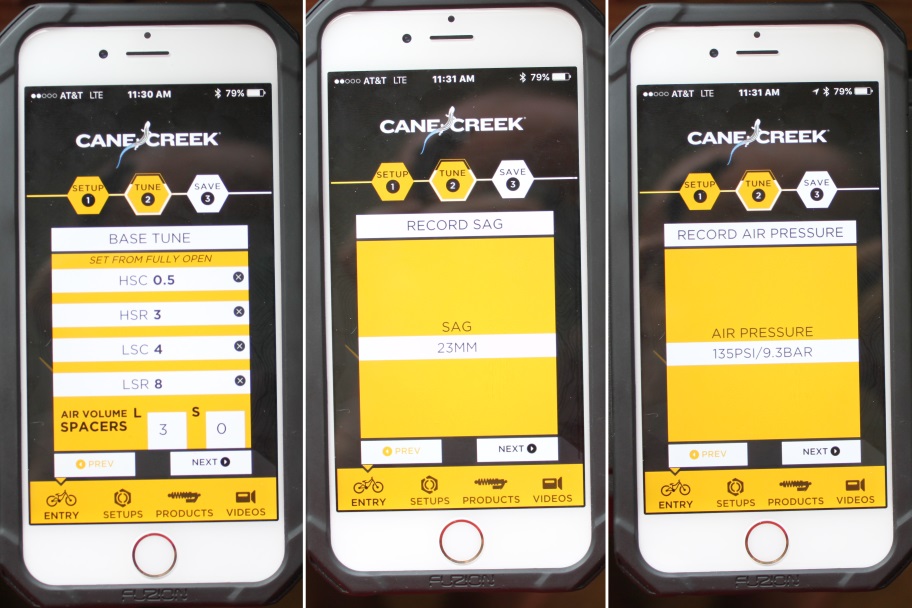 You can then perform custom tuning or save and exit the setup. If you decide to tune the shock, which is a good idea initially since the configuration is empty, you can choose to start with the bikes base or enter a personal tune. The base tune comes from their database, though you can tweak it if you have some personal settings. Lastly, it asks for the sag and air pressure readings.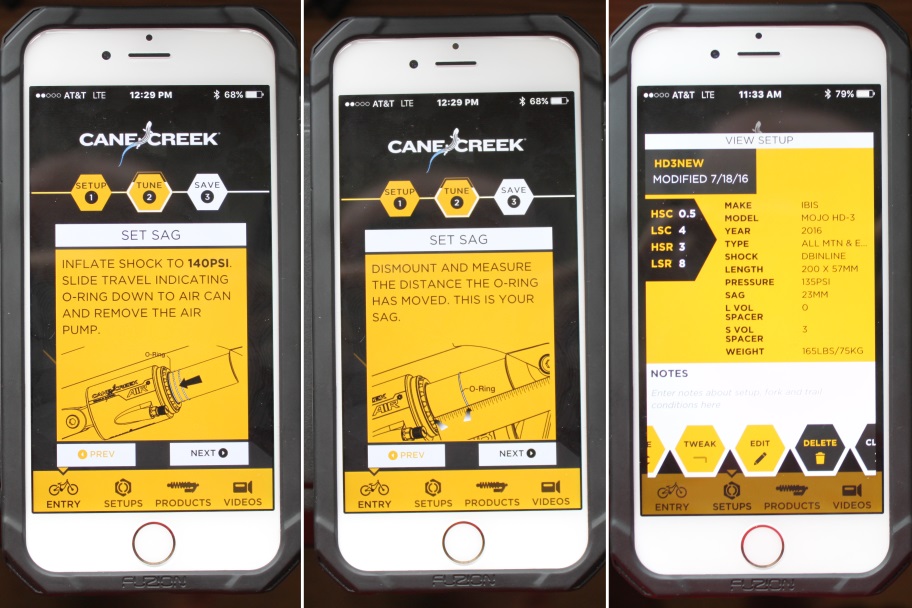 If needed it gives an excellent walkthrough with pictures of how to perform a sag check. You can tune further with a tuning session or save and exit. You get a nice layout of all the parameters for your shock tune when you choose the saved setup from the main menu.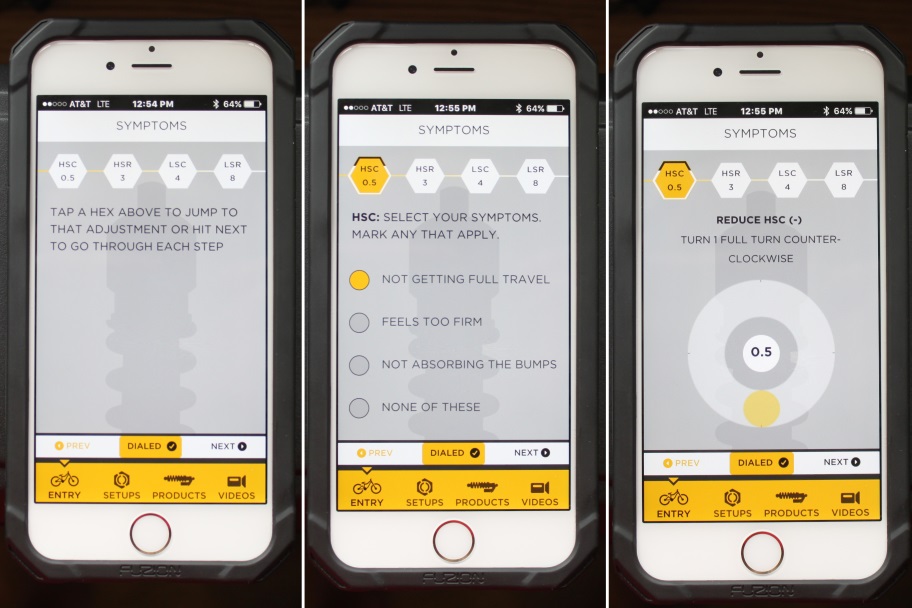 If you then decide to tune or tweak the shock, it has some excellent assistant steps to alter all the setup. In the tweak mode you choose one of the adjustments (HSC, HSR, LSC, LSR) and enter symptoms you might be having and it offers suggestions to cure the ailment.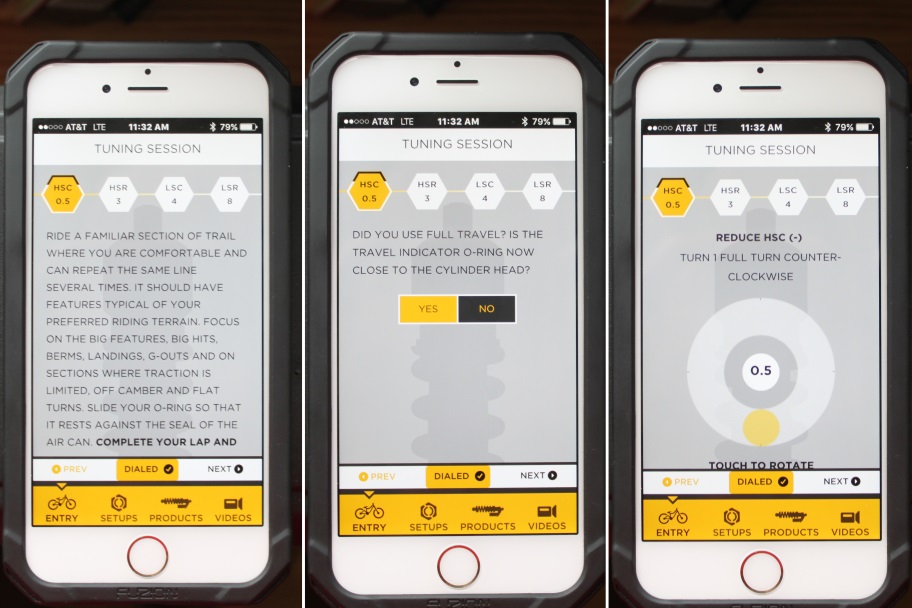 In the tuning mode, it asks you to go out for a ride and then choosing one of the adjustments (HSC, HSR, LSC, LSR) it walks you through tuning questions and offers suggestions for setup. You can also go to their video library for more in-depth and technical aspects of some of their shocks.
Specs
Quickly enter bike details using our streamlined user interface.
Access Cane Creek suspension database to get factory settings & base tunes.
Interactively learn the steps of suspension tuning.
Get adjustment recommendations on the trail based upon your feedback.
Store all of your set up details and trail notes in one place.
Watch Cane Creek suspension education videos.
Social sharing and translations coming in a later version.
Bottom Line
The Dialed app is an excellent utility for setting up your Cane Creek Double Barrel shocks, and it offers base information pertinent to your bike along with suggestions for tweaking and tuning when you want more involved adjustments to your bike for a better overall ride. Having the capacity to have this information in the field was extremely useful and functional.

Press Release
FLETCHER, N.C. – Cane Creek Cycling Components is pleased to introduce a new tool for owners of their Double Barrel rear shocks. DIALED, now available for iOS and Android users, is a free mobile application that turns a smart phone into a suspension guru by teaching riders the art of suspension tuning in a quick and simple format.
"Well tuned suspension gives a rider more confidence which can lead to the truly perfect day on a bike," says Vice President of Sales and Marketing, Holly Colson. "Double Barrel shocks offer an almost limitless tuning range, therefore we consider it our obligation to back up this powerful capability with the right tools and support for our riders".
DIALED offers an easy and interactive platform that allows the rider to quickly receive a high level of feedback and instruction so they can get the best performance out of their bike. Designed for entry-level riders up to advanced suspension wizards, DIALED gives the option of walking through the steps of a full tuning session or entering an established personal tune and tweaking it to perfection.  Riders can explore the effects of each adjustment to get the most out of their bike based on their individual preferences.
To set up a bike, DIALED connects to the Cane Creek suspension database of over 6,000+ full-suspension mountain bikes and accesses shock configuration and custom base tune settings. For those who are new to the suspension tuning process, DIALED will interactively teach them the steps to take and provide adjustment recommendations for this bike while on the trail and based upon the rider's feedback.
For added flair, Cane Creek has also worked with partners and special guests on educational video pieces so a rider can learn how to set sag or adjust air volume from the pros. If a rider already has a tune they can enter it in, tweak as needed and store all of their set up details and trail notes in one place for an unlimited number of bikes set ups.
DIALED is free and available now for iPhone and Android user in iTunes, the App store and on Google Play.
About Cane Creek Cycling Components: Cane Creek is an employee-owned company based in the mountains of North Carolina. Voted one of Outside Magazine's Best Places to Work 2014, the company is deeply rooted in the culture of cycling and has built its reputation producing the industry's top components.  From the introduction of threadless headset technology in 1991 to the ground-breaking Double Barrel suspension line in 2005, Cane Creek continues to push the envelope with its attention to innovation and quality. To learn more about Cane Creek, contact (800) 234-2725 or visit http://www.canecreek.com.