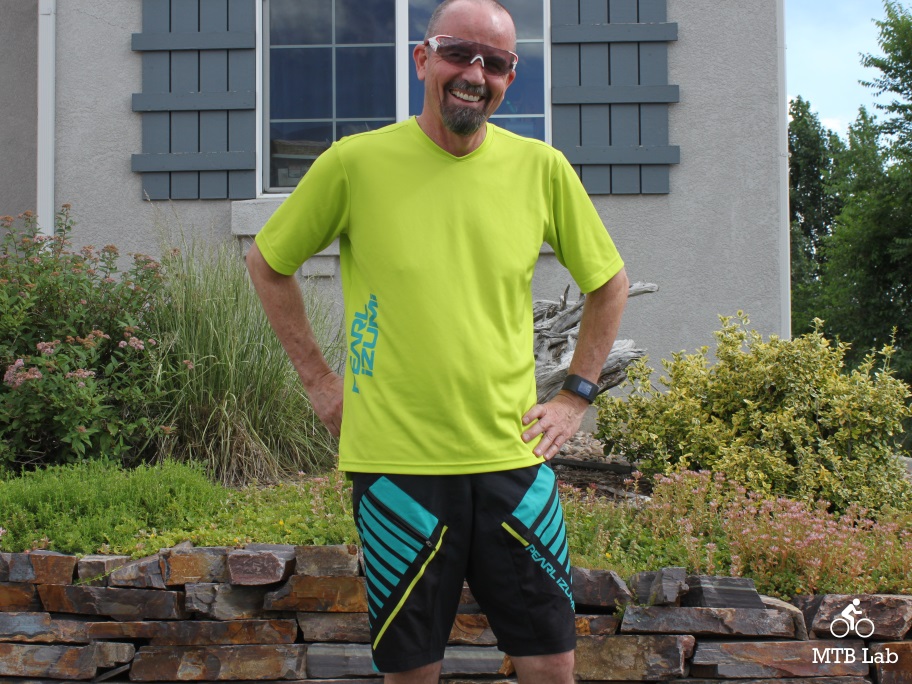 The Divide shorts are comfy and plush with an ideal amount of bagginess and a relaxed fit while the Summit jersey is a high-tech T-shirt with a simple design. Pearl Izumi have always been at the forefront of biking apparel and have used high-tech fabrics and cycling based features and designs that have an extra degree of toughness and durability and functionality.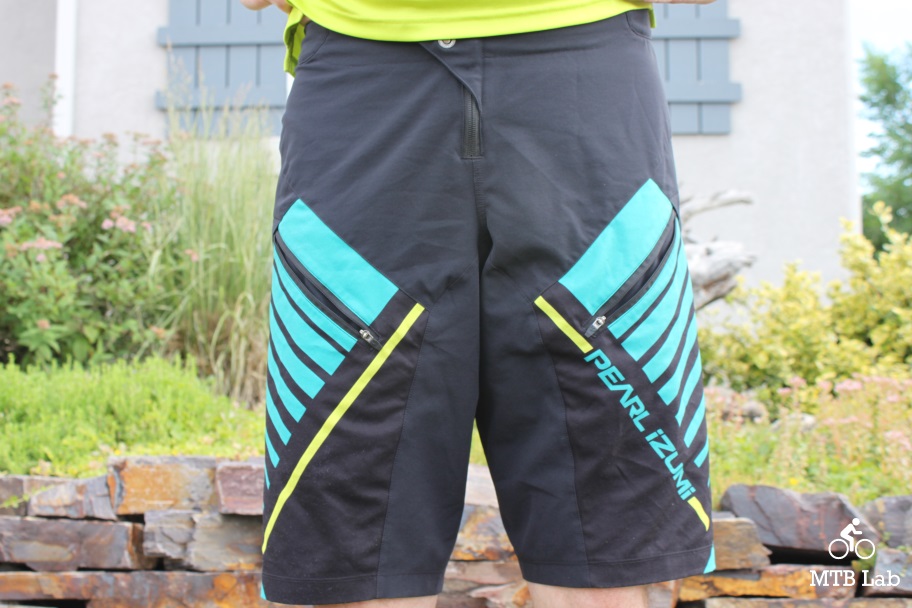 Divide Shorts
The baggy shorts are comfortable and have a relaxed fit and utilize a four-way stretch fabric with excellent wicking properties. They retain an XC shell with an armor compatible 13-inch inseam with a slightly tapered leg. It uses their lightweight 100% polyester Transfer fabric which is highly breathable and provides optimal moisture transfer. It has a dual snap front closure with a zippered fly and uses an elastic rearward mounted waist adjustment system with Velcro closures. It has two large zippered front thigh pockets and a small padded zippered rear on the back panel. The shorts retail for $85 and come in Black and Black/Viridian Green colors and XS to XXL sizes.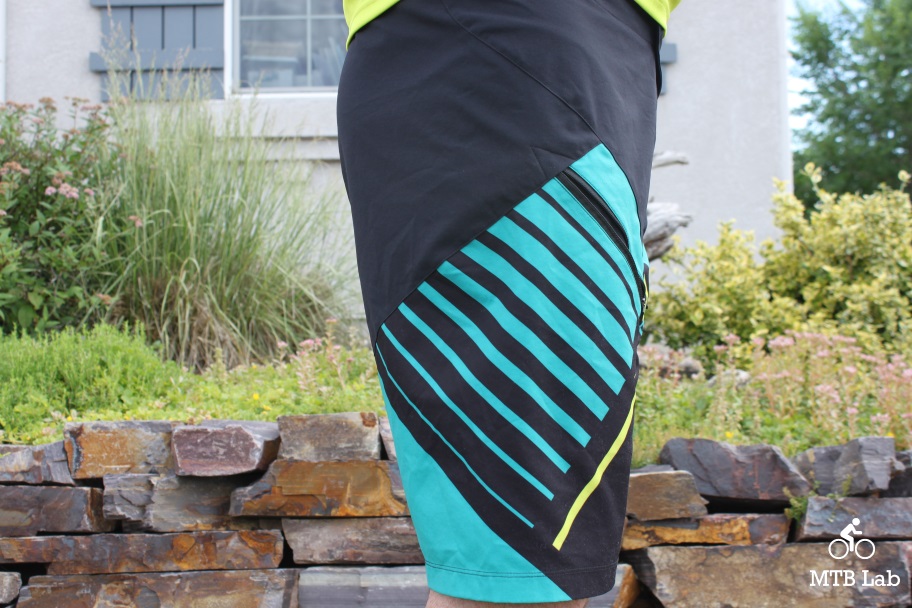 Impressions
The four-way stretch shorts are quite comfortable with highlights to it's wide and thickly padded back panel. Not only does that design make them plush but it provides cushioning when wearing a pack. They had a decent inseam length for general riding and pedaling but were just a tad too short for full armor coverage, so perhaps an extra inch might suffice? The pockets were useful for small and light items, and they kept things secure with their zippered closures, though I must admit I never used the back pocket. The dual snap closure worked fine, and it never popped open on me accidently, and the zippered fly worked fine during calls of nature, though it's a tad too short in length. The waist adjustment worked decently, and I liked the give of the elastic section that floated through the padded back panel since it offered improved comfort and conformability. In spite of the fabric being lightweight, it has been quite durable and hasn't pilled and worn, except for some micro-pilling where the saddle abrades things. I liked the Black/Viridian Green color scheme and the relaxed baggy fit and their extreme comfort.
Specifications
Lightweight Transfer fabric provides optimal moisture transfer with superior hand feel
Snap front closure with zippered fly
Snag free internal waist adjustment
Two front legs and one padded center back pockets
13″ inseam (Size medium)
100% polyester; Imported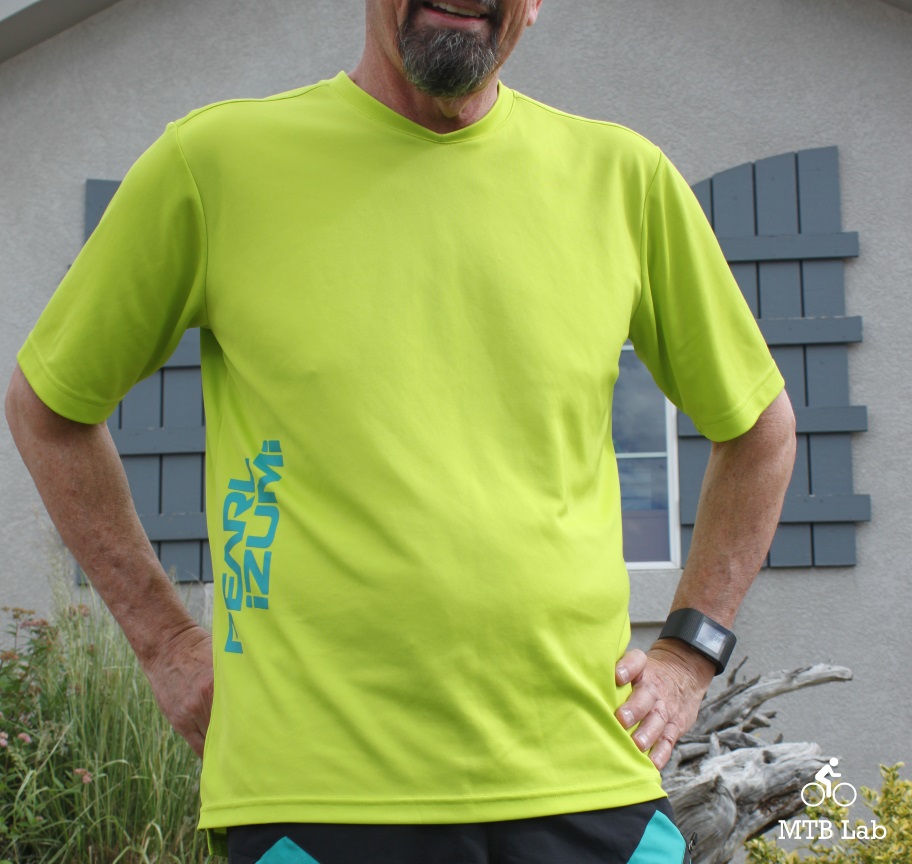 Summit Jersey
The jersey is a high-tech T-shirt that has a relaxed and loose fit and uses their lightweight 100% polyester Transfer fabric which is highly breathable and provides optimal moisture transfer. The four-way stretch material is comfortable and has an excellent feel on the skin and comes with some fun yet subtle graphics. The jersey retails for $40, comes in Lime Punch, Tibetan Red and Black colors and S to XXL sizes.
Impressions
This simple jersey is extremely comfortable and stretches in all the right places while out riding with and without a pack. The back of the neck has an additional section of material that reduces chafing and friction and keeps the jersey hanging correctly. The high-tech T-shirt is simple in design but offers a lot of great technical features including the stretchy material with its excellent wicking properties and breathability and comfort. I haven't seen any pilling as yet, especially in the common areas from wearing a pack, around the back, shoulder, and waist.
Specifications
Transfer fabric provides moisture management
Non-zippered, tech-T design
100% Polyester, Imported
For further information refer to pearlizumi.com