Action Wipes are a high-tech version of baby or hand sanitizing wipes and utilize a safe and natural formula based on plant-derived ingredients and pure essential oils. They're pre-moistened and 9″ x 10″ in size, so only one is needed to clean your entire body for an "InstaShower" or a "shower in a pocket", and they offer a refreshing scent due to the inclusion of natural essence of Tree and Eucalyptus oils. The made in the USA product is cruelty-free and comes in 10, 12 and 15 single pack bundles ($12.50,$18.75,$31.25), and 10 ($9.99) and 30 ($24) sheet soft dispenser pouches.
When I was out on the trail, I was notorious for using baby wipes for cleaning myself up and cooling off. I also used them after applying sunscreen to remove excess amounts from my hands and around my eyes. Although the baby wipes did the trick, I always felt like I was rubbing nasty chemicals on my body, in addition to leaving a lingering industrial and alcohol smell on my skin.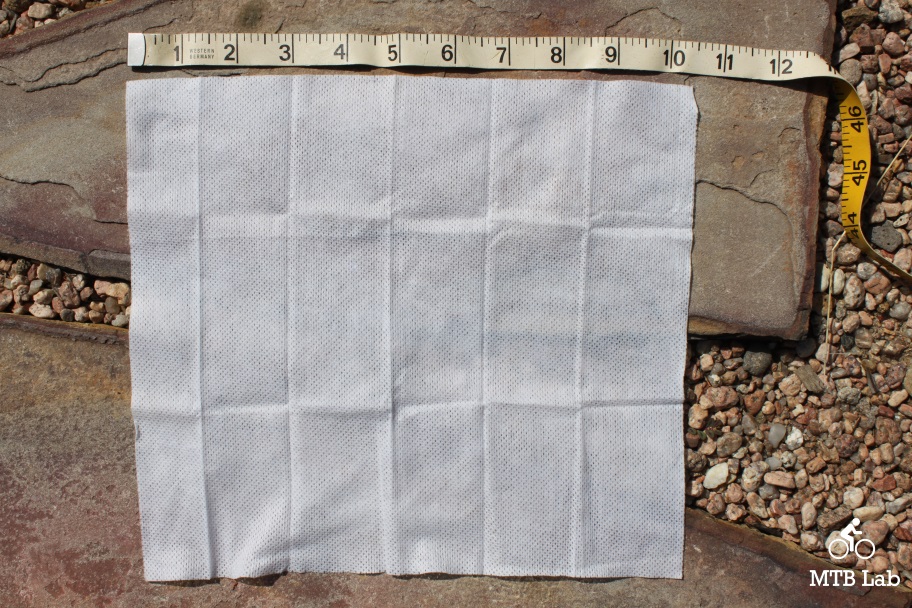 When you remove the Action Wipes from their pack you unfold it to its full 9″ x 10″ size, and the little towelette is mildly sudsy and extra moist, and the material is tough and durable with a cloth like consistency. In fact, they're durable enough to be reused multiple times and can be tossed into the wash and used for various applications afterward.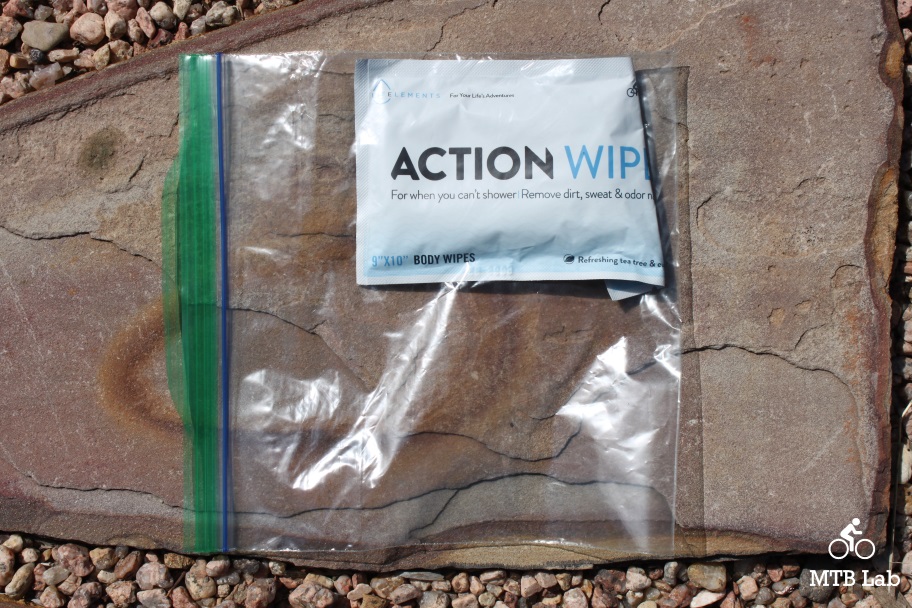 After I first use one, I just fold it back up and put it back into the pack and fold the top over or place it into a Ziplock bag. As long as the wipe is still damp and not overly dirty, I usually can get a handful of uses from it before it's time to reservice or upcycle them.

Impressions
Action Wipes remove sweat, dirt, grime, grease, chain lube and odor, etc., leaving you cleansed and refreshed without the need for water or nasty chemicals from standard wipe products. Although I haven't gotten to test it out, it's supposed to remove the oils of poison oak and ivy. I primarily used the wipes for tidying up after applying sunscreen and for a mild body shower and cleaning after a long ride or hike, and they did a phenomenal job of removing dirt and sweat and provided amazing deodorizing qualities. I have used them to clean up blood after a crash, and grimy hands after fixing a chain mechanical out on the trail, and they performed admirably in dealing with those ultra messy situations. Besides having enough moisture and cleansing power, the rugged cloth material lets you scrub deeply to remove embedded dirt and debris. Their formula and mild suds don't require post rinsing, and it dries quickly and doesn't leave a residue or any stickiness, just clean and refreshed skin.
Besides a water base, the ingredients cover the gamut of natural, safe, functional and useful products. It contains pure coconut oil for its gentle, anti-irritating cleansing and anti-microbial preservative properties, coconut and sugar mixture as a mild surfactant and wetting agent, Rowan shrub that provides emollient and skin softening properties. The essential oils include Frankincense Oil, Eucalyptus Oil, Tea Tree Oil and Ylang Ylang Oil, which provide antiseptic, antibacterial, antimicrobial, etc., qualities.
Bottom Line
Action Wipes contain no alcohol or parabens and are made with safe and natural plant derived ingredients and pure essential oils traditionally used for their antibacterial and antiseptic properties. The small towelettes are premoistened and durable and can be reused multiple times until they dry out or get too dirty. They provide a mildly sudsy action and offer good scrubbing abilities to remove sweat, dirt, grime, grease, chain lube and odor, etc., and leave you feeling clean and refreshed afterward. Besides their "InstaShower" capabilities they also provide excellent cleanup for minor cuts, scrapes, and road rash.
For further information refer to actionwipes.com
Action Wipes Ingredients
Water
Leuconostoc/Sorbus aucuparia fruit ferment filtrate | ECOCERT approved preservative derived from the berries of the Rowan shrub that provides emollient and skin softening properties, in addition to broad-spectrum antibacterial and antifungal properties.
Cocamidopropyl PG-Dimonium Chloride Phosphate (coconut oil derived emollient, surfactant, and preservative) | Cleansing, conditioning and foam enhancement properties which support the breakdown of oils on the skin. It has broad spectrum antimicrobial activities and minimizes preservative requirements.
Capryl Glucoside (sugarcane-derived surfactant) | | ECOCERT Certified, preservative-free natural, cleansing, solubilizing foaming agent that acts as a cleansing surfactant.
Boswellia Carterii (Frankincense) Oil | It has been demonstrated that frankincense essential oils contain complex chemical constituents and possess some anti-cancer activity by activating arrays of genes and pathways that suppress the growth and induce the apoptosis of established human cancer cell lines of different tissue origins.
Eucalyptus Radiata (Eucalyptus) Oil* | Antimicrobial and antiseptic properties that are effective in treating wounds, burns, cuts, abrasions, sores and scrapes. Strong properties as a cleanser to remove grease.
Melaleuca Alternifolia (Tea Tree) Oil* | Applied topically, has beneficial medical properties including antiseptic, antibacterial, antifungal, and antiviral action. In laboratory tests, tea tree oil effectively killed a number of the bacteria and fungi most commonly found in skin infections, including Candida albicans, Escherichia coli, Staphylococcus aureus, Pseudomonas aeruginosa, and Staphylococcus epidermidis. Tea tree oil has been found effective against some cancer cells in laboratory tests.
Cananga odorata (Ylang Ylang) Oil* | Antimicrobial and Antiseptic properties. Highly antioxidant and very effective against free radicals which damage skin cells. Very effective against mutated, drug-resistant bacteria like Escherichia coli andStaphylococcus aureus.
Gluconolactone (and) Sodium Benzoate |  ECOCERT approved preservative boost that provides broad- spectrum protection of the plant based ingredients and improves skin moisture content. It is non-sensitizing and non-irritating
About Action Wipes
Action Wipes were launched in 2008 as a refreshing, natural body wipe for when you can't shower. Inventor Martha Van Inwegen saw the need for a natural wet wipe to clean and refresh the body after a ride, run, hike or a long plane ride. She wanted a wipe she could use on her entire body, good for her whole family and safe for the environment. It was important that it remove dirt, sweat, and odor well without chemicals that could be absorbed into her system. Martha mixed potions in her kitchen before hitting on just the right combination of essential oils that could do everything she envisioned. And that "potion" became the secret sauce behind Action Wipes.