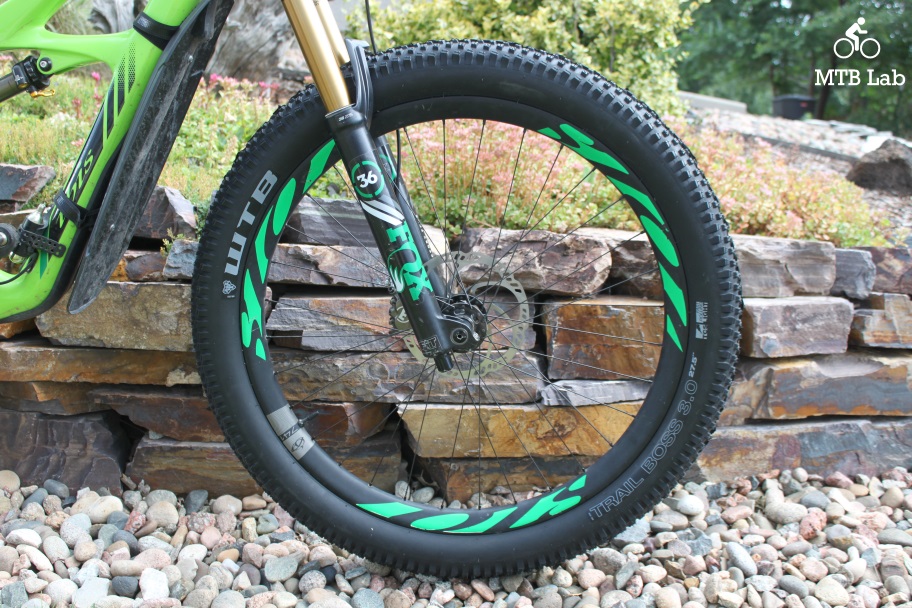 The WTB Trail Boss 3.0 is a Plus sized 27.5″ x 3″ tire that was designed to cover a lot of bases, and this All Trail tire is fast and light, and has excellent traction and braking and float qualities, and can work in multiple conditions and is still tough enough to be ridden aggressively. The tire is TCS (Tubeless Compatible System), utilizes a fast lightweight casing and has a Dual DNA compound which has stiff 60a durometer rubber along the center and a softer 50a durometer rubber for the side knobs. The test tire weighed in at 1059 grams, and the carcass measured 2.8″ wide, and the knobs were 2.9″ on 41mm rims. In addition, on a set of WTB Scraper i45's, they measured 2.93″ wide, and the knobs were 3.08″.
Specifications
Size – 27.5″ x 3.0″
Conditions – Dry to Wet / Hardpack to Loam
Casing – Lightweight
Compound – Dual DNA
Level – TCS Light (fast rolling)
Weight – 1125g
MSRP – $67.95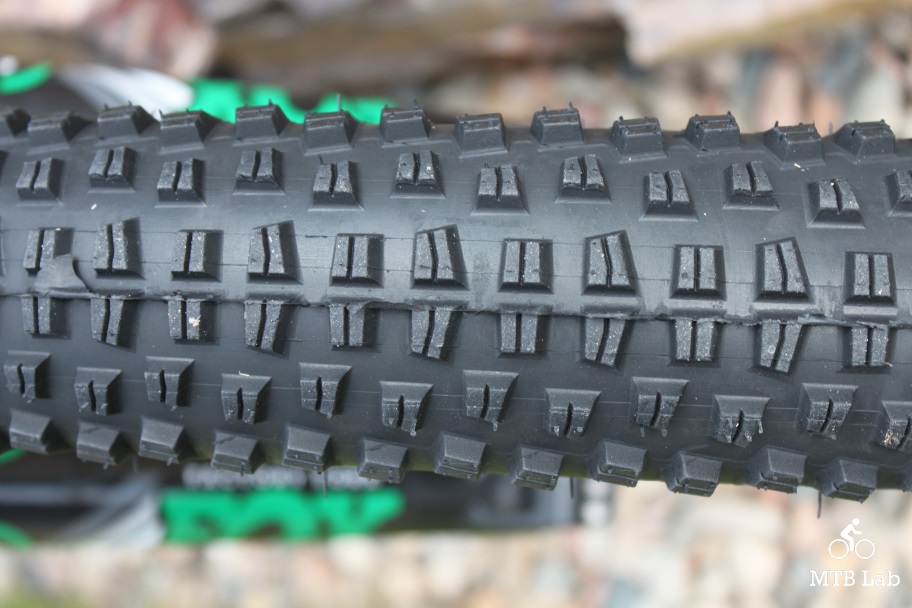 Tread
I tested the Trail Boss primarily as a front tire on my Ibis Mojo HD3 with the Fox Float 36 RC2 160mm fork and Ibis 741 carbon rims (41mm outer/34mm inner). They have the same basic tread pattern and blocky knob shape of the standard Trail Boss lineup (2.25″ and 2.4″ width), but the 3.0 has some minor alterations in the setup and an increased overall count. They went from the narrower versions alternating two and three knobs down the center to having four across; two doubled up down the center and two on the shoulder. It now has six rows of lugs, including the set of double center knobs, followed by the shoulder set and finally an outer set on the sides. The even tread design has staggered angled shoulder knobs, staggered ramped side knobs and doubled ramped center knobs and everything has deep siping on each knob for improved flex and grip.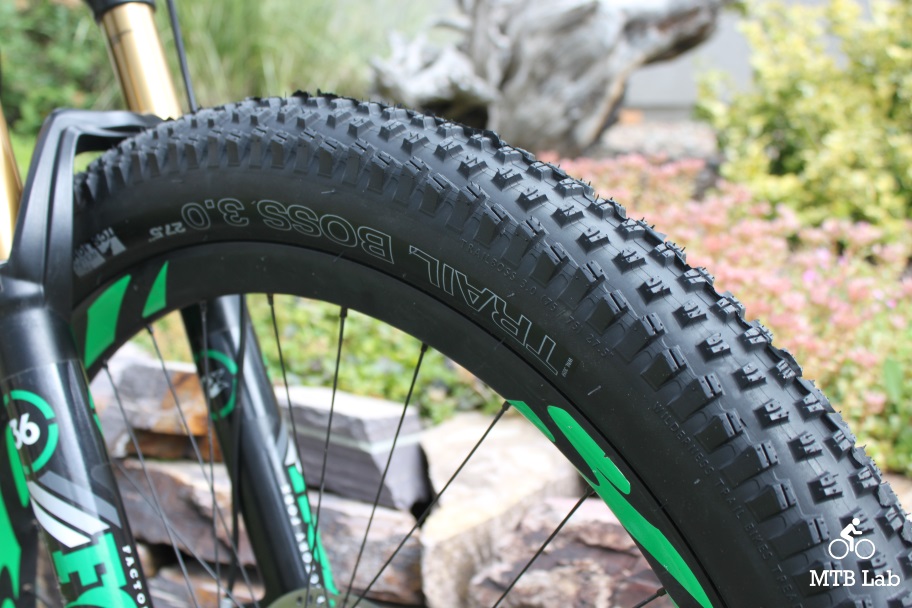 Impressions
I set them up tubeless, which took only a minimal amount of work, and I haven't had any issues once the sealant sealed the rim bead. I am running them at 13-15psi, which seems to be excellent comprise for ride quality, plushness, and float (I weigh 165 lbs). The casing seemed thin, but it has so far been pretty durable in everything I have tossed at them, and I haven't suffered any tears or holes as yet. The casing has some excellent suppleness and flexibility that helps it conform to the terrain and rocks and those characteristics improve traction and braking, and offer a better feel and ride quality. I'd like to see a TCS Tough version for increased sidewall toughness, even at the cost of a slightly heavier tire.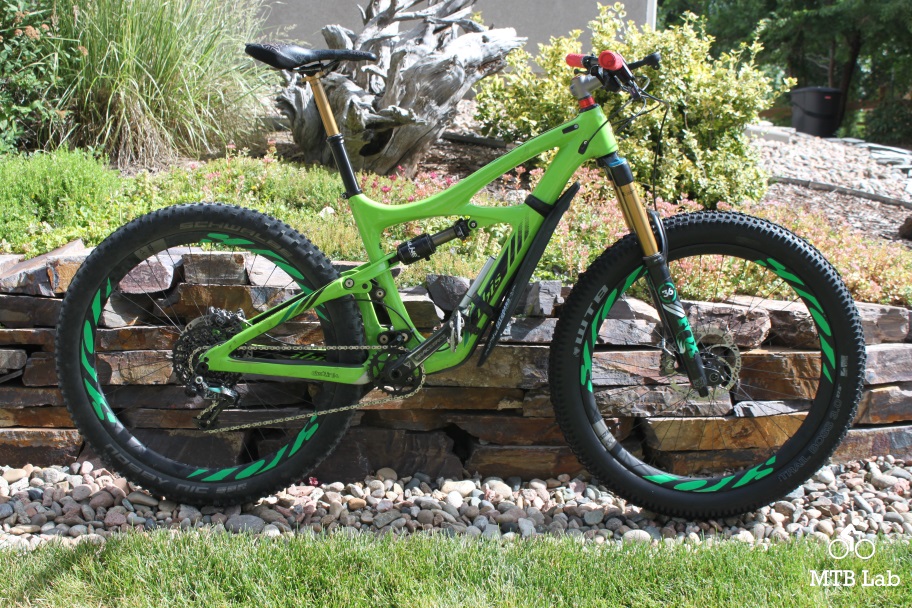 On the 41mm rims the tires measured in at an average of 2.9″ wide (carcass 2.8″ and knobs 2.9″), which is pretty close to their 3″ specification. The round profile and open square lugged design offered a meaty footprint onto the terrain, and the ramped center knobs provided high rolling for such a big tire. The tire offered up predictable control and responsiveness without any odd transitions when cornering, leaning and turning the bike. Even when pushed over for deep cornering the pliable knobs, defined channeling and siping helped them bite into things with minimal front end washouts or loss of control. They were especially enjoyable to toss into a berm where everything hooked up nicely and offered up composure and stability, and most of all fun.
When inflated to the low pressure they provided superb support and float, which gave lot's of traction and cushiness through rocks, roots, sand, gravel and anything else the typical trail can throw at the tire. Sometimes when slamming through rocks and rock gardens, the outer side knobs would ping off of things, though it wasn't an issue if you added a little tad of force to keep them online. It's not the burliest tire in their Plus size arsenal, like the Bridger, but it offers up versatility across multiple conditions with high points to its quickness and rolling capabilities. The big footprint and tread pattern provided excellent traction while climbing, especially on loose trail conditions, though when it got deep and sloppy, it did lose some braking abilities. Even when it does break traction, it's controllable and easy to handle.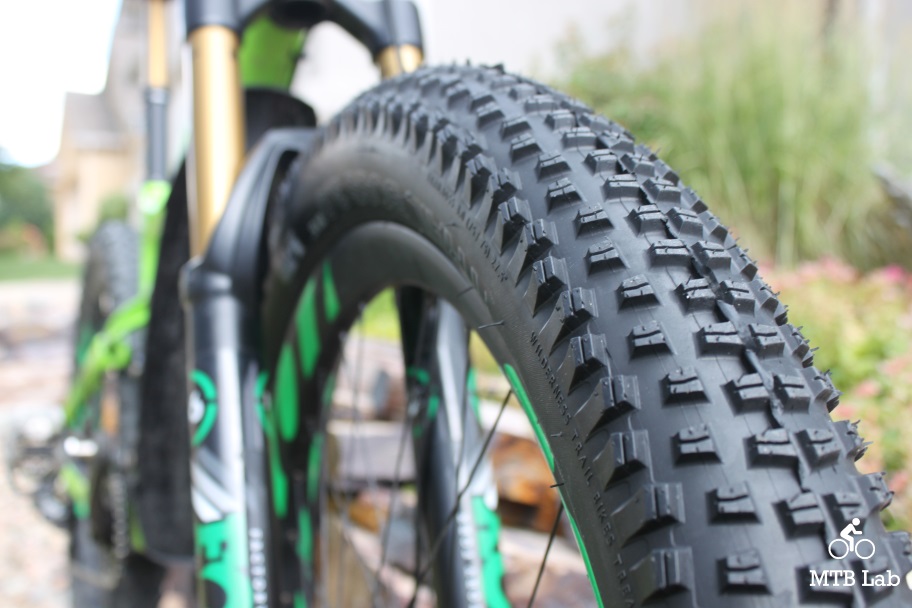 Bottom Line
The WTB Trail 3.0 is a great 27.5+ purpose-built tire, with a robust design, a suitable rubber compound and tread pattern, a durable casing and a decent $68 price point. The TCS Light casing offers suppleness and flexibility and good durability though I'd like to see a TCS Tough level for stouter sidewalls and improved protection. The 3-inch width is just about ideal, though a 2.8″ width would be nice to fit the rear triangle on most bikes.  The knob wear has been excellent, and the tread pattern and knob shapes provide great support, float, control, and predictability. The lugs bite nicely into loose conditions with excellent traction and float characteristics, good braking abilities all of which provide versatility across multiple trail conditions and terrain. The tire works well on rock gardens, sand, gravel, soft loam and the slop and can plow through most anything with ease when it is deep and loose, and it's a surprisingly fast rolling tire for such a big beast.
Pros
Versatility across multiple conditions
Supple casing
Excellent traction and float characteristics
Good knob wear
Cheap for a Plus sized tire
Cons
Needs a 2.8″ width
Needs a TCS Tough level
For further information refer to wtb.com