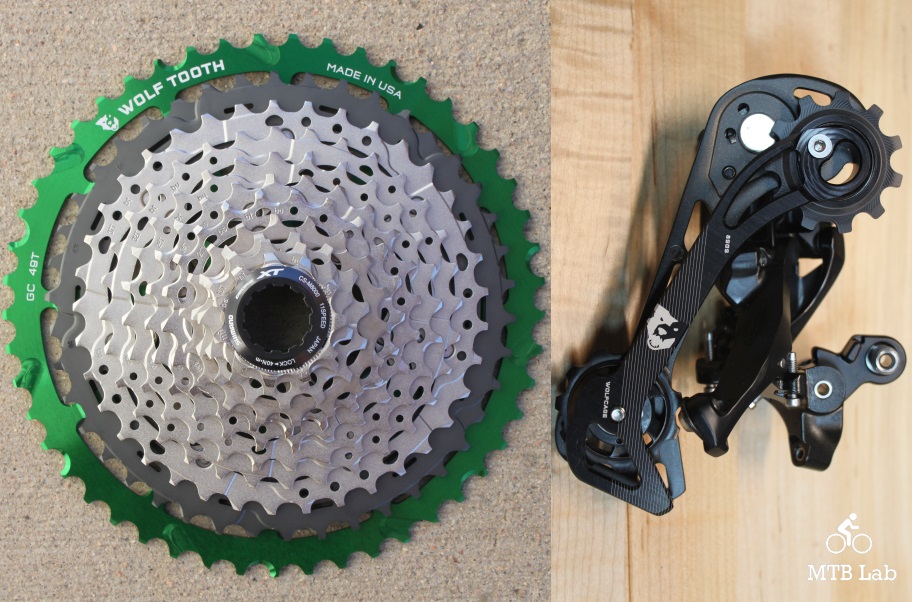 My best of 2016 bike components include the extended range Wolf Tooth 49T cog, the silky smooth FOX Transfer dropper post with speed modulation, the highly functional ergonomic Sqlab Innerbarends, and finally the innovative TIMBER bicycle bell.
Wolf Tooth Components GC 49T Cog and WolfCage Kit for Shimano 11-speed
The Wolf Tooth GC49 cassette extender cog allows you to modify your existing Shimano 11-speed 11-42T cassette to create an ultra-wide range 11-49T cassette system, which is close to mimicking the gearing offered by the uber expensive SRAM Eagle 12-speed 10-50T drivetrain. It was optimized and works with various standard freehub body compatible 11-speed 11-42T cassettes, including Shimano XT, XTR and SLX, SRAM NX and SunRace. All Shimano derailleurs require their WolfCage derailleur cage kit to function with the GC49 cog, while SRAM 11-speed derailleurs will work in a stock form with the 11-49T cassette stack with only a few minor tuning alterations. The tested GC49 and WolfCage kit retails for $124.95.
GC49 Cog
The GC49 kit retails for $89.95 and provides a 49-tooth extended range cog and an 18T replacement cog, and comes in a slew of colors in either a Shimano or SRAM/SunRace version. The Wolf Tooth 49T cog is made from 7075-T6 aluminum and weighs 110 grams and fits at the end of the cassettes and you remove the current cassettes inner 17T and 19T cogs and replace them with the kits included steel 18T cog to create an 11-speed 11-49T system. Wolf Tooth made the decision to use a 49T cog instead of 50T because it allowed them to nearly double the number of shift gates from 4 on a 50t to 7 on a 49t for faster shifting, and the 2% difference between them isn't significant enough to lose the improved shifting characteristics.
WolfCage Derailleur Cage
The WolfCage is a modified derailleur cage with an eccentric pulley that replaces the stock 11-speed Shimano inner cage and its upper jockey wheel, and the system improves chain wrap and derailleur capacity for the extended 11-49T range setup. It comes in a variety of colors in XT and XTR models in either medium cage GS or long cage SGS versions and retails for $39.95 and is also available as part of the '49T GC Cog and WolfCage Kit for Shimano 11-speed' that I tested for $124.95. The WolfCage is made from 6061-T6 aluminum and is only compatible with mechanical (no Di2) Shimano 11-speed rear derailleurs, including SLX, XT, and XTR.
For further information refer to www.wolftoothcomponents.com and a full review at Wolf Tooth Components GC 49T Cog and WolfCage Kit for Shimano 11-speed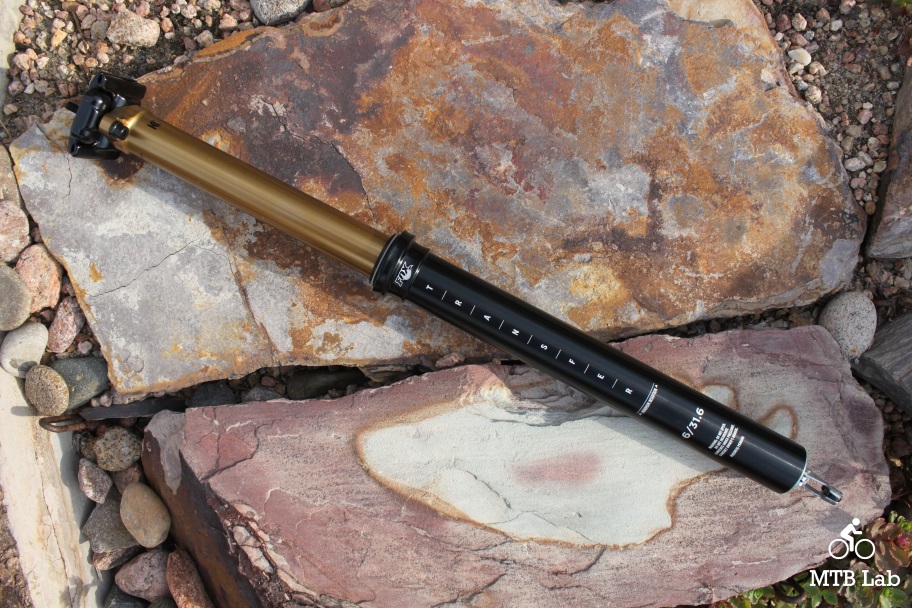 Fox Transfer Dropper Post
The new Fox Transfer is a superb infinitely adjustable hydraulic seatpost with a consistent and smooth stroke that offers speed modulation via the remotes lever input. It replaces their extremely reliable and durable three-position mechanical D.O.S.S. post and features an all new internal system that resides in the upper shaft.
The Transfer uses a nitrogen spring and hydraulic cartridge design with options of 100, 125 or 150 mm of travel and 356mm 406mm 456mm lengths, respectively. The cable actuated hydraulic height-adjustable seatpost uses a handlebar mounted remote which is separately available in two options for $65 each, a left side below the bar for a 1x setup and a left/right on the bar for 2x/3x gearing. The Transfer comes in 30.9mm, and 31.6mm diameter sizes and utilizes a zero offset saddle clamp with a 2-bolt attachment system. It comes internal and externally actuated routing versions, and is available in a Factory model with the Kashima Coat for $314, and a Performance model with Black anodization for $264.
For further information refer to www.ridefox.com and a full review at Fox Transfer Dropper Post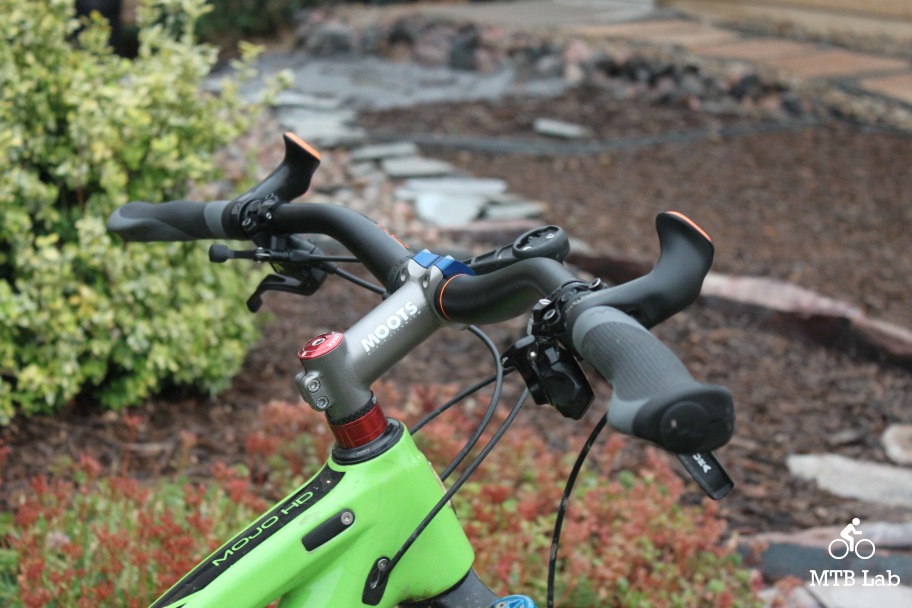 SQlab 411 Innerbarends
The new Innerbarends are wicked cool and highly functional, and the hand and arm relief they provide are greatly appreciated.
411 Innerbarends
Their new Innerbarends or 'Inwards mounted bar ends' are innovative and unique and were designed to be positioned inwards of the grips. The Innerbarends are made from fiber reinforced plastic, have a single clamp bolt design and weigh 102 grams for the pair and retail for $44.99. By moving your hands inwards, your elbows get positioned into the torso, and your upper body gets stretched mildly forward for improved ergonomics and biomechanical advantage and decreased hand fatigue. The relaxed elbow and natural hand position provide relief for the muscles in the arms, shoulders, back and hands. Bar grips help alleviate stress by providing multiple hand positions on the handlebars and by just offering the ability to move things around while riding.
For further information refer to sq-lab.com or a full review at Review – SQlab 311 Handlebars, 411 Innerbarends, and 711 SY Grips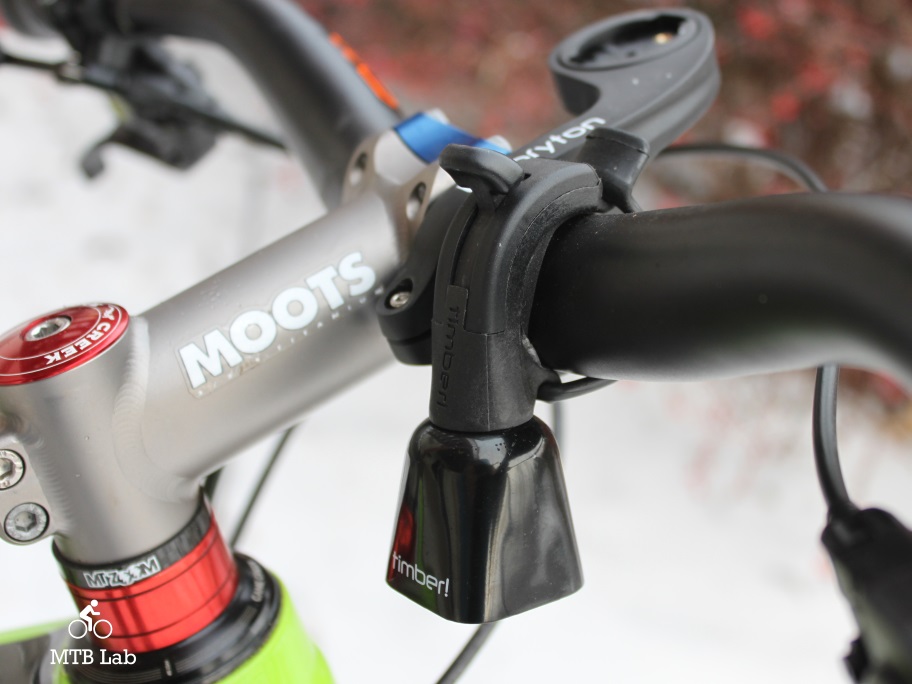 TIMBER
TIMBER is the first bicycle bell designed exclusively for mountain biking. Our goal was simple: awareness when you need it, and silence when you don't. We based the design of our mountain bike bell on the iconic cowbell, only updated with a more modern look. A simple on/off lever controls the internal clapper. Slide it down for on, up for off. Or set it in between for a quieter sound.
The motion of the bike activates the sound. Because the sound is passive, you communicate to other trail users a friendly, "Hey, I'm just letting you know I'm here." The advance notice gives hikers or oncoming riders time to find a safe place to move off the trail. The mountain bike bell mounts on your handlebars within easy reach of your hands. Fits all handlebar diameters: from standard 22mm all the way to 35mm DH style. Mount it on the bars for occasional use, or directly on the grips for instant shifting between silent and ring mode. It's quick release, so you can quickly move it to another bike. The original QR model and the new bolt-on both retail for $20.
For further information refer to mtbbell.com