For 2017 Pearl Izumi has redesigned their X-Project shoe lineup which has a new sole with improved stiffness and walkability, they upgraded their Launch short and Summit gloves and added a new Cargo Base layer with an extended back.
X-Project P.R.O.
Their top of line X-Project mountain bike got a redesigned and reengineered sole that is stiffer and walks better. They moved the carbon sole around, and it now covers from just in back of the toes all the way to the front of the heel. With the redesign, the front toe section now has a more flexible portion which offers improved walkability characteristics. The 3-layer seamless upper has excellent breathability and adapts to your foot shape to eliminate discomfort.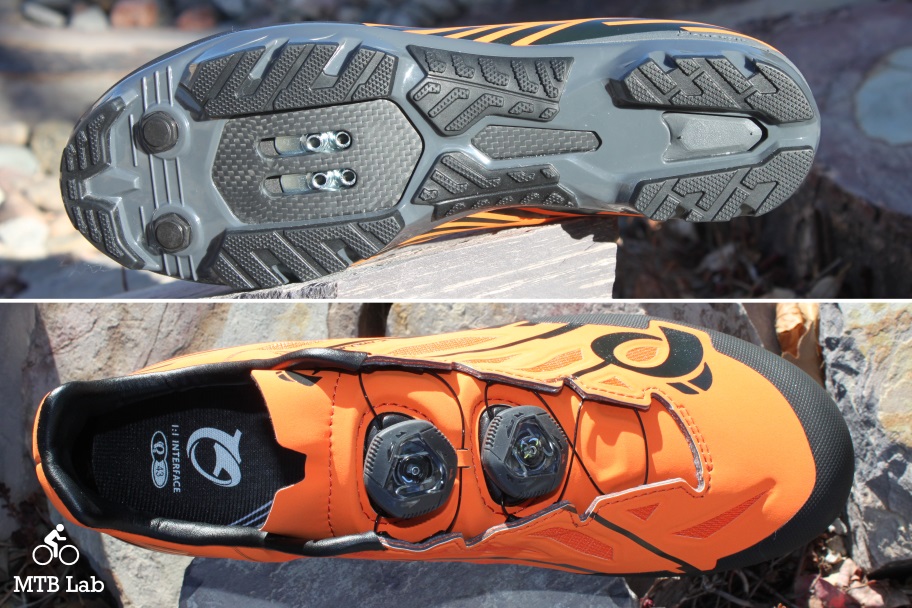 For grip and comfort, it has co-molded carbon rubber tips on hollow TPU lugs. Using technology from their running shoes, they have an EVA foam heel for comfort and impact absorption. They feature a double BOA micro-adjustment closure system with a full pop-up release for easy foot entry and egress. They come in 38-47 in 1/2 sizes, and full 48, 49 sizes,  and come in Black/Shadow Gray and Screaming Orange/Black color schemes and retail for $350.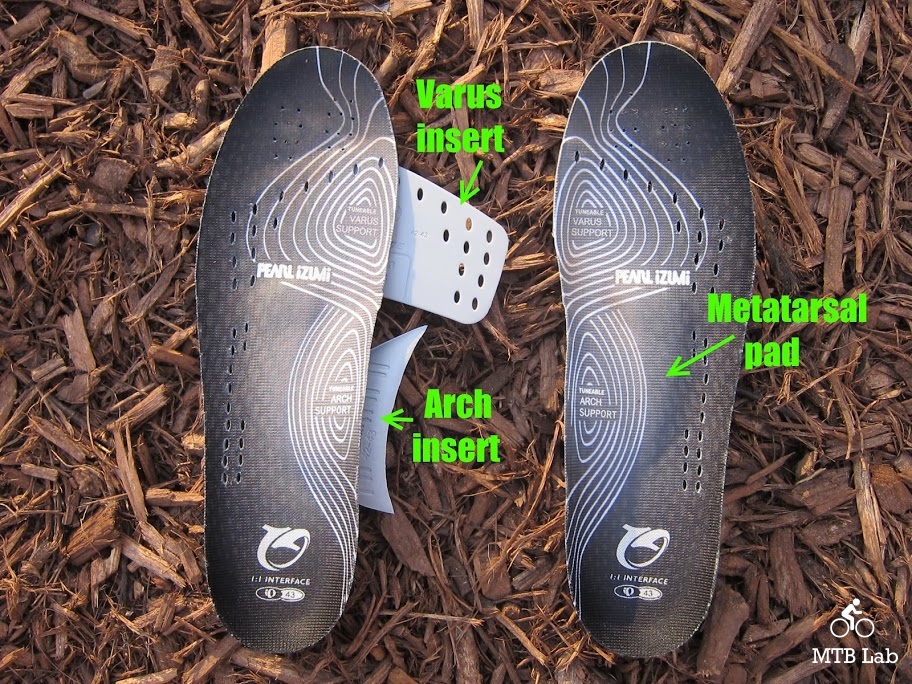 They came with the semi-custom 1:1 insole system, which has some mild orthotics, and includes a metatarsal pad and adjustment wedges for the arch and varus in the forefoot. They not only made the shoe more comfortable but when I added an arch insert it provided more toe room for my feet.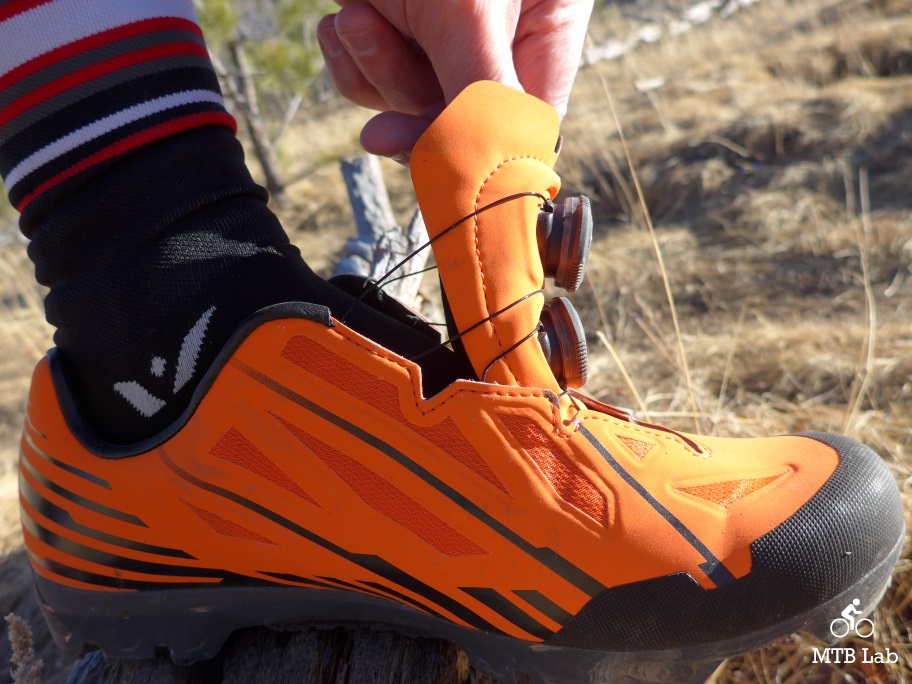 First Impressions
The X-Project PRO are surprisingly comfortable, and the dual BOA closure system provides lots of fine tuning capabilities. The tongue has decent padding, so there weren't any hotspots from the closure system, and the top BOA helped keep the foot pushed down into the heel pocket while the lower BOA kept the forefoot secure and stable within the shoe. The sole is an amazingly stiff and powerful entity which produced excellent pedaling performance, and I could hammer some power into the drivetrain. They hiked decently for such a stiff shoe, though I don't think you'd want to do long mileage or walking with them. I didn't feel any heel lift and the heel pocket didn't cause any discomfort or irritation while hiking and pedaling. There is some good armor wrapped around the front of the shoe and along the outer side which provided excellent protection when hitting rocks, trees, and bushes. When the dual BOA are released, you can pull up on the tongue and release a lot of slack making it easy to put the shoe on and taking it off. The X-Project PRO are an excellent mountain bike shoe and features a stiff and powerful sole and a highly functional dual BOA closure system.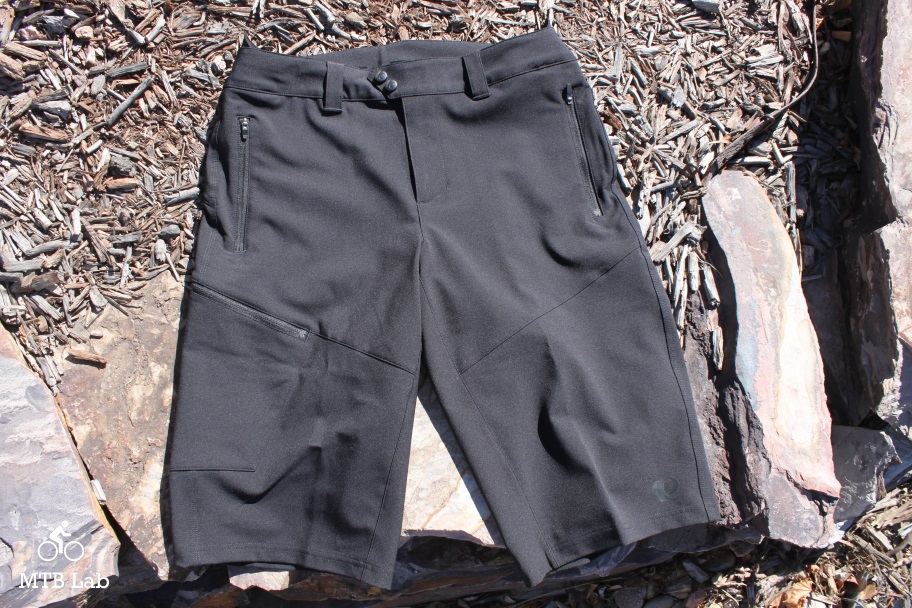 Launch Shorts
The Launch Shorts get some minor upgrades and tweaks with more subdued colors and patterns. They have a relaxed fit and long 15-inch inseam and utilize a durable and mid-weight stretch fabric that is water resistant. They feature a snap-front closure system with a zip fly, have two zippered hand pockets along with a small security one on the thigh and include a detachable liner with their 3D Tour Chamois.
They come in S-XXL sizes, and Black/Black, Eclipse Blue/Black, Avocado/Black colors, and retail for $135. Also, they now offered in a women's specific version utilizing their Transfer fabric and had a 12-inch inseam, and come in Blue Steel Parquet, Poppy Red Parquet colors, XS-XXL sizes and retail for $135.
First Impressions
The Launch Shorts are tough and durable with a long 15-insean which is functional with knee armor.  The baggy and long cut made them comfy and easy to wear though I wish the waist area had a bit more elastic or stretch since it felt a bit constricting. The dual snap front closure system was bomb proof, and the two hand pockets and single thigh pocket were useful. It comes with a detachable liner with their 3D Tour Chamois.
Summit Glove
The Summit also gets a minor update and redesign, and the lightweight multi-discipline glove offers dexterity and protection. It has Neoprene on the back of hand for impact protection and a conductive synthetic leather on index and thumb for interfacing with a touchscreen (phone and GPS). The palm utilizes Synthetic leather and has a heel reinforcement which is soft and durable. They feature a hook and loop closure system at the cuff for a perfect fit, have silicone coated fingertips for grip and have a soft wiping section by the thumb.
The gloves retail for $35, and the men's comes in Smoked Pearl and Citron colors and S-XXL sizes, while the women's comes in Smoked Pearl, Mist Green colors, and S-XL sizes.
For further information refer to pearlizumi.com