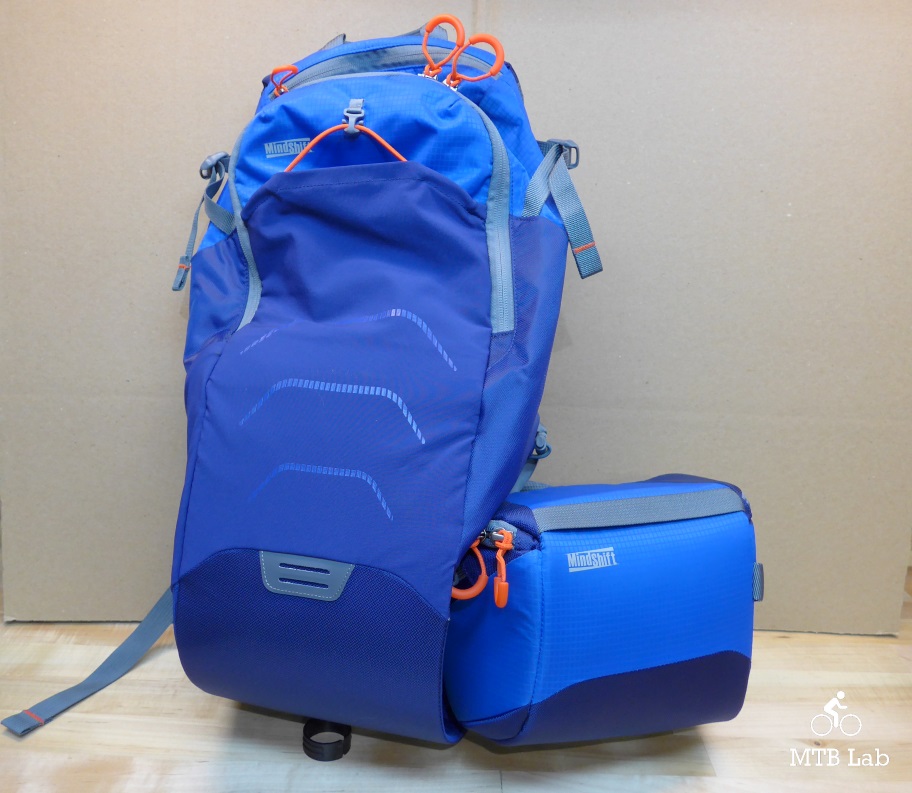 The rotation180° Trail is a camera backpack that utilizes MindShift's rotation technology in which an integrated belt pack or hip pack rotates from an internal bottom compartment to the front of your body in one swift motion. This system facilitates being able to take quick shots without having to take your pack off to grab you camera and other essential items. It's beneficial for biking, hiking, skiing, traveling and other outdoor activities and I found it extremely useful for conventions and shows where hanging a heavy camera from your neck all day is exhausting.
The packs top compartment is for personal items like clothing and snacks and gear, and a lower compartment with a rotating belt pack is for camera equipment. The belt pack, which may also be worn separately for shorter outings, can hold a small DSLR or mirrorless camera, extra lens, smaller items, and a mini tablet.
For further information refer to mindshiftgear.com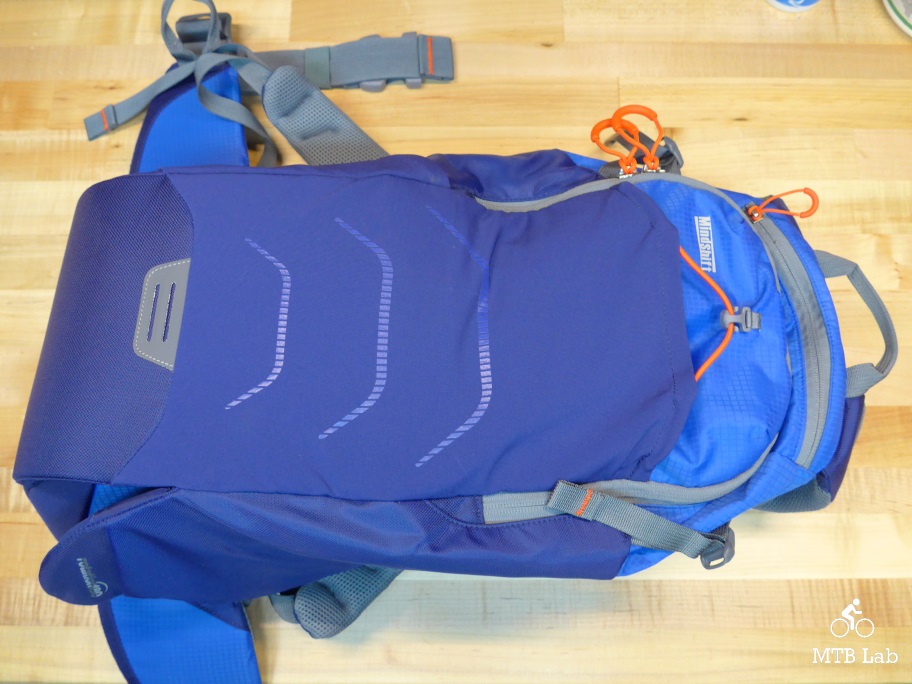 Features
The pack weighs 2.5 lbs and has a 16-liter storage capacity and is constructed of durable water-resistance materials, using a combination of high-density, velocity, and ripstop Nylons. It has a handful of useful pocket and compartments, including a rear padded hydration reservoir compartment, a large upper main compartment with a small zippered mesh pocket, a separate upper zippered pocket, and a stretchy side and front sleeves. It has ventilated and contoured shoulder straps that have a mesh material with perforated foam padding for improved breathability and comfort, along with a slider sternum strap and a straightforward and padded hip belt without any pockets. The back padding has three perforated foam pods with air channels between them for ventilation and the pads are thick enough to offer lots of cushioning for comfort and load carrying purposes.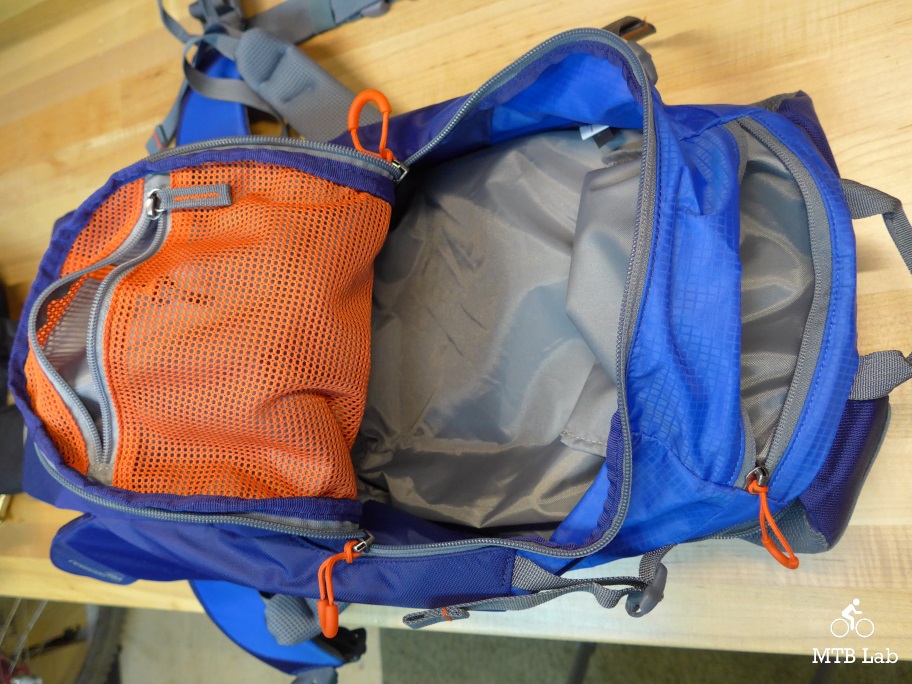 The main compartment has a long zipper and opens in clamshell style for easy access, and the interior is cavernous since it occupies most of the pack's storage space and it'll be functional for apparel, larger bike gear and maybe extra camera equipment. The main has a long zippered mesh pocket with a key clip and it will be useful for small items, tools, and snacks. The stretch side pocket is can be used for a small water bottle or to carry a tripod which can be held in place with the integrated compression strap. The front stretch sleeve is pretty deep and can hold jackets, jerseys, and other flexible gear. The rear zippered hydration sleeve isn't very deep so it would ideally fit a squat shaped reservoir such as CamelBak's Crux 3-liter LR.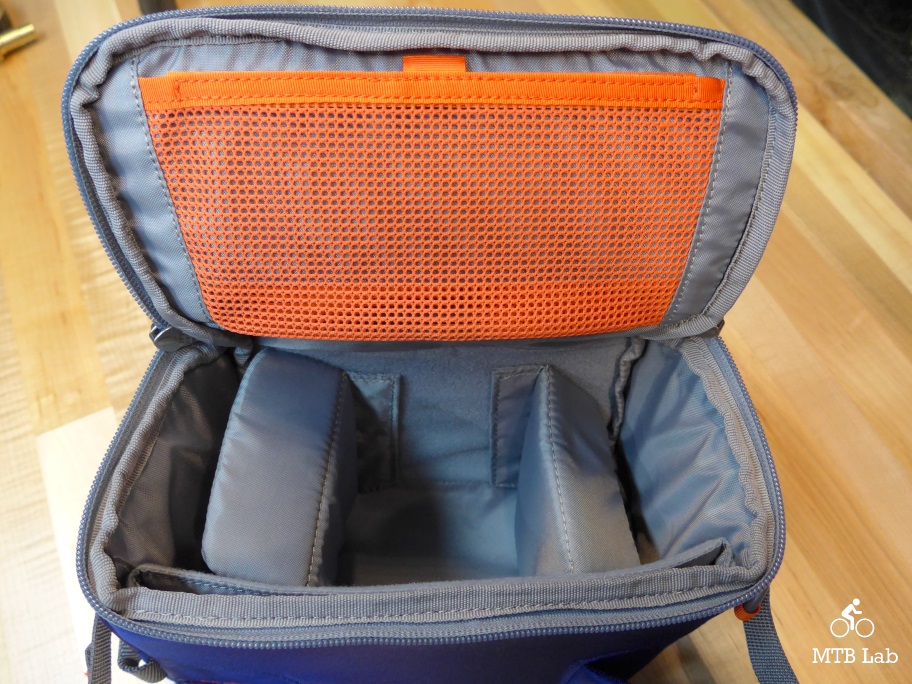 The hip pack or belt pack main compartment fits smaller DSLR and Mirrorless cameras and has some divided side partitions for a small lens, along with an extended front slot for filters. The top of the cover has a meshed sleeve for flat and smaller items.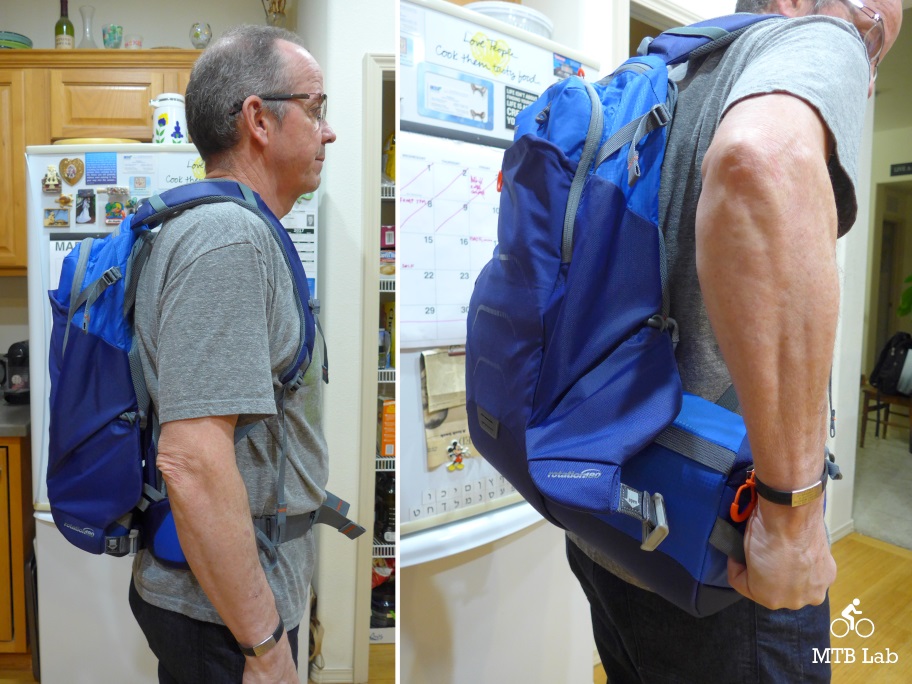 Impressions
The rotation180° Trail is an innovative camera pack and after some practice, grabbing the hip pack and rotating it to the front of your body is simple. You reach to the side of the main pack and push down on the security clasp, grab the hand strap and pull the hip pack around your waist to the front of your body and unzip it to remove the camera for use. When you're done, just return the camera to its compartment, zip it shut, push it back into the internal space and reclasps it securely in place.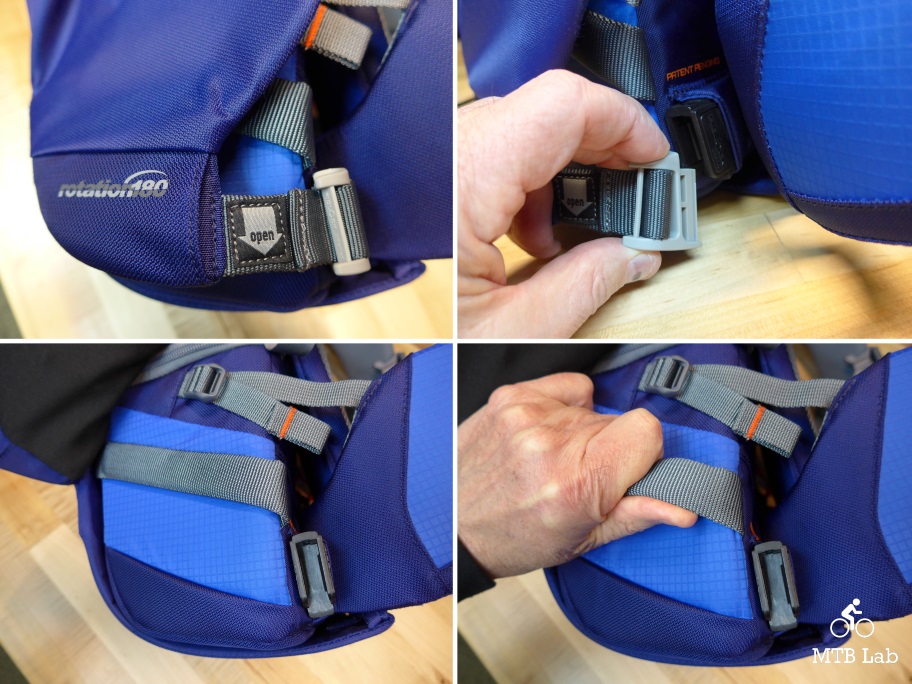 It does take some practice to get the proper technique to reach around with your right hand and undo the magnetized quick release security clasp blindly, but after some time it becomes second nature. There is a long lanyard attached to the hip pack to prevent you from over rotating it, helping to keep it positioned directly in front for perfect access to your camera and gear. Another feature of the rotation180° Trail system is that the hip pack can be detached and worn as a standalone entity, making it ideal for shorter jaunts when you might not need the full capacity of the main pack.
The backpack was comfortable and had breathable and padded harness system with a removable and adjustable sternum strap. The shoulder and sternum straps provided lots of adjustments so the pack could be fine tuned for fit. On the top side of the pack were two cinch straps to help stabilize the load while riding or hiking trails. On the back were three large padded mesh pods which offered cushioning and comfort and helped wick away moisture. The rear zippered hydration compartment will fit a squat 2 to 3-liter water reservoir if desired for additional water carrying capacity.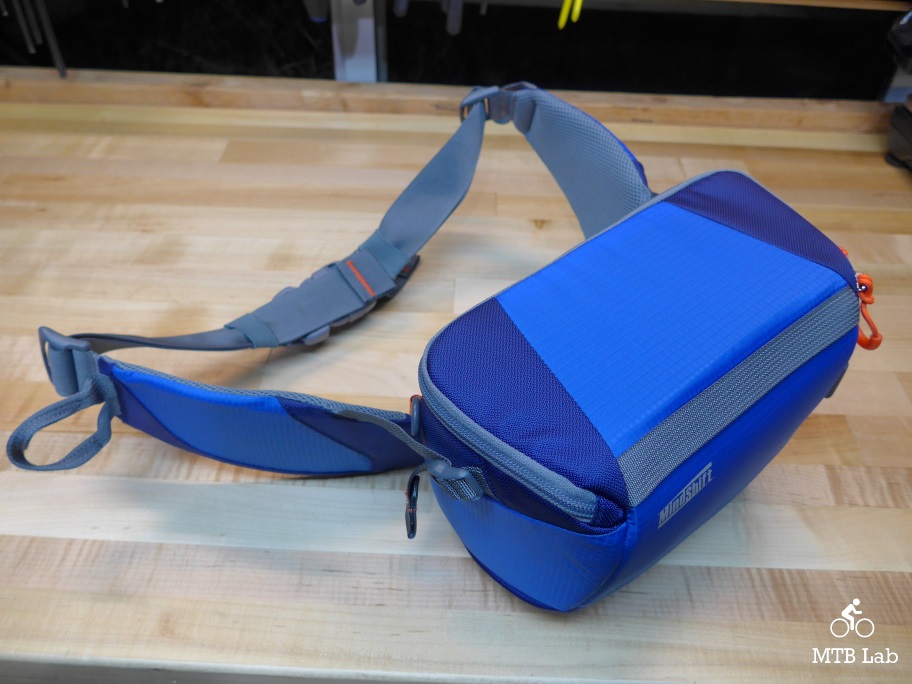 Although the main compartment has plenty of room, you do need to be judicious and not over pack it, since it's not made for epic adventures in the backcountry. If you carry the proper assortment of camera gear, apparel and bike gear the pack works just fine and carries the load without bouncing around and weight doesn't feel too heavy. I carried an old Canon Rebel T1i DSLR with an extra lens in the hip pack without any issues and it was easy to extract the camera when needed. On occasion, I carried a larger zoom lens in the main compartment, but that was pretty rare that I needed one.
The stretchy pocket only fit a small water bottle but if needed you could slide in a tripod and attach it secure in place with the cinch strap. When pulling your camera out you do need to be careful since there isn't anything attaching the camera directly to the pack, so you wouldn't want to drop it, though that fortunately never happened.

Bottom Line
The rotation180° Trail is an innovative and highly functional camera pack and is perfect for bike rides, hikes, and other activities when you want to have quick access to you DSLR or Mirrorless camera. It utilizes MindShift's rotation technology in which an integrated belt pack or hip pack rotates from an internal bottom compartment to the front of your body in one swift motion. You can carry a camera, one or two lenses, apparel, bike gear and clothing, though it's best not to overload the pack with too much stuff. You can also carry a water bottle or tripod in the stretchy side sleeve, and it has an integrated hydration reservoir compartment on the back for a squat to 3-liter bag.
It's a durable, lightweight, and functional bag to carry camera equipment, for both short and long trips. The MindShift's rotation technology is easy to use and offers quick access to your camera in the hip pack, and additionally, you can use the hip belt separately for short hikes.
MSRP: $179