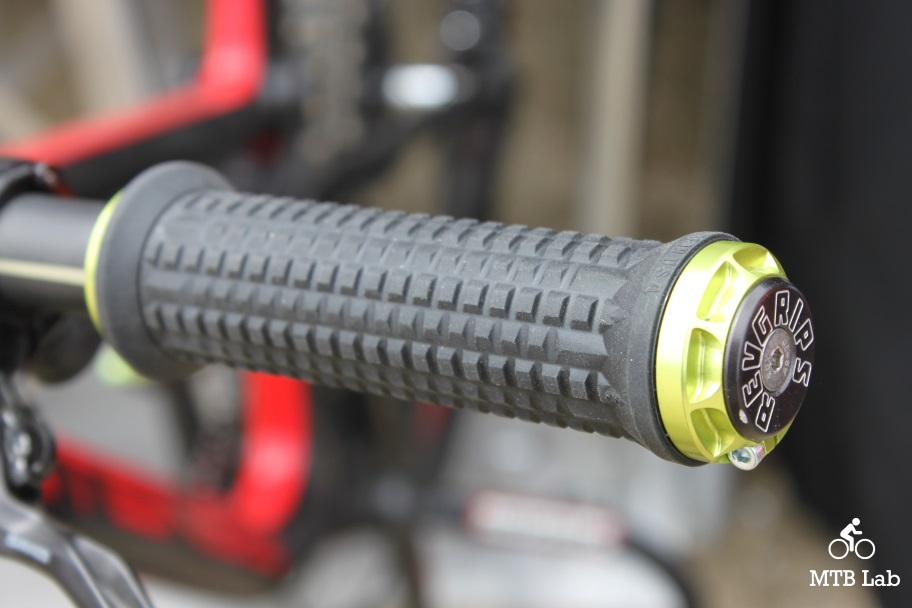 The Revolution Suspension Grips is an innovative system that isolates your hand's and upper body from the shock and vibration propagated through the handlebars from the trail, and this design helps decrease fatigue, repetitive injury and arm pump.
"There are many different grip shapes and sizes designed to achieve that perfect, ergonomic fit with hopes of minimizing arm pump and hand fatigue. These grips were made for anyone who has ever suffered from hand fatigue, numbing, blistering or arm pump. If you suffer from any hand or wrist problems, such as carpal tunnel, arthritis, or other injuries, our grips will help alleviate the pain."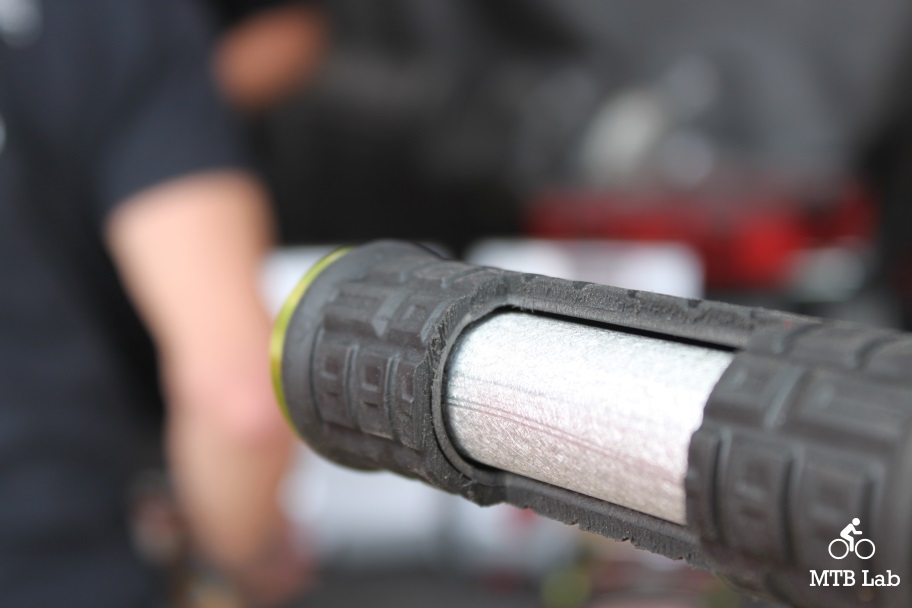 The system features a two-collar lock-on design, an inner plastic sleeve which is 1/8-inch larger than the handlebar and floats within the shock absorbing inserts or dampers in the collars, and finally a nubbed rubber grip. The lock-on system doesn't allow the grips to spin entirely and when used in person you can feel the minute amount of circumferential rotation, which is only 3-4mm of movement.

Features
It comes in two versions, the tuneable Pro Series Shock Absorbing Grip System for $89.95 which I tested and the fixed Race Series Shock Absorbing Grip System for $59.95. The Pro version comes with tuning washers that provide an adjustable feel from firm to soft, and it comes in various grip and lock-on clamp color options. The fixed tuned Race version offers a medium-soft feel, comes in a Black only color option. Both versions come in three grip diameters, Small (31mm), Medium (32.5mm) and Large (34mm).
"Our grips are unique because they allow movement and absorption with the subtle natural motion of your hands and upper body. Although the movement is subtle, the effect is profound. You will not notice the movement while riding; however, you will maintain better control without the typical harsh feel and vibration of a traditional grip."
The grips are available through local bike shops as well as online through www.revgrips.com.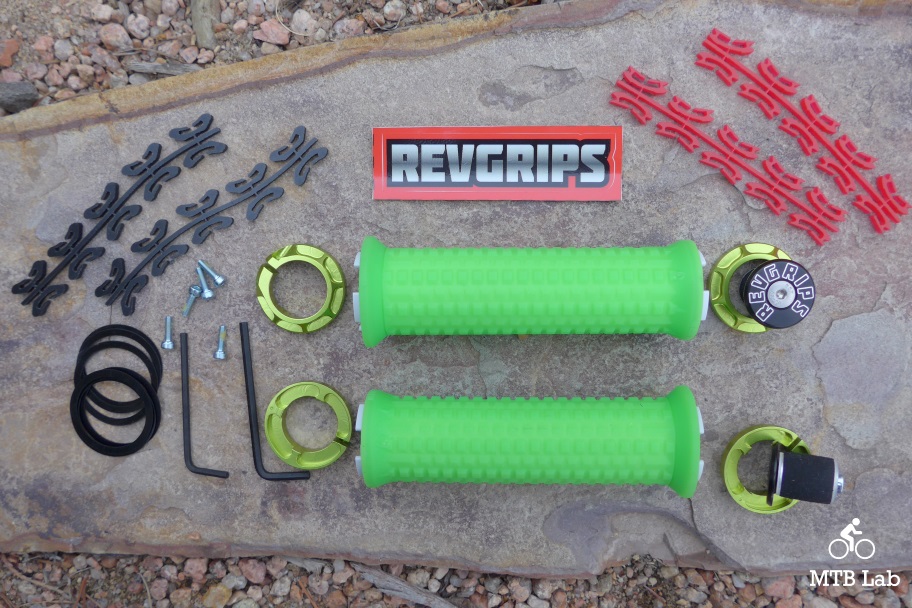 Pro Series Kit
The full Pro Series kit that I tested comes with the Revolution grips, four lock-on clamps, a set of thin and thick tuning washers for each side, two full sets of shock absorbing inserts and finally a bar end plug. For ease of installation, it comes with a 2.5mm and 3mm hex keys.
Kit Contents
Grip
40 rubber inserts
Two hex keys – 2.5 and 3mm
Four lock-on clamps w/ bolts
Four thin tuning washers – 0.01″
Four thick tuning washers – 0.02″
Handlebar plug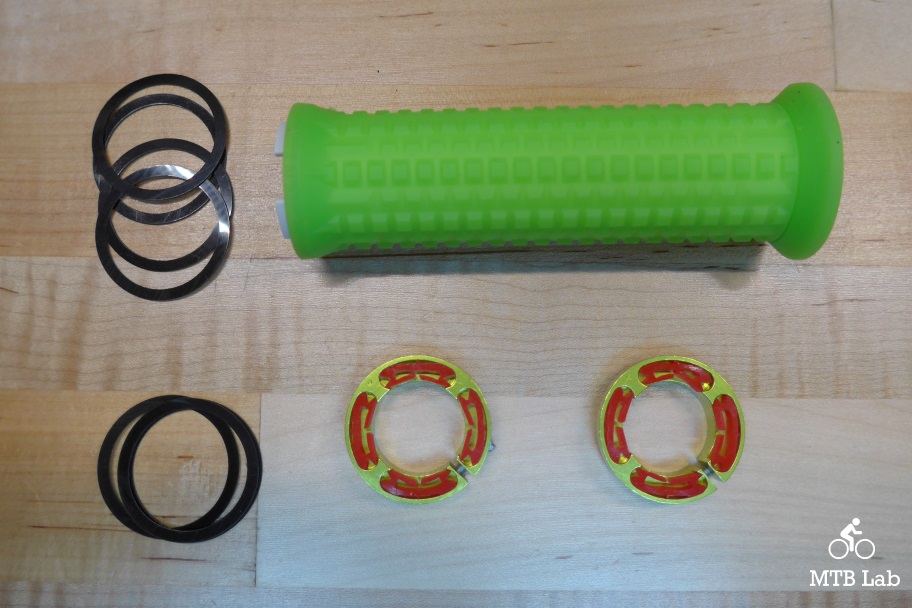 Installation
For the Pro kit I tested you need to decide how you want to tune the grip:
Firm – no washers
Medium/Firm – One thin washer on one side of the grip
Medium – One thin washer on each side of the grip
Medium/Soft – One thin washer on one side and a thick on the other of each grip
Soft – One thick washer on each side of the grip
For my initial experiment, I went with the Medium setting, meaning I'd use thin washers on each side of the grips. It's a good idea to make a rough assembly with just the grip and lock-on clamps on the bar to get the proper fit width before you get everything put together.
The first installation step is placing the rubber shock absorbing inserts into each of the lock-on clamps slots. It seemed easy enough but squishing them in when you're fat fingered took some finesse.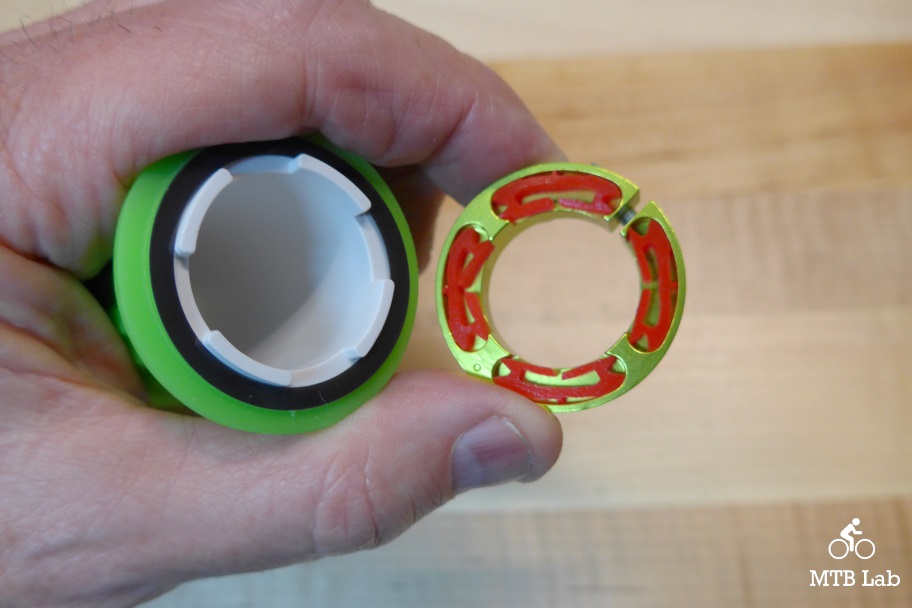 Next, place one of the chosen tuning washers onto the end extensions of the grips and insert those same teeth into the rubber damping inserts, it's a tight fit, so it will take some wiggling to get everything engaged. Now, slide the assembled piece inward onto the handlebars and hold everything in place and tighten down the lock-on clamp. While still holding things in place, repeat the same process for the outer extension, meaning add the washer and wiggling the teeth into the rubber insert. Once done, apply some pressure to the outer clamp by pushing inwards and tighten everything down. If you measured correctly, you can then slide the handlebar plug into place and tighten it down to help hold the entire thing securely in place.
It took me about 15 minutes to get everything in place the first time, since getting both ends of the lock-on clamps squeezed inward correctly to prevent unwanted movement from the grip took some effort. Plus I dropped a few of the rubber inserts on the ground during assembly. The instructions mention tightening the lock-on clamp to 1.13 Nm, but I ended up adding a tad extra with my torque wrench. Otherwise, the lock-on's slipped when I twisted the grips.
Impressions
I installed the grips on my Ibis Mojo HD3 which has 150mm of travel, and although it softens the blow of rugged terrain and does act as mini-suspension,  it certainly doesn't offer additional any substantial amount of pseudo travel. What it does offer is the isolation of your hand's and upper body from the shock and vibration that comes through the handlebars and grips, which provides decreased fatigue, injury prevention, greater control and more darn fun. I'd prefer to call them an isolating grip system instead of a suspension product.
I had played with the RevGrips at Sea Otter and thought they might wiggle around too much and feel vague during use, but that wasn't the case. Once I started riding my bike on a trail and used them in a real time environment, they worked just fine, and they never felt sloppy. There is a minute amount of rotational play and a little vertical movement during use, and the latter soon is hardly noticeable. After a few times riding them around home, I ventured out to Moab and took them into some extreme terrain, where the bike and myself got jack hammered on the square edged rocks and vicious rock gardens and slabs that make the area famous. As you ride along the grips rotate back and forth over the top of the handlebars, most of the time your hands move with the grips and other times it seems as though the bike rotates under you while the hands stay static. Regardless, the system takes the edge out of impacts and hits, terrain chatter (especially at high-speed), square-edged obstacles and braking bumps, roots, rock gardens and pretty much anything that causes harsh blows to be propagated back to the bike and its occupant.
As you ride along the grips, rotate subtlety back and forth, but it's never enough to feel like you're over rotating on the bars. And with the design of the grips hard inner shell, they continued to work to matter how hard or tightly I squeezed the grips. Once you get up to speed, you hardly felt them moving, and I still had a direct connection to the bars with plenty of control. At more normal speeds or when poking along on a trail, the rotation action was more noticeable, though still not overly sloppy or squishy. On rare occasions when I was trying to do a precise movement with the grips there was a small delay while the grips rotated for a split second and when I got my final response, but it certainly wasn't a deal breaker.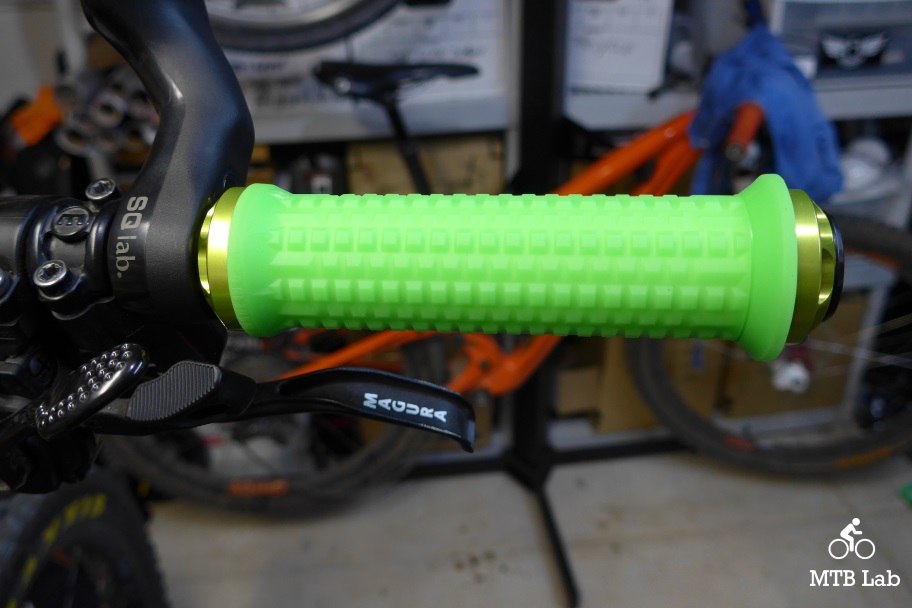 I started off with the tuning in the Medium setting and ended up preferring the softest setting, which provided me with a better overall ride, due to improved shock and vibration absorption, and it significantly helped with my troublesome thumb arthritis. It's amazing how much difference altering the tuning of the grips makes in how they perform on the trail and having the advantage of setting the feel from Firm to Soft makes them ideal for a cross spectrum of riders and terrain, though I think they're at their best in the softer modes.
Even without the suspension design of the system, the grips themselves with their tacky and soft rubber and the knobby pattern were quite comfortable and easy to hold onto, even when using them bare handed. The 32.5mm diameter Medium sized grip was ideal for me, somewhere between their skinny and fat brethren, allowing me an easy to hold body without having to overgrip.
The Pro Series at $89.95 for a set of grips makes them quite expensive, but the added benefits for tuning, decreased fatigue, impact absorption, injury prevention, comfort, greater control, more than makes up for the pricing deficit. I am now spoiled after using these for several months, and I am not sure if I could ever go back to using standard grips.