Thule has been primarily known for their bike racks, cargo carriers, and roof racks, but some years ago they started to produce travel bags, backpacks, and bike bags. This year they are releasing their first ever hydration collection of packs, the Thule Vital, which will come in 3L, 6L, and 8L sizes. The minimalist packs will include Hydrapak reservoirs ranging from 1.75L to 2.5L sizes and have 3L to 8L of storage capacity. They feature a hands-free ReTrakt magnetic hose for easy sipping, nicely organized interior storage systems, soft hips wings and a conformable back panel.
I have checked out their travel and commuting packs and have been impressed with the quality and innovations, that latter which provides not only excellent features but functionality that works in the real world.
Press Release
Light in weight but heavy in features, the Thule Vital Collection is Thule's first bike-specific hydration backpack line.
Seymour, Conn., July 18, 2017 – An all-new category for the brand, Thule introduces the Thule Vital collection of lightweight hydration backpacks built for maximum comfort and ease of use during high-intensity mountain bike rides.
Available in three sizes, 3L, 6L and 8L, the Thule Vital features smart solutions such as a hands-free ReTrakt magnetic hose return system and convenient jersey-style pockets for quick access to nutrition, clothing or tools without having to remove the pack. The Thule Vital comes complete with Hydrapak reservoirs ranging from 1.75L to 2.5L sizes, and 3L to 8L of cargo storage while maintaining a low center of gravity. Additional features include a tail light attachment, a sternum strap for stability and comfort on any terrain, and designated interior loops to carry a tire pump and shock pump. The Thule Vital collection will be available February 2018.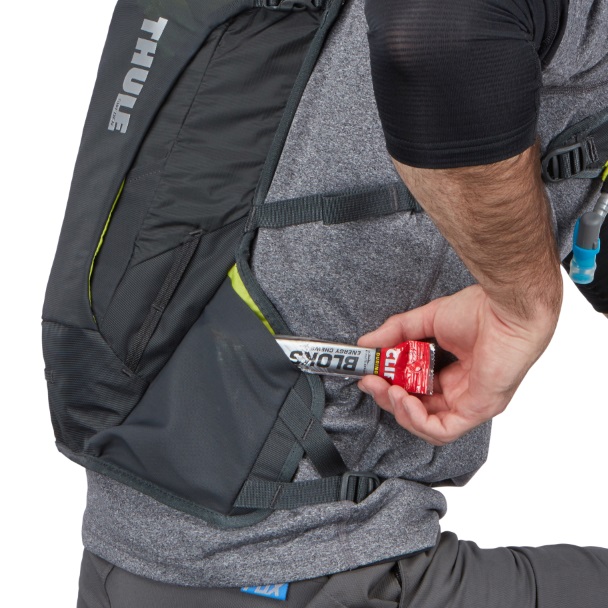 Specs
Stay hydrated without slowing down using the hands-free ReTrakt magnetic hose return system
Quickly access nutrition, clothing or tools while riding without having to stop or remove pack thanks to convenient jersey-style pockets
Improve bike handling and reduce muscle strain with optimal weight distribution thanks to the low center of gravity
Stay hydrated with 1.75L to 2.5L Hydrapak reservoir
Carry extra food, clothing, and tools with minimal bulk in 3L to 8L of cargo storage
Maximize uphill and downhill performance with lightweight, ventilated materials
Secure phone, keys or other small essentials in interior zippered pocket
Stay visible in low light with tail light attachment
Stabilize and increase comfort on any terrain with sternum strap
Thule AllTrail
Also available February 2018, Thule introduces a new collection of hiking backpacks for the outdoor enthusiast who wants a singular pack for all of their outdoor pursuits. The Thule AllTrail is a collection of packs in two gender specific sizes, 35L & 45L, with 10-cm/4-in of torso adjustability to dial in the perfect fit. With an integrated rain cover and dedicated hydration sleeve, the Thule AllTrail pack also offers a breathable back panel, shoulder straps, and hip belt padding. Stay comfortable on the trail, and attain the perfect fit with 10 cm/4 in of torso adjustability built into the back panel. Keep all of your gear within reach with features like a front shove-it pocket and easy access side zippers. Conveniently store trekking poles on your hip belt without taking off your pack using the included Thule VersaClick Pole Holder. The VersaClick system allows users to customize their pack with a variety of hip belt pockets, water bottle sleeves, camera cases and accessories to provide convenient access to the gear you need on the trail. The included hip belt accessory mount is compatible with any of the other interchangeable Thule VersaClick accessories available (sold separately).