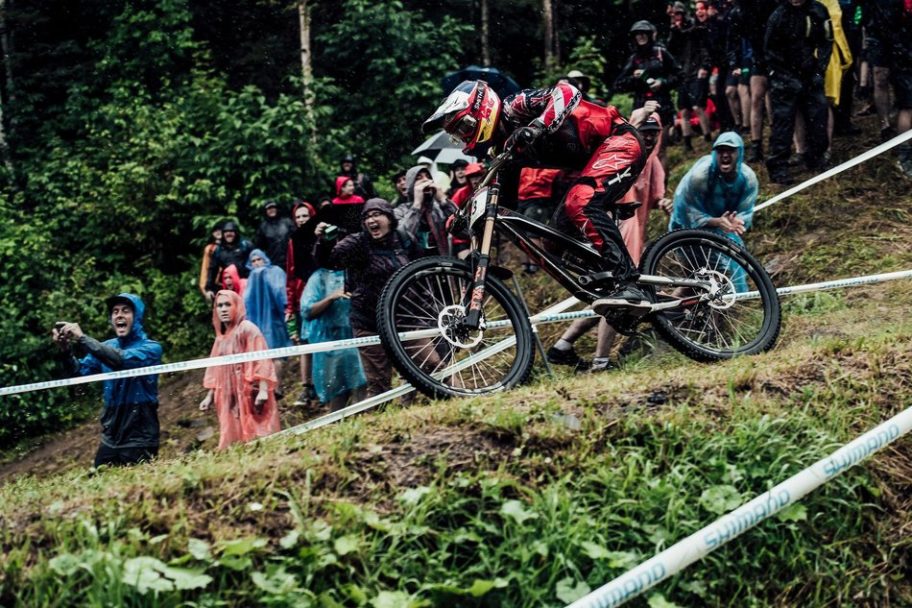 Photo courtesy of Red Bull and Bartek Woliński
The Men's World Cup UCI Downhill finals at the Mont-Sainte-Anne on August 6, 2017, turned out to be an entertaining and challenging race. The Australian rider Dean Lucas had set the best time before the course conditions turned ugly when a deluge of rain slammed everything.
The last 25 riders got an entirely different animal and had to navigate slippery and wet conditions, and sometimes extremely torrential rains making visibility atrocious. Rider after rider made no dent in Lucas's time and it was tough just to stay upright and on line. Even though the rain eased slightly for the last ten awaited riders, the course still was a mess. The top riders for the title including Loic Bruni, Troy Brosnan, Danny Hart (.03 off), and Greg Minnaar (DQ'ed) got closer but still couldn't unseat Lucas.
The last rider at the top was the American Aaron Gwin, who has put in some runs in the last few years, remember the chainless victory at Leogang in 2015? Aaron rode on the bleeding edge through the wet and sloppy course utilizing some interesting and creative inside lines, but he was always ahead of Lucas's time at every split, even after blowing it in the rock garden and losing some momentum. He pulled it all out and finished one second in front of Lucas to take the win.
Men's Podium at the Mont-Sainte-Anne DH World Cup on August 6, 2017, in Mont-Sainte-Anne, Canada.
Aaron Gwin 4m 18.426s
Dean Lucas 4m 19.484s
Danny Hart 4m 19.846s
Loïc Bruni 4m 21.684s
Mike Jones 4m 21.858s
Women's podium at UCI DH World Cup in Mont-Sainte-Anne, Canada on August 5, 2017.
Tahnée Seagrave 4m 46.723s
Myriam Nicole 4m 52.460s
Tracey Hannah 4m 58.779s
Emilie Siegenthaler 4m 59.476s
Rachel Atherton 4m 59.549s