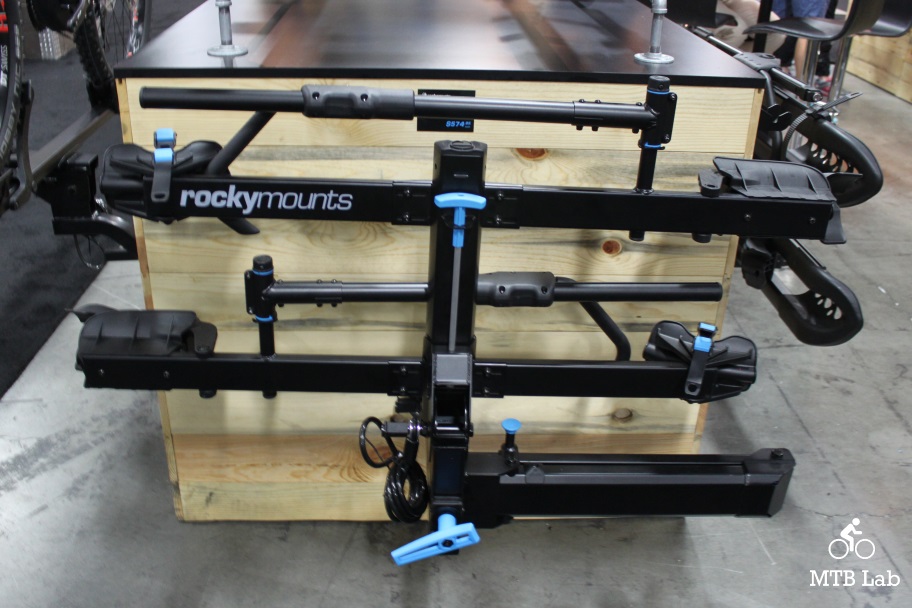 For the coming season, RockyMounts has the innovative BackStage rack which offers an intergraded swing entirely away from the vehicle feature, the highly functional MonoRail rack that can accommodate almost any bike or wheel size and its joined by the MonoRail Solo which was designed just to carry just one bike and lastly the easy to use Pivot U-Lock.
BackStage
The first platform rack in the industry to completely swing away from the back of any vehicle, the RockyMounts BackStage allows unprecedented full access, even with bikes installed. Its easily accessible toggle latch releases the rack, and it swings 180 degrees to the passenger side of the vehicle. Made of Chromoly steel, the BackStage securely carries two bikes. It fits bikes with tire diameters of 20-29″, has clearance for all fat bikes, including those with Bluto forks and 197mm rear spacing, handles a max wheelbase of 48″ and tire widths of up to 5″, all with zero frame contact. It also features RockyMounts' proprietary anti-wobble rack-to-receiver system and includes a locking hitch pin and cable locks. Available in 2″ receiver version. Weight limit: 120 pounds (60 pounds per bike).
MSRP: $549.95.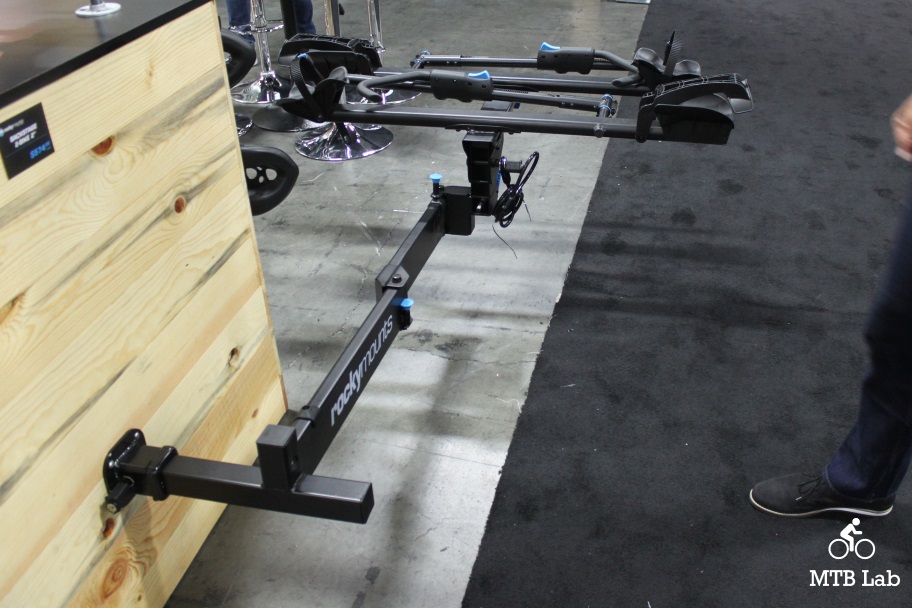 BackStage Specs
Hitch-mounted, Swing-away, platform-style bike rack carries up to 2 bikes
Swing away feature clears 42″, works with vast majority of vehicle
For 2″ receivers only, and NOT upgradable for additional bike(s)
Full feature receiver rack, fold up, tilts down and away
Two carrier trays spaced at 12″, with 3″ of adjustment possible
Each carrier has a 60lb max weight capacity, 48″ max wheelbase
Can carry wheel sizes from 20-29″, up to to 5″ wide
Anti-rattle hitch pin system, with hand tension control knob to stabilize rack
Hitch pin lock and integrated cable lock supplied, with lock cores and keys
Dimensions: 54.8″ wide, 10″ from hitch pin to start of tray
Durable steel & aluminum construction w/ rust nonresistant powder coat finish
MonoRail Solo
As the name implies, the MonoRail Solo is for carrying just one bike. If a riding buddy decides to go along, it can be easily expanded to carry an additional bike in less than five minutes with RockyMounts' single bike add-on kit. The rack fits bikes with 20-29″ diameter tires, has clearance for all fat bikes, including those with Bluto forks and 197mm rear spacing, and tire widths of up to 5″. Fits both 1.25″ and 2″ receivers using an included adapter.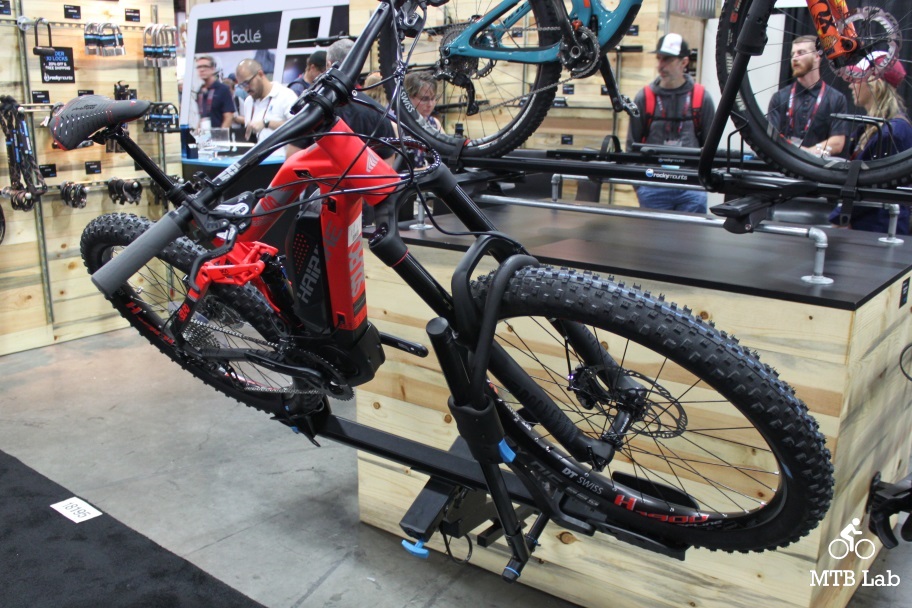 Easily accessible release handle folds the rack into three positions: stow, use, and tilt away. Weight limit: 120 pounds (60 pounds per bike, two bike mode).
MSRP: $279.95. Single bike add-on: $169.95.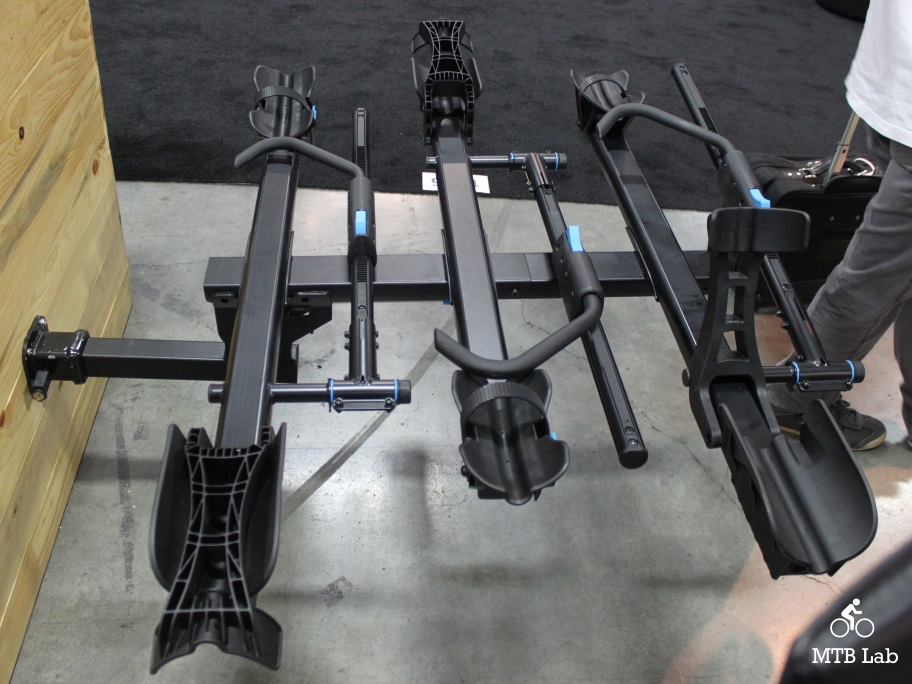 MonoRail
The 2-bike MonoRail is a genuinely versatile receiver rack that accommodates almost any bike, wheel, and tire sizes from 20-29″ x 5″. While the MonoRail might lack all the top-shelf bells and whistles like those found on the SplitRail, many of the design features and parts are shared between the two racks. Individual additional bike mounts for 3-bike capability-sold separately (shown). The Chromoly rack mount beam carries two aluminum bike carriers, with each having complete wheel control and an adjustable length swingarm system that allows for securing the bike entirely without making contact with the bike frame.
The MonoRail folds up at 90° when not in use, which is easily managed with an available spring-loaded lever under the receiver beam. Each bike carrier can be adjusted laterally up to 3″, allowing you to align and space bikes appropriately, which comes in handy when combining a child's bike with an adult model. A full 13″ between carriers makes this process easier. The molded composite wheel holders are designed to restrict wheel movement, even with tires from road width to 5″ fat bike versions. The bike carriers can hold bikes up to 60lbs each, or 40lbs if you add a 3rd bike carrier. Out of the box the MonoRail is easily assembled and weighs just 39lbs, so one person can manage to install it into the receiver hitch.
MSRP $369.95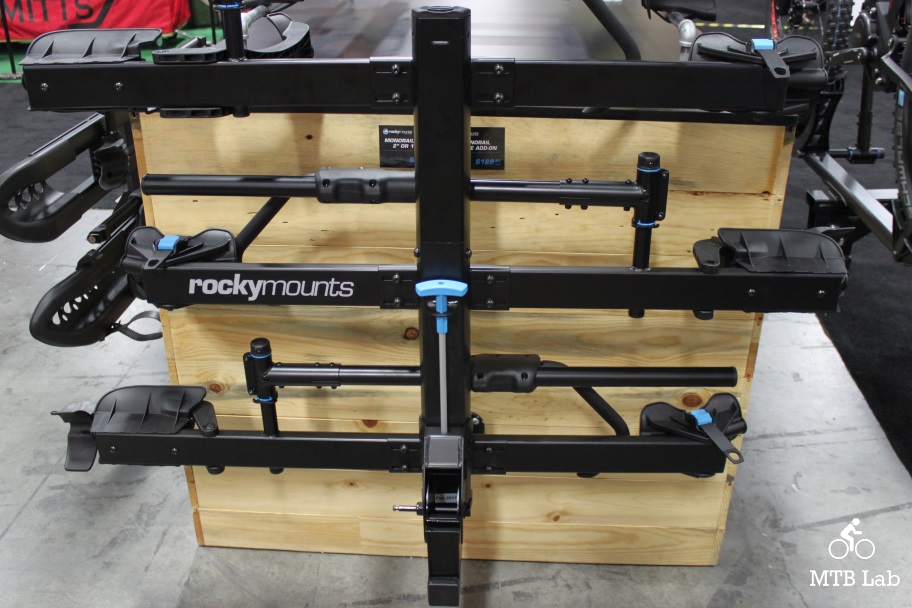 MonoRail Specs
Versatile 2-bike, 2″ receiver style bike rack with adjustability, security features
Aluminum bike mounts with molded composite wheel holders
No bike frame contact, sliding, locking hook clamps front wheel
Fits bikes 20″ to 29″ wheels, road to fat bike tires 5″ wide and 197mm rear spacing
13″ spacing between bikes and 3″ side to side adjustment provides plenty of room between bikes, and flexible alignment when necessary
Max weight 60 lbs per bike, 120 lbs per rack in 2-bike configuration
Chromoly hitch tube is, strong, stiff, lightweight and corrosion resistant
Includes locks; for bike to rack, rack to car security, keyed alike
Anti-wobble hitch pin keeps the rack solid and secure
Individual additional bike mount for 3-bike capability-sold separately
39lbs assembled weight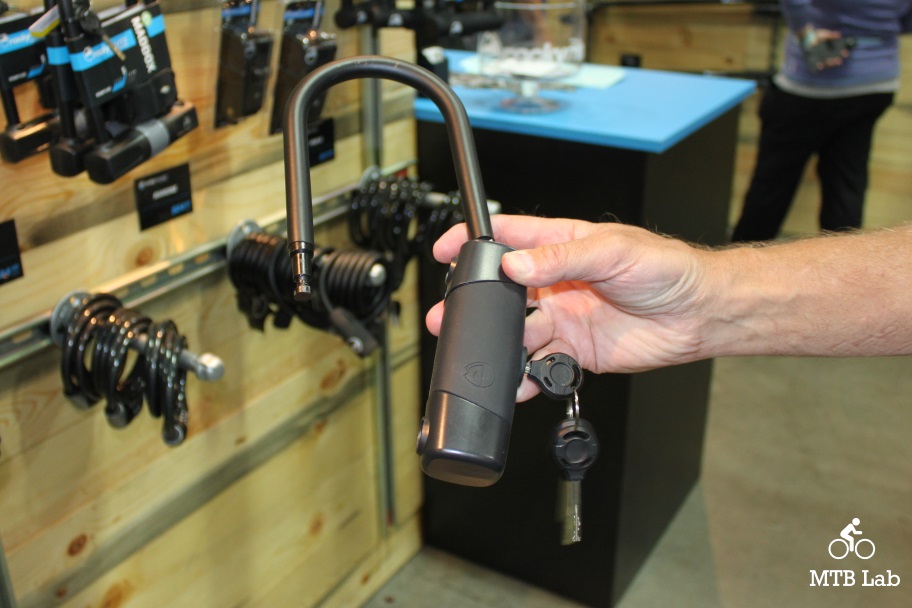 Pivot U-Lock
For students and commuters in university and suburban settings, RockyMounts developed the Pivot family of U-locks, which are made of hardened steel and have a security rating of 6. Available in two size options, Standard and Large, they feature an easy-to-operate hinged design, rubber-coated grips, and silicone lock covers. They come with bike frame mounting brackets and three keys each. The standard Pivot, MSRP $34.95, measures 3.5 inches by 5.1 inches and the Pivot Large, MSRP $39.95, is 4.5 inches by 7.25 inches. The standard Pivot is also available with a 4-foot braided steel cable for extra security with an MSRP $39.95.
Pivot Specs
14 mm hardened steel shackle
Shackle Size 90mm x 130mm
Security Rating 6
MSRP $34.95
Hinged design is strong, easy to open and close like a Switchblade
Includes 3 Dimple Keys & Mounting Bracket
Silicon Coating protect bike finish
Dust Shutter for keyway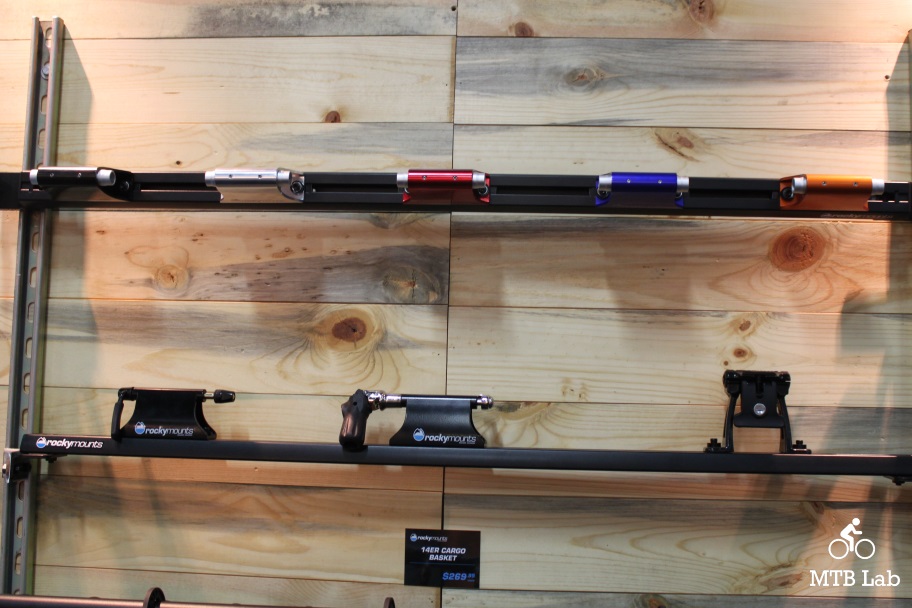 Their adapters and truck mounts come in a slew of colors and styles.
For further information refer to rockymounts.com