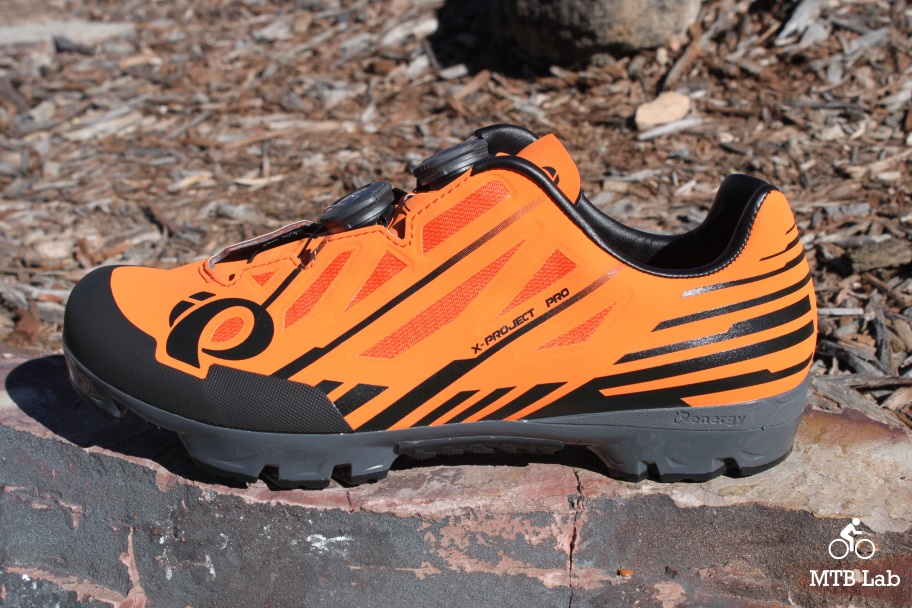 These are a few of my favorite apparel items that I keep using this season, including the fantastic Pearl Izumi X-Project P.R.O. Shoes, the comfy TASCO Double Digits Collection (gloves/socks), the highly functional Pearl Izumi Big Air Jersey, the warm and light Club Ride Blaze Vest and finally the rugged Club Ride Commander Shorts.
Pearl Izumi X-Project P.R.O.
Their top of line X-Project mountain bike got a redesigned and re-engineered sole that is stiffer and walks better. They moved the carbon sole around, and it now covers from just in back of the toes all the way to the front of the heel. With the redesign, the front toe section now has a more flexible portion which offers improved walkability characteristics. The 3-layer seamless upper has excellent breathability and adapts to your foot shape to eliminate discomfort.
For grip and comfort, it has co-molded carbon rubber tips on hollow TPU lugs. Using technology from their running shoes, they have an EVA foam heel for comfort and impact absorption. They feature a double BOA micro-adjustment closure system with a full pop-up release for easy foot entry and egress. They came with the semi-custom 1:1 insole system, which has some mild orthotics, and includes a metatarsal pad and adjustment wedges for the arch and varus in the forefoot. They not only made the shoe more comfortable but when I added an arch insert it provided more toe room for my feet.
They come in 38-47 in 1/2 sizes, and full 48, 49 sizes, and come in Black/Shadow Gray and Screaming Orange/Black color schemes and retail for $350.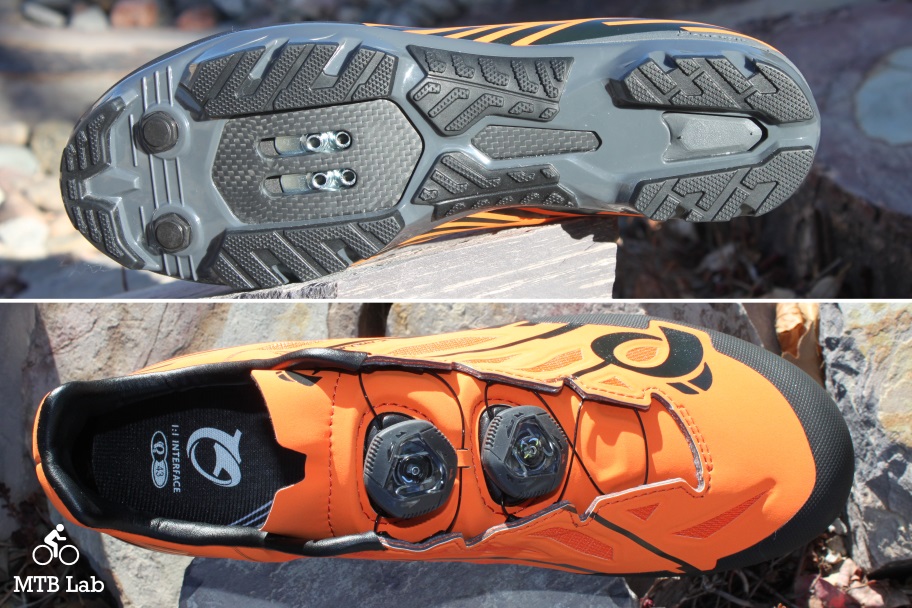 The X-Project PRO are surprisingly comfortable, and the dual BOA closure system provides lots of fine-tuning capabilities. The tongue has decent padding, so there weren't any hotspots from the closure system, and the top BOA helped keep the foot pushed down into the heel pocket while the lower BOA kept the forefoot secure and stable within the shoe. The sole is stiff and powerful which produced excellent pedaling performance, and I could hammer some power into the drivetrain yet they still hiked decently. I didn't feel any heel lift and the heel pocket didn't cause any discomfort or irritation while walking and pedaling. There is some good armor wrapped around the front of the shoe and along the outer side which provided excellent protection when hitting rocks, trees, and bushes. When the dual BOA is released, you can pull up on the tongue and release a lot of slack making it easy to put the shoe on and taking it off. The X-Project PRO is an excellent mountain bike shoe and features a stiff and powerful sole and a highly functional dual BOA closure system, and although expensive it's currently one of my favorite shoes from the last couple of years.
For further information refer to pearlizumi.com.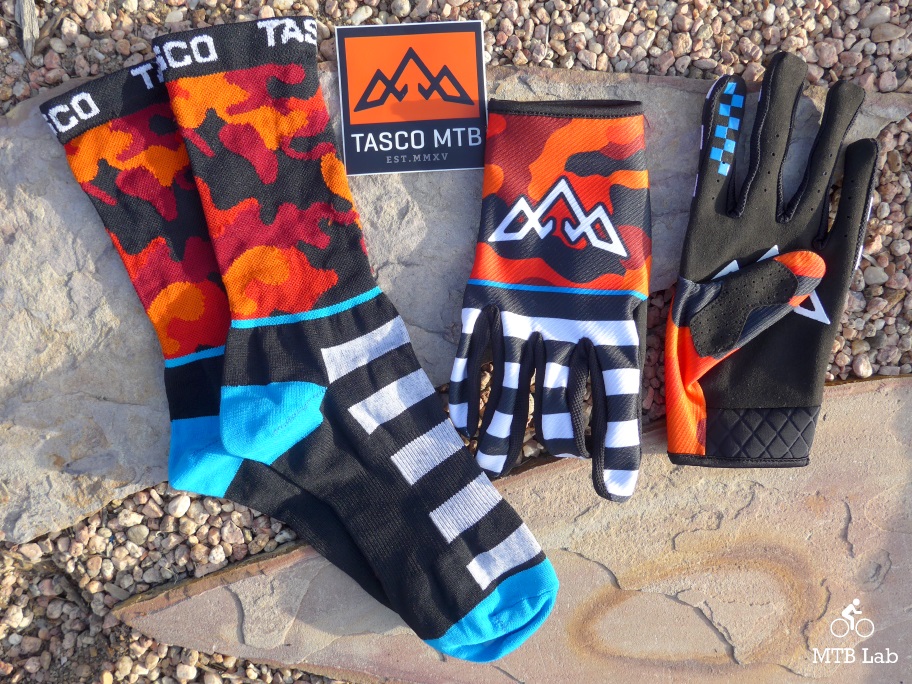 TASCO Double Digits Collection
TASCO has been busy lately, and they're proud to release the bold new Double Digits Collection which consists of a matching set of gloves and socks. Not only do the kits have fun wild color schemes, but they utilize high-quality materials and highly functional features. The collection covers all 20 of your digits with comfort and performance and technology. The gloves have a great blend of fit, breathability, comfort, and style along with excellent durability. The socks utilize COOLMAX and Lycra to offer excellent wicking properties along with a reinforced outer layer of nylon to make them sturdy. The Double Digits Collection comes in four colors, Red Camo, Black Flag, Blue Check Mate and Blue Bike Bits, and retails for $44.98.
For further information refer to tasco-mtb.com
The slip-on gloves are incredibly comfortable and are thin enough for good tactile feel, with a helpful silicone tip on the control finger. The stretchy mesh back offers excellent bendability and breathability, so I never felt like my hands got sweaty, even on hot days. I have picked up rocks and tree branches and have taken a few diggers, and so far they've been durable. The socks are comfortable and stretched in all the needful places without any bagginess. I loved the wild boldness of the Red Camo color scheme to go along with such an incredibly comfortable and functional pair of gloves and socks.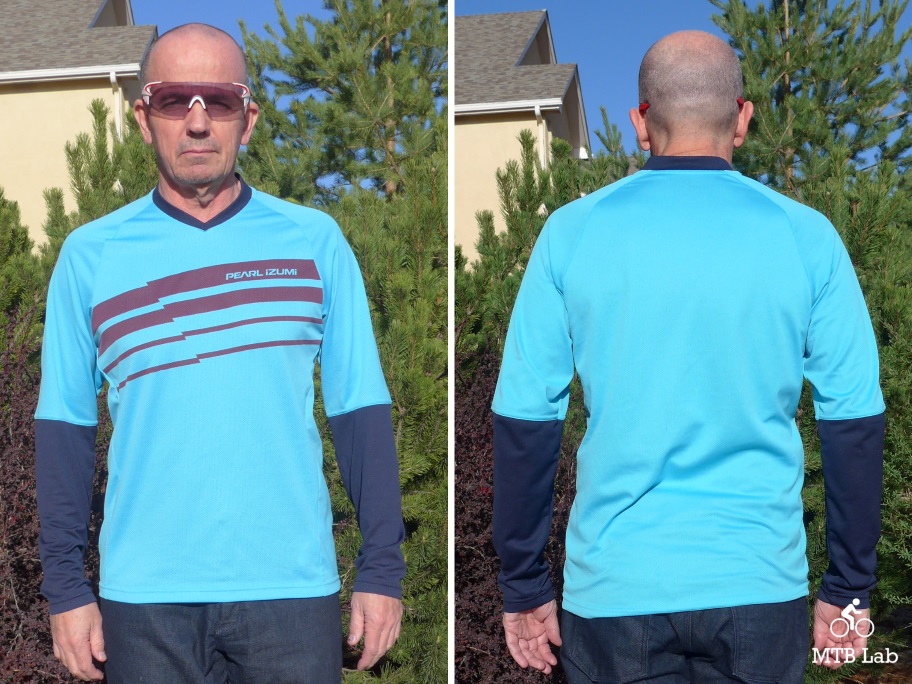 Pearl Izumi Big Air Jersey
The Big Air Jersey was a new item for them last year, and it's pushing them from their cross-country roots to the Enduro and All-Mountain world. The long-sleeved jersey offers excellent sun protection, and the open mesh design has excellent ventilation. It uses a 100% Polyester Transfer fabric for increased moisture management, so you stay drier and includes a small functional sunglass wipe. The jersey is cut with a roomy and relaxed fit, making it comfortable to wear during any riding. It comes in XS, S, M, L, XL and XXL sizes, Blue Mist/Eclipse Blue and Avocado/Citron colors schemes and retails for $60.
I like the cut of the Big Air Jersey as it feels relaxing without being too baggy. The material offers lots of ventilation and has excellent wicking properties. I appreciate the sun and abrasion protection long sleeved design offers, plus the colors and patterns are fresh. When the jersey does get a tad damp, just take it off and snap it in the air and a good deal of the moisture flicks off. I have pretty much lived in this jersey over the last 3/4 of a year, and it's uber comfy, durable and has plenty of sun and bush impact protection.
For further information refer to pearlizumi.com.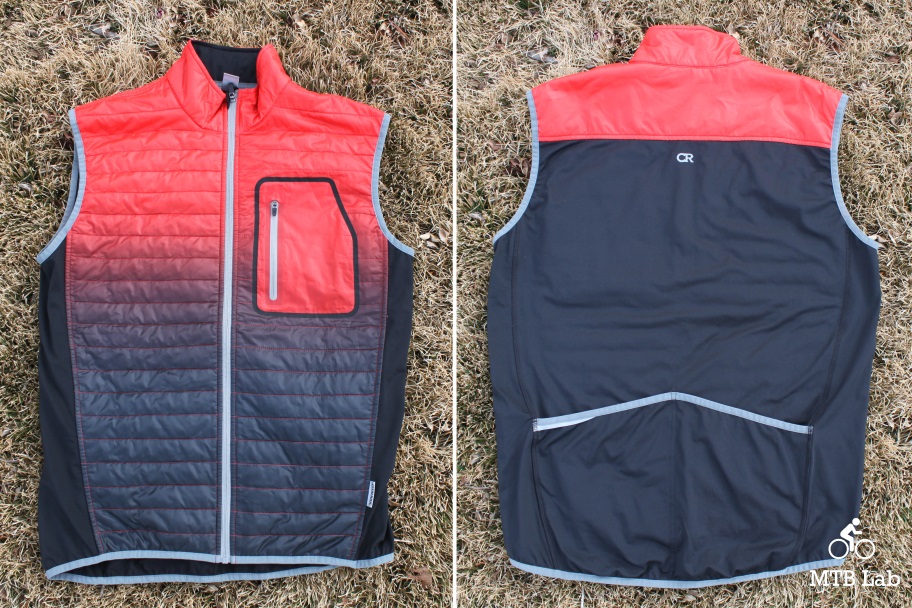 Club Ride Blaze Vest
The Blaze Vest uses a woven wind resistant fabric in the front that's integrated with a lightweight synthetic insulation fill for warmth. On the back is a breathable and stretchy mid-weight brushed knit fabric for comfort and moisture management. It has a small zippered breast pocket and two large rear drop-in pockets for holding water, tools, tubes, and food. It has a snug 'Sport Fit' so it doesn't flop around while riding, especially at speed, but it's not tight enough to be uncomfortable.
The Blaze Vest retails for $89.95, comes in a Radiant Orange color scheme and S, M, L and XL sizes.
The Blaze Vest is an ideal jacket that's compactable and lightweight and offers up an apparel item which provides just enough core warmth to get you through colder days without having to resort to a full sleeved jacket which can be bulky, sweaty and too hot. The front material provides significant wind resistance, and the insulation thickness is perfect for anything short of a bitterly cold day. The rear section has some functional stretchy fabric that makes the vest comfortable and offers up excellent ventilation and breathability.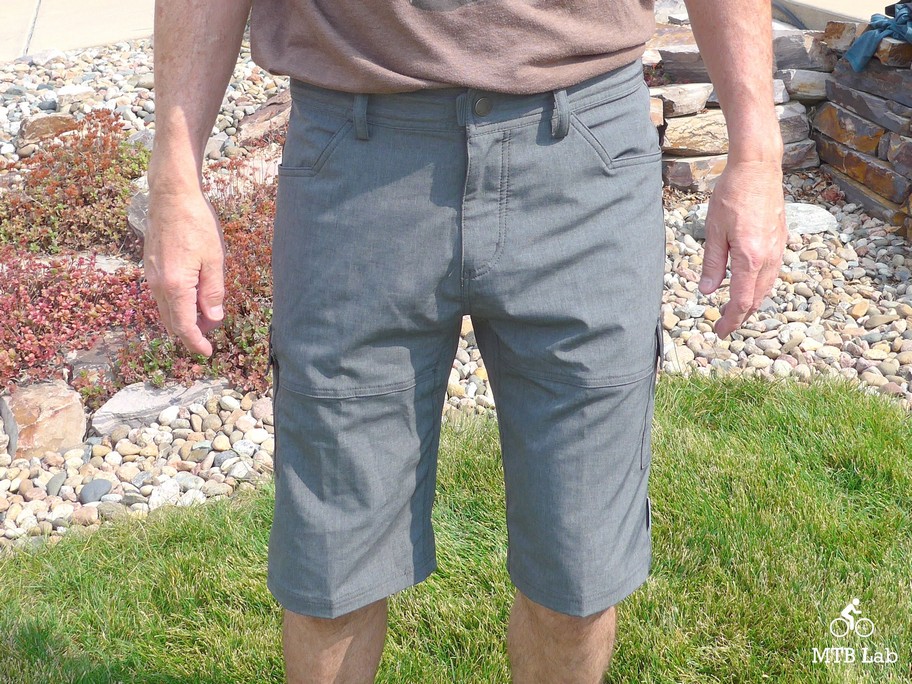 Club Ride Commander Shorts
This is not your average cargo short. The Commander has all the functionality you need from a cargo short while providing all the technical aspects of robust riding short. Built with medium weight double weave fabric, the Commander is light enough for comfort, yet can withstand the most aggressive terrain. The lay flat pockets and belt loops allow you to transition seamlessly from the bike to everyday life.
The durable shorts are made with a WR finish which creates a sort crinkling noise sometimes when you're moving. Although there isn't much stretch in the material, they're reasonably comfortable, and the seamless crotch gusset offers excellent maneuverability and fit. For fitting purposes, they have a functional waistband adjustment system with a Velcro closure on each side to alter the circumference. The front has a robust snap closure with decently long zipper. The WR finish provides water and dirt resistance and significantly adds durability to the shorts. They have two large hand pockets, two cargo pockets on the thighs and one zippered pocket. The Commander shorts don't look like a set of baggy bike shorts and instead seem like a regular pair of cargo pants, albeit ones with high functional materials and a slew of biking features.