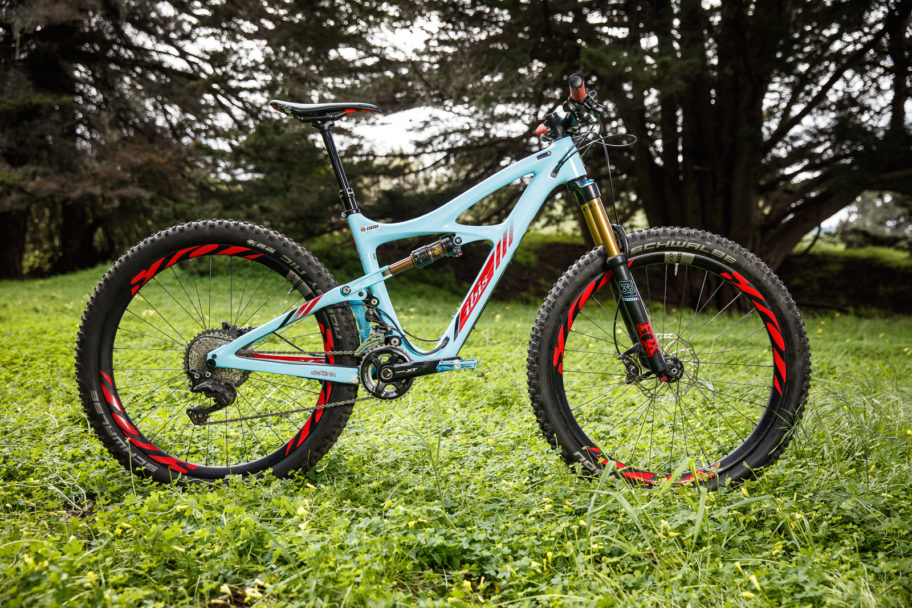 Announcing Boost and Plus for the Mojo HD3
Following on the heels of the new trail-oriented Mojo 3, Ibis is releasing an upgraded Mojo HD3 that has the capabilities of running tires from 2.3-inch to Plus sized 2.8-inch. This potential comes as a result of an all-new swingarm design for the HD3 that is now both Boost and Plus tire compatible so that the rear end can accommodate big fat and grippy Plus tires up to 2.8 inches in width.
"Boost is a new standard for axles and drivetrains that allow us to build a bike with a stiffer rear end and no weight penalty. It also allows us to increase clearance so we can run larger rubber on the bike. The HD3 now accommodates the incredible new 2.8″ Plus tires from both Schwalbe and Maxxis."
I have been running my older version of the HD3 with a Manitou Magnum 27.5+ fork and Plus sized wheel and tire for over six months now, and I love the fantastic traction, braking, and float that the semi-fat platform provides. Although I can run 2.5-inch tires on their 741 rims, I desire the extra bit of girth that a 2.8-inch wide tire provides, and the new swingarm design brings that to fruition.
HD3 Features:
Accepts 27.5″ tires in 2.3″, 2.5″ and also 2.8″ Plus size
The most advanced version of the dw-link suspension on the planet
Boost 148mm rear/110 Front axle on all XT/X01 and above kits
Special Blend kits have 142mm rear, 100mm front axles
6" (150mm) of rear wheel travel
Carbon fiber monocoque frame and swingarm
Weight for the frame and shock, size large, matte finish: 5.9 lbs
66.6º head angle
Shock specs: Fox Factory FLOAT DPS 3pos w/Adj and EVOL Sleeve with Kashima Coat, 7.875″ x 2.25″
Optional shock: Fox Float X2
ISCG 05 compatible with removable adapter is available
Threaded bottom bracket
Super versatile internal cable routing including internal dropper routing.
Optional polycarbonate down tube cable guard
Chain stay length: 16.9″
160mm post mount
Tapered Head Tube and Steerer
Dual row angular contact bearings on the drive side of the lower link that have less play than standard sealed bearings. Preload adjustment is not necessary. Large 28mm x 15mm x 7mm radial bearings on the non drive side for stiffness and long wear
BB height at with tire sag is the same with 2.3, 2.5 or 2.8 tires
1X or 2X with a removable direct mount front derailleur mount that gives a clean 1X look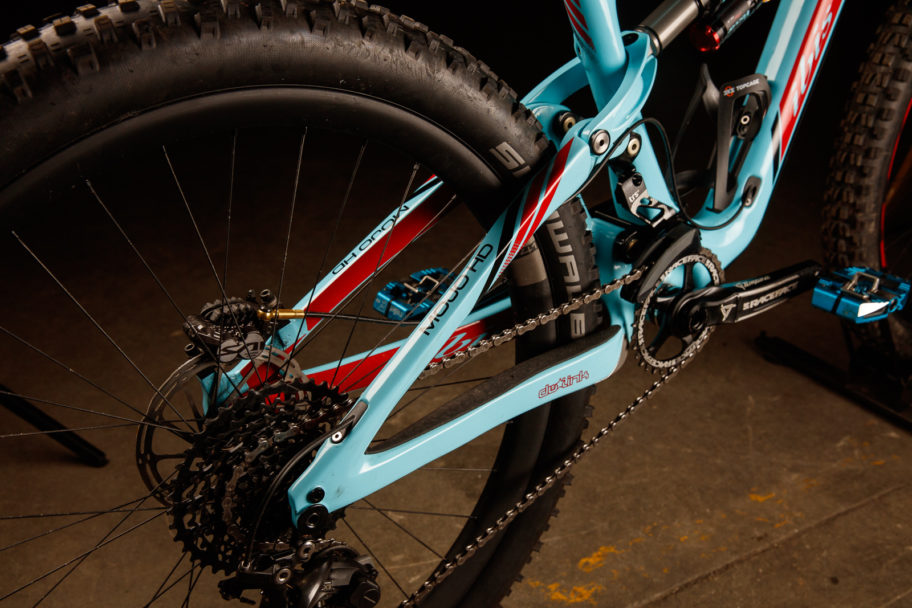 The new HD3 is in stock and available for immediate shipping in all three colors, Matte Black, 917 and The Green Machine. Pricing should remain in line with their current structures and kits will have some slight alterations, especially in regards to tire choices (Schwalbe Nobby Nic 27.5" x 2.8" PLUS).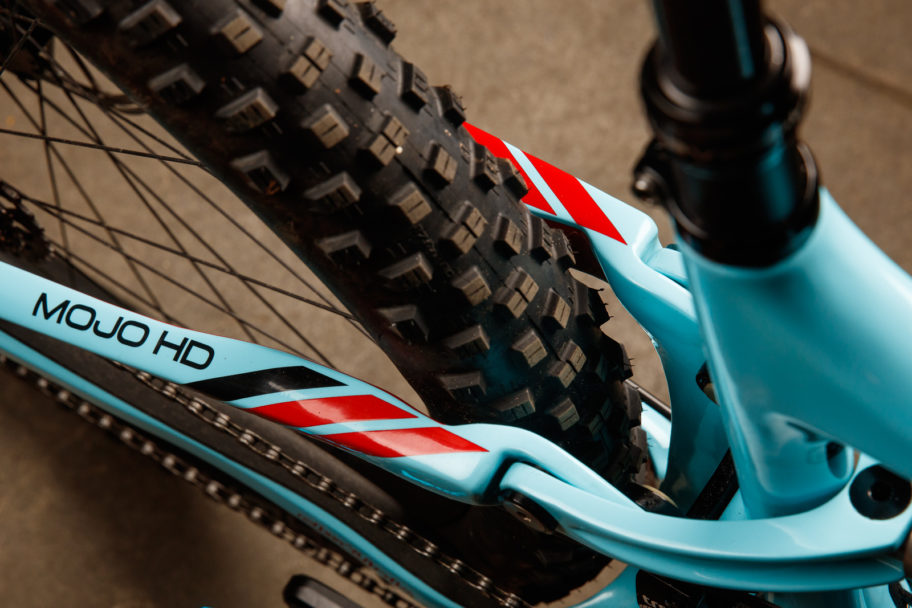 With the new Plus capabilities of the HD3, you'll be able to set up the bike in a slew of different tire builds all on a single set of wheels, allowing you to accommodate any riding type (XC to DH), environmental and terrain conditions and personal preferences.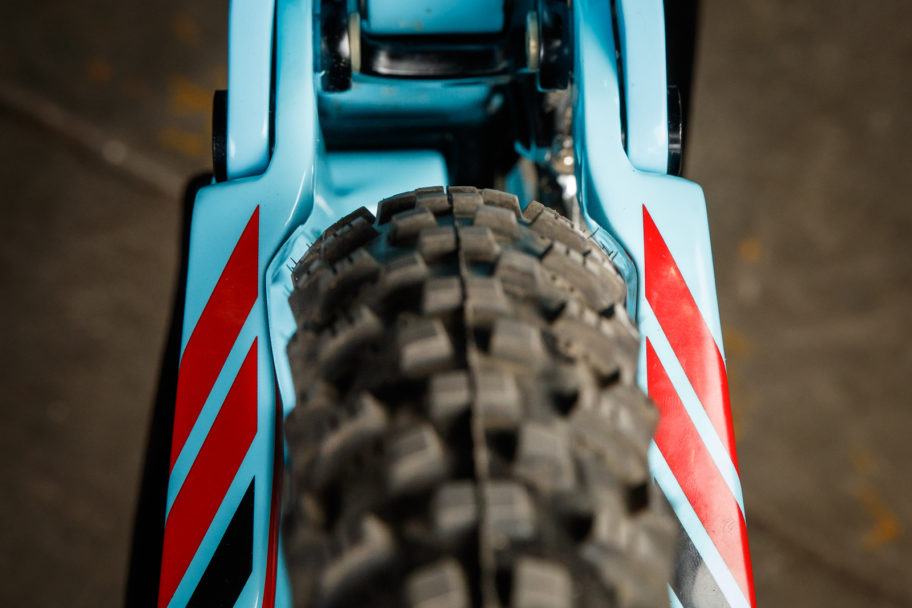 The first version of the All Mountain Mojo HD3 was a non-Boost bike and it was an extremely capable beast, offering 150mm of terrain taming control. By updating to the Boost standard in the swingarm, they're able to increase the clearance to accommodate the 2.8 Plus tire size, while maintaining weight and stiffness without any additional weight. The photo above shows the clearance with a 2.8-inch Schwalbe Nobby Nic.
Ibis characterized three distinct categories per tire width:
Our dw-link suspension effectively decouples suspension travel from climbing performance, so if XC or light trail bike duty is what you're after, a nice light set of 2.3" tires will turn this beast into a svelte shredder. If you ride in mud a lot, some 2.3 mud spikes will fit with gobs of clearance.
For those of you who just want to point it straight downhill or if you ride in very rough and rocky conditions, put on some 2.5s with good sidewall protection and hold on tight.
Hint: if you want to use every mm of the 150mm travel HD3, the new Wide Trail (WT) Maxxis Minions are an ideal match for our 35mm internal width carbon rims.
And finally, the new kids on the block, equally confidence inspiring for beginner and expert alike, the 2.8" Plus tires from both Maxxis and Schwalbe offer levels of grip we've never seen this side of Velcro.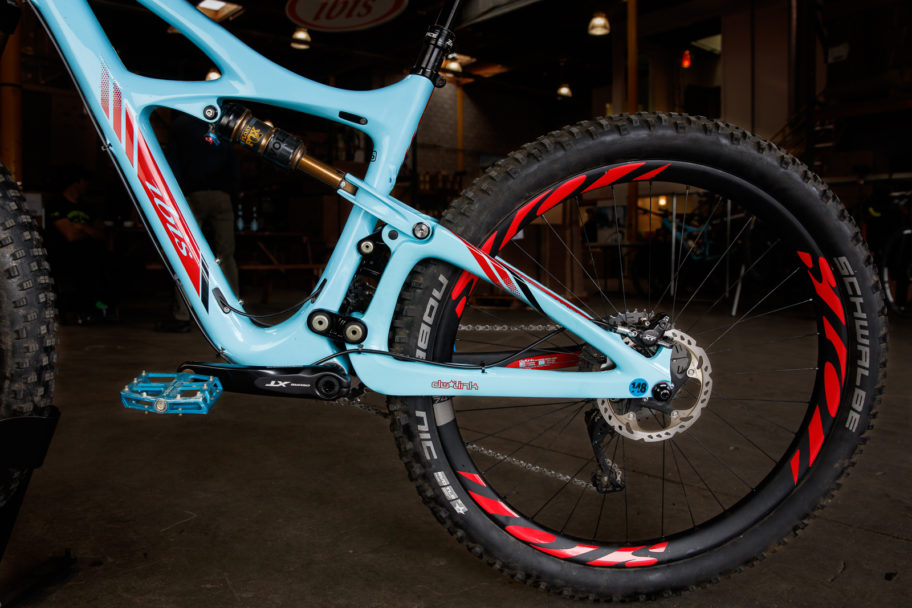 HD3 Boost/Plus Retrofit Kit
"For current HD3 owners who want to upgrade to Boost/Plus, we're offering a swingarm retrofit kit for the 142mm HD3s to convert to the Boost/Plus swingarm. US MSRP is $899."
The Retrofit kit is my favorite part of their HD3 announcement, and it's one I have been highly anticipating since the Mojo 3 was released. Now I can build up my old HD3 with a swingarm that will allow me to run some fat and sticky 2.8-inch tires though I will need to rebuild my 741 rims on a Boost hub. As an alternative you can modify your existing rear wheel to be Boost compatible using the Linderetes Boostinator conversion kit. The Boostinator set up will be used by the entire Ibis Enduro World Series Team during this years racing season.
The retrofit kit consists of:
All new HD3 Boost/Plus Swingarm
New 148mm Hexle
Boost lower link
Boost lower link rear shaft hardware
Boost compatible front derailleur mount
Retrofit kits will be available in April.
Cost – $899 for the kit
For further information refer to ibiscycles.com