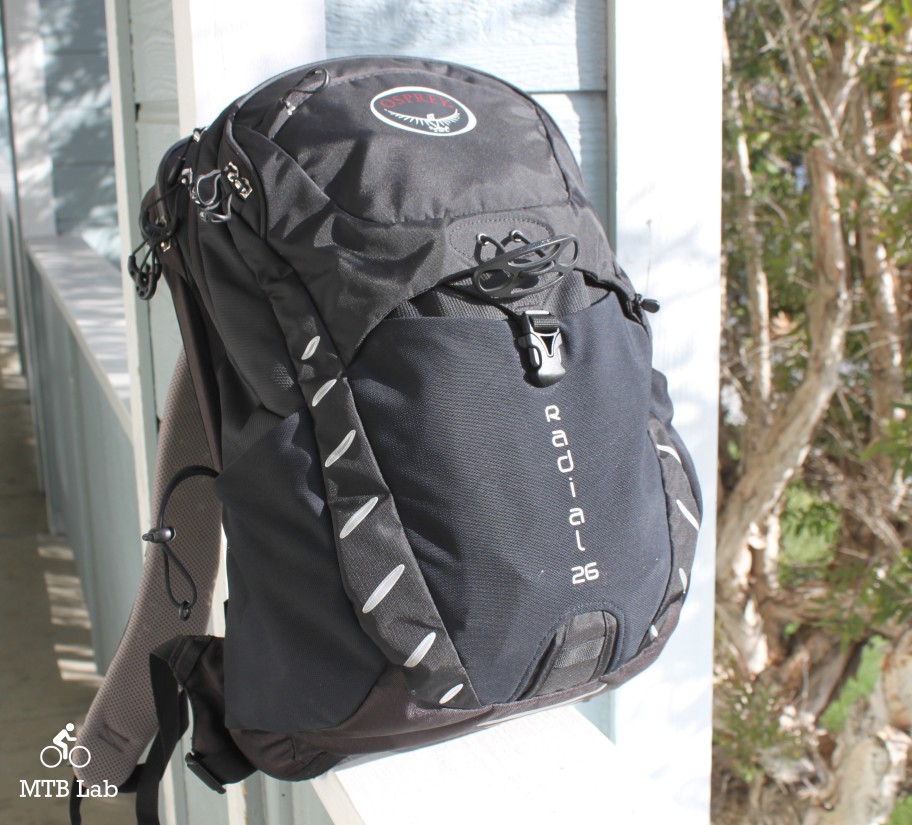 The Osprey Radial 26 pack is part of their Bike Commute product suite and is specifically designed for that purpose though it's also useful for traveling, work, school, and hiking. It's fully featured and has an excellent light aluminum wire frame and elevated back panel for comfort, ventilation, and load-carrying capabilities. The pack comes in Mantis Green and Black colors, and in small-medium and medium-large sizes and retails for $159.95.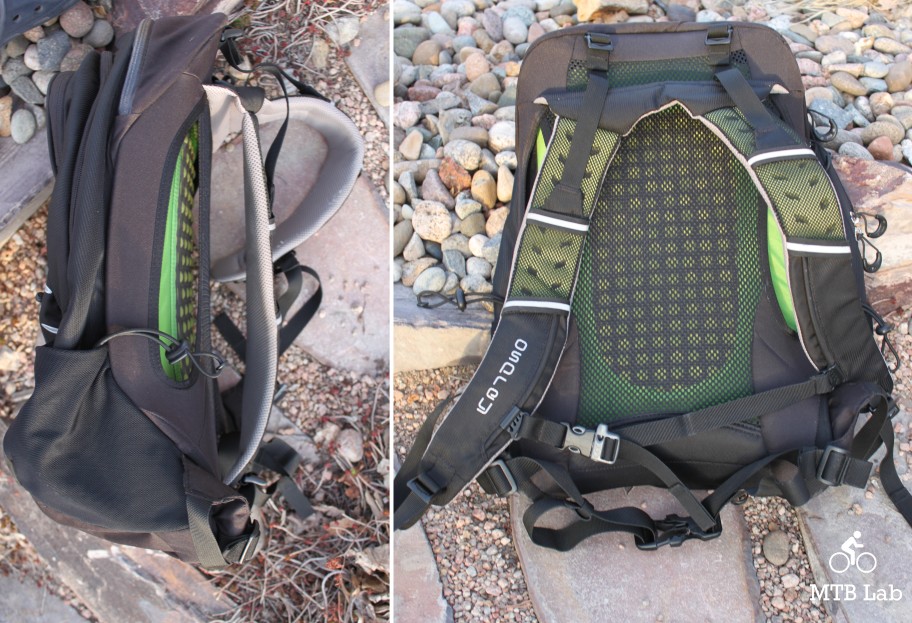 Features
Their modified AirSpeed back panel utilizes an aluminum wire frame and a suspended mesh backing with ridged foam on the main body all of which provides ideal load carrying capabilities and comfort and ventilation. It has ventilated and contoured shoulder straps that have a mesh material with perforated foam padding for improved breathability and comfort, along with a slider sternum strap and a straightforward and removable 1-inch hip belt.  The top of the packs upper yoke has adjustable straps that attach to the shoulders straps so you can fine tune load lifting capabilities. The pack weighs 2.5-2.7 lbs and is constructed of durable materials, using a combination of Nylon Dobby and Packcloth materials.
It has quite a few useful pocket and compartments, including a rear padded laptop sleeve, a large main compartment, two front pockets, plus two side and one front mesh pockets (for a U-lock). It also features a LidLock clip for carrying and securing a helmet, an integrated high-visibility rain cover located in a zippered bottom compartment and a Blinkie light attachment.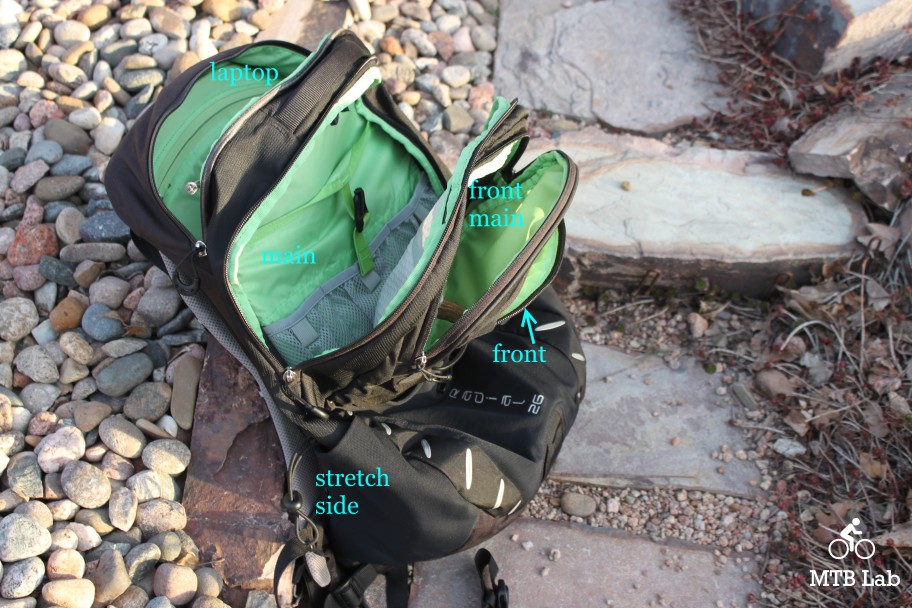 Storage
The pack has four prominent zippered storage sections, the back laptop sleeve, the main compartment, the main front pocket and the outer slash pocket. Additionally, it has three woven stretch pockets, two on the side and one on the front. The small-medium size has a 24-liter storage capacity while the medium-large has 26 liters.
The laptop sleeve can hold a 15-inch device and is padded to protect your valuable electronics and also has a separate zippered mesh section up front for a tablet or mouse pad. The main compartment has a long zipper and opens in clamshell style for easy access, and the interior is cavernous since it occupies most of the packs 24/26 liters of space. At the back of the main is a sleeve for documents and paperwork and in front of that are three mesh pockets that are decently wide for a slew of different sized objects. The rest of the primary isn't partitioned which makes it ideal for commuting and traveling, and general purposes since it quickly facilitate carrying large items, cameras, books, and gear. The main front pocket also has a clamshell opening and includes five internal sleeves. It was my major spot where I put anything of moderate size, including phones, wallets, pens and pencils, business cards, charging pods for electronics and other sundry items. The very front has a slash pocket that has a key clip and is useful for small items, such nail clippers, SD Cards, phone cables and anything you don't want to lose. The stretch side pockets are excellent for water bottles and even have bungee cords to hold them securely while the front stretch one is useful for small apparel, though it's also a dedicated U-Lock pocket.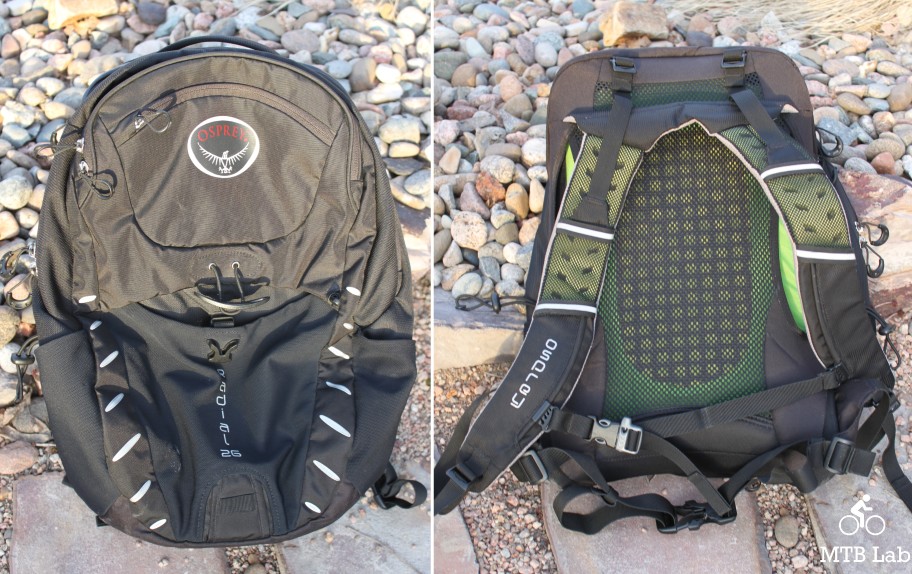 Impressions
The Osprey Radial 26 is comfortable and can carry a lot of weight in a secure and stable manner. The compartments are simple and few but allow you to bring many items, including large and cumbersome ones, laptops, books, documents and a slew of others things in just about any size. It's made with sturdy materials and has been extremely durable, and long-lived, even after many years of use. I have used it for commuting, hiking, going to work, and particularly for traveling purposes.
The AirSpeed back panel system and its accompanying wraparound wire frame did a fantastic job of load carrying and even when adding moderately heavy and bulky items it always provided exceptional stabilization. The raised or suspended mesh backing arched away from the main pack and kept the load off your back and created excellent ventilation and breathability. All that synergy along with a ridged foam padding on the inner back of the main body provided comfort and relief. The waist or hip belt was very simple and was only a 1-inch piece of webbing with a quick-release and was thankfully removable since I rarely used it, and it seemed superfluous. I'd prefer that they offer a more substantial waist belt that is well padded and wider, which would help immensely with the packs load carrying capabilities. The shoulder harness uses a well-padded mesh system that was comfortable and didn't cause any pinch or hot spots, and the adjustable upper yoke system made load trimming simple and easy. I didn't use the sternum strap much unless I was purely biking or hiking since the frame and back panel kept everything pretty stable on its own. It didn't have any compression straps to tailor the load, but I didn't find that a huge disadvantage since the tear drop shape of the pack and the way it carried things kept everything stable, though I would like to have the ability to use some straps for trimming the load when it's emptier. If you didn't have many items in the main compartment and they were smaller in size, they did bounce around slightly though it wasn't like I was riding on rugged mountain bike trail.
It can carry a pretty hefty load, but once it gets too heavy, it overwhelms the pack, making it feel burdensome and tiring on the back and neck. Without a well padded and wider waist belt system and a closer body fit design, the pack just can't handle dense and heavy items, like tossing in a stack of books into it, though it does fine with lighter bulkier things.
Their LidLock clip was handy for carrying and securing a helmet when it wasn't needed, especially at the end of your commute when you needed somewhere to store it. I didn't use the capabilities of the U-Lock pocket in the front (don't own one) and instead used it to store food and bars and munchies and sometimes gloves or a hat. The stretch side pockets were handy for water bottles, and the small bungee cords made sure things stayed securely fastened. The rain cover is in a zippered pocket at the bottom of the pack, and it protected everything just fine in any rain storm.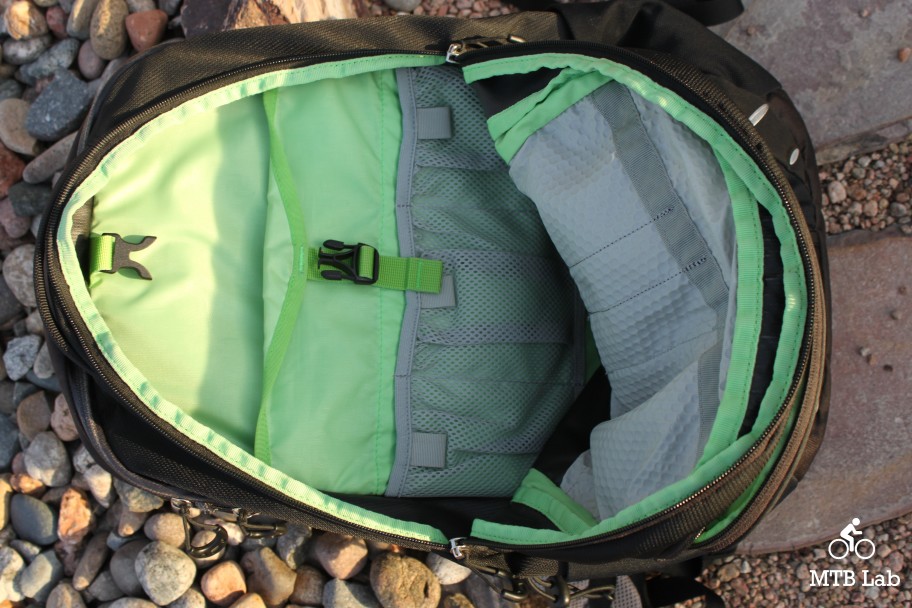 The large main compartment is deep and broad and cavernous making it easy to stash shoes, jackets, books, DSLR cameras and other bulky items. I liked the document sleeve at the back of the main and found it advantageous for many times during the packs multi-use. It was easy to stuff things into the main since it was so large but that also meant that items drifted towards the bottom and seemed to get lost in the mess. I'd like to see some sort design that offered some sub-divisions within the central section, so that movable sleeves, compartments, and pockets could be added and removed as needed.
The regularly used laptop compartment at the very back of the pack has a well-padded sleeve that protects the electronics and offered comfort to the back. The inner zippered mesh pocket within the laptop compartment was handy for tablets though I mostly used it for mouse pads. The main front pocket was extremely useful and was my primary go-to location for many items, pens, smartphones, wallets and anything small to medium in size. The external front slash pocket was perfect for tiny to small items and your keys.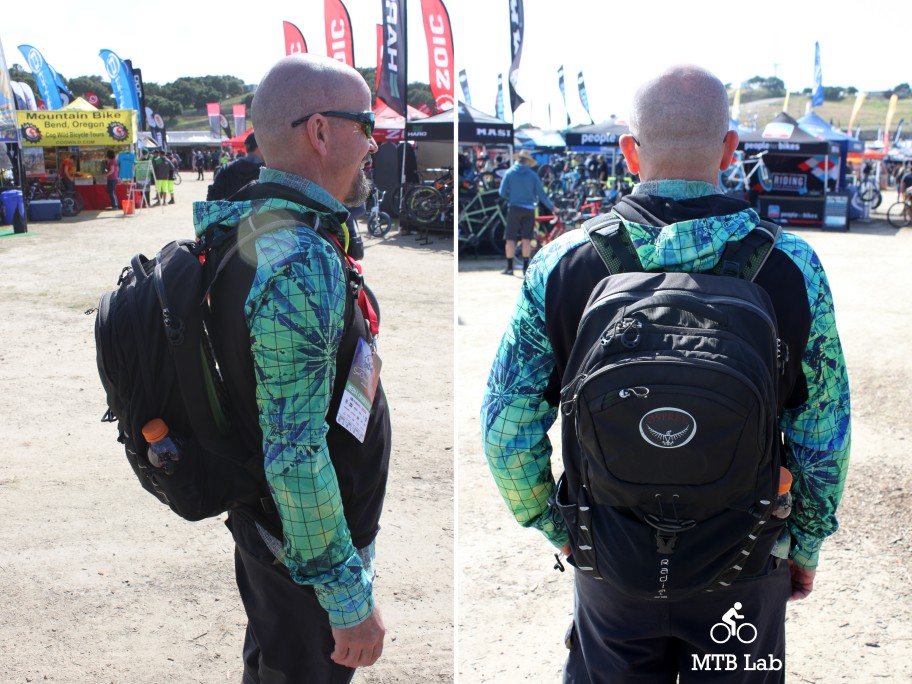 Bottom Line
The Osprey Radial 26 is a well-made pack that uses heavy materials and stitching for durability and toughness and except for one cracked quick-release snap nothing has ever broken or worn out in its many years of use. Their AirSpeed back panel system and wraparound wire frame offered excellent load carrying and stabilization properties and the suspended mesh backing produced exceptional comfort and ventilation. The pack has decent organizational features including a large clamshell opening main compartment with an excellent document sleeve, a padded rear laptop compartment, and two front pockets that are useful for smaller items. I have used it for a bunch of different activities, including commuting, hiking, working, and traveling and it has always been highly functional for anything.
I do wish the waist belt was more substantial and wider and had thicker foam padding, and some compression straps would be advantageous for trimming the packs load. The pack can carry a lot of weight, but you can't overdo it, or it gets overwhelmed and uncomfortable.
The Osprey Radial 26 is comfortable and supportive, can carry a lot of gear with excellent weight distribution and stability, and uses tough and durable materials.
Pros
Well built – tough materials and robust stitching and construction
LidLock clip for helmet carrying
Integrated rain cover
Adjustable load trimmers on upper yoke
Superb load carrying capabilities and stable
Padded laptop sleeve
Large cavernous main compartment and useful front pockets
Cons
Heavy
Needs additional pockets in the main compartment
Needs compression straps
Needs a padded and wider waist and hip belt
MSRP:  $159.95
For further information ospreypacks.com
| | | | |
| --- | --- | --- | --- |
| | VOLUME | DIMENSIONS | WEIGHT |
| S/M | 1465 IN3 / 24 L | 20H X 13W X 12D IN. | 2.49 LBS. |
| M/L | 1587 IN3 / 26 L | 22H X 14W X 13D IN. | 2.71 LBS. |