Here a slew of excellent affordable and small stocking stuffers for the holidays. Including Action Wipes sanitizing wipes, Chamois Butt'r products, 15-serving GU Energy Gel packs, G-SAVR GPS Tether, Bar Fly 4 Max GPS mount, Bottle Bright hydration cleaner, TIMBER bike bell, and for your dog the Eddy Bowl and Release N Run Leash Collar.
Action Wipes 
Action Wipes are a high-tech version of baby or hand sanitizing wipes and utilize a safe and natural formula based on plant-derived ingredients and pure essential oils. They're pre-moistened and 9″ x 10″ in size, so only one is needed to clean your entire body for an "InstaShower" or a "shower in a pocket," and they offer a refreshing scent due to the inclusion of natural essence of Tree and Eucalyptus oils. The made in the USA product is cruelty-free and comes in 10, 12 and 15 single pack bundles ($12.50,$18.75,$31.25), and 10 ($9.99) and 30 ($24) sheet soft dispenser pouches.
When I was out on the trail, I was notorious for using baby wipes for cleaning myself up and cooling off. I also used them after applying sunscreen to remove excess amounts from my hands and around my eyes. Although the baby wipes did the trick, I always felt like I was rubbing nasty chemicals on my body, in addition to leaving a lingering industrial and alcohol smell on my skin.
For further information refer to actionwipes.com and a full review at Action Wipes Review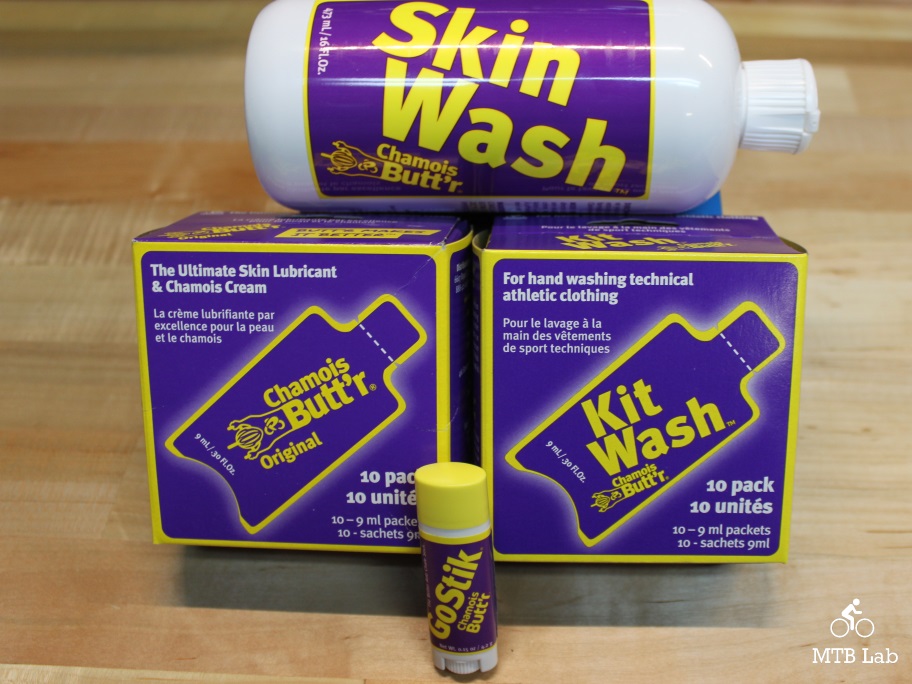 Chamois Butt'r Original
Chamois Butt'r Original is a non-greasy skin lubricant developed by cyclists for use with all chamois. It immediately improves riding comfort & soothes already chafed or irritated skin. Chamois Butt'r isn't just for cyclists! It lubricates, soothes and softens the skin of all athletes who experience chafing. Apply liberally to skin and chamois before each ride. May be applied to any skin areas that rub together or against clothing. Apply to skin to soothe and soften. Chamois Butt'r chamois cream is available in two additional formulas, Chamois Butt'r Her' and Chamois Butt'r Eurostyle. Available in 8 oz tube for $17.99, 10 Pack for $9.99 and Individual Use Packet for $0.99.
I love this stuff, and it helps prevent rash, chafing and discomfort on rides and the small packets make it easy always to carry it with you. 
Chamois Butt'r Skin Wash
Chamois Butt'r Skin Wash is a premium quality skin cleanser. Skin Wash was developed in cooperation with pro athletes and trainers to remove sweat, road grime, massage oils, and embrocations. Skin Wash reduces the warming sensation of embrocations. It includes ingredients to moisturize and condition the skin. Use after exercise when no shower is available or to clean up before your next podium appearance. Apply Chamois Butt'r Skin Wash directly on your skin and wipe off with a cloth or paper towel. For extra tough oils, creams, dirt or grime repeat the process. Unique formulation leaves your skin feeling clean, cool and refreshed! Cleans when water is not available.
The Skin Wash works pretty well, whether you're out in the field cleaning up after a ride or at home when you want to do a quick cleanup.
Chamois Butt'r Kit Wash
Chamois Butt'r Kit Wash is a premium fabric cleanser designed for hand washing cycling kits, swimsuits, wetsuits or any other athletic clothing. Kit Wash is gentle on technical fabrics and requires a minimum amount of water to clean effectively. Kit Wash removes chlorine from swimsuits and is safe to clean wetsuits. Use 1-2 capfuls of Chamois Butt'r Kit Wash per 3.8L (1 gallon) of water. Pour into water and mix thoroughly. Add clothing. Allow garments to soak for a few minutes. Squeeze solution through fabric, do not rub, twist or wring clothing. Rinse thoroughly with water. Squeeze excess from the garment. Hang or lay flat to dry.
Skin Wash available in 16 oz bottle for $15.99, Kit Wash for $15.99, Kit Wash 10 Pack Box for $10.00 and Kit Wash Individual Use Packet for $0.99.
GoStik – The Better Anti-Chafe Stick
GoStik is a solid stick lubricant designed to eliminate uncomfortable chafing and skin irritation.  It is excellent for runners, cyclists, triathletes and swimmers, along with anyone who experiences chafing during athletic or on-the-job activities. GoStik is particularly popular with military and police personnel.  It's commonly used around clothing neck openings, under arms, between thighs, backs of ankles, balls of feet, or anywhere skin rubs against skin, fabric, leather, rubber, etc. GoStik was created to provide a fragrance-free formula with better lubrication and a higher melting point than our competitors.  This enables anyone to use the product for longer periods of time. GoStik's non-viscous, non-greasy spot lubricant stays where you put it, and will not stain skin or clothing. This is our first lubrication product that is not a cream. While GoStik will lubricate any area to which it is applied, a stick lubricant is best used for areas other than your chamois.
GoStik is available in 2.5 Oz. size for $14.99 and 0.15 Oz. for $2.99.
This is a great little product to stash in your pocket or pack, to help with chafing and irritation spots during a ride, hike or run. A quick dab and rub in prevent troublesome issues.
For further information refer to chamoisbuttr.com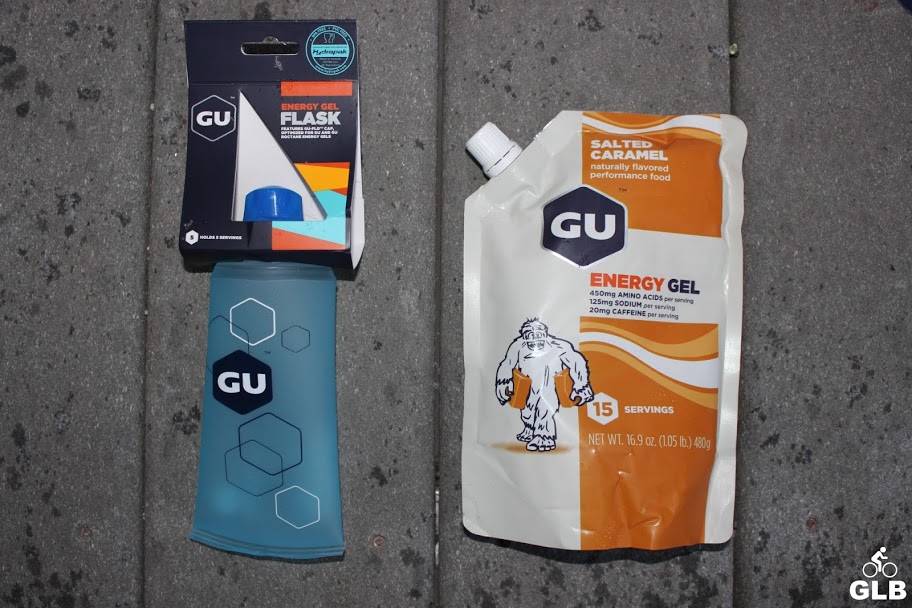 15-serving GU Energy Gel and GU Roctane Gel
Earlier this year GU released the long-anticipated 15-serving GU Energy Gel and GU Roctane Gel pouches, which retail for $15 and $25 respectively. To go along with this new bulk packaging system is the GU Energy Flask. The flask was designed in partnership with my friends over at Hydrapak and was optimized for the thick viscosity of the GU Energy Gels. The $12.99 soft flask will hold up to five servings at a time and can fit into neatly into any hydration equipment, making it easier for athletes to fuel for longer efforts.
GU and TerraCycle have been partnering to make 100% of their packaging recyclable. The new bulk packaging is designed to reduce litter: fewer packages mean less trash, less material used, and a cleaner environment.
GU Energy Gel 15-Serving Pouch and Roctane Energy Gel 15-Serving Pouch ($25) come in the following flavors:
Salted Caramel Energy Gel – $15
Strawberry Banana Energy Gel – $15
Sea Salt Chocolate Roctane – $25
Blueberry Pomegranate Roctane – $25
For further information, please refer to guenergy.com and a review at Just In – GU 15-serving Energy Gel Pouch and Energy Gel Flask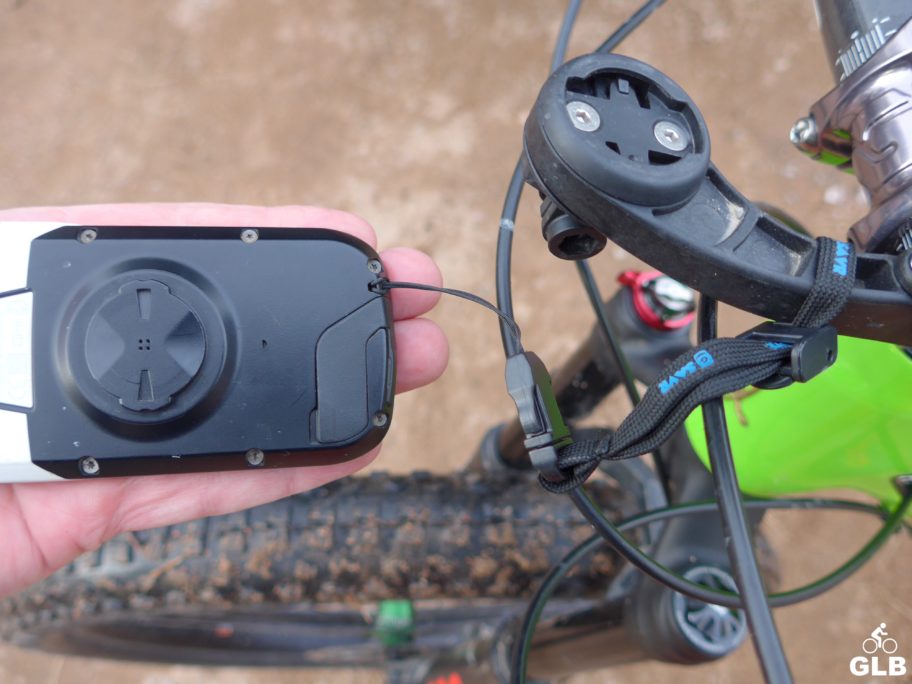 G-SAVR Tethering System
The G-SAVR is a compact tethering system that secures any Garmin Edge computer, Garmin VIRB camera, and other electronic devices to a bike for the ultimate in safety. It keeps the device attached to the bike no matter what happens to the mounting systems, preventing it from falling off and damaging or losing your valuable and expensive computer or camera.
Although I have never personally had it happen, the Garmin Edge mounting wings can sometimes break, creating a catastrophic ejection of the device. Also, during high-speed rides in rough terrain or the event of a crash, the device may disengage, or bike mount might break. The simple G-SAVR retails for $9.99 from Amazon, weighs 10 grams and can be easily and quickly moved from one bike to another. It's 6.5 inches long and 0.5 inches wide and once installed is unobtrusive.
For further information refer to G-SAVR Tethering System Review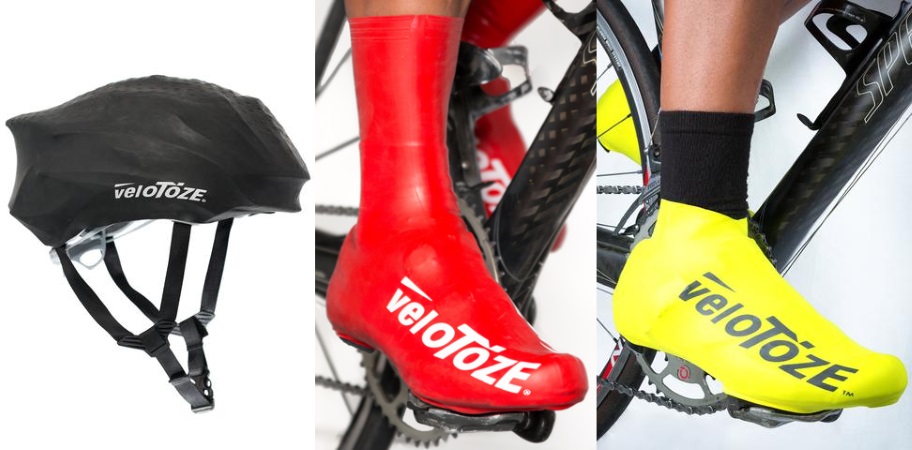 veloToze Covers
The veloToze Tall Shoe Covers, Helmet Cover, Short Shoe Covers and Toe Covers are for road cycling on cold, rainy or snowy days. Whether it's racing day, training day or just another commute day, veloToze Covers will keep your feet and head dry, warm and comfortable. The veloToze products use a waterproof and flexible material, and if you take them on and off carefully and follow the proper care instructions, they'll last a long time. veloToze shoe covers are primarily for road cycling shoes and for use during road cycling and commuting, though if careful they'll suffice for mountain biking.
Specs
MSRP – Tall Shoe Covers ($22),  Helmet Cover ($18), Short Shoe Covers ($15) and Toe Covers ($13)
 Waterproof

Feet – designed to form a tight seal to keep your feet and shoes dry,
Helmet – covers your helmet with a waterproof material that keeps rain and fog away from your head

Windproof: windproof materials keep your feet warm even on cold morning or winter rides (5C/40F to 16C/60F)
Lightweight: made of a flexible, lightweight material that doesn't retain water when wet
No zippers or velcro straps: innovative overshoe design has no vulnerability points, like zippers or velcro
Aerodynamic: smooth, flexible material creates a form-fitting design
Compact: easily fits in jersey pocket or saddle bag
For further information refer to velotoze.com

Bar Fly 4 Max
The Bar Fly 4 Max is a superb mount for the GPS bike computers, offering an easy to use one bolt clamp, compatibility with 31.8 and 35.0 handlebars, and lowered positioning to be inline with the stem. It utilizes Derlin plastic construction, which is friendly to handlebars and GPS computer mounting wings, such as on the Garmin Edge series. The bottom of the 4 Max allows attachment of three different accessory mounts, including a universal GoPro finned style mount, a light mount, and a Di2/EPS junction box. It's designed to accommodate a broad range of computers, including the new large format Garmin Edge 1000. The 4 Max is compatible with Garmin, Joule, Cateye, Mio and Magellan computers, and can fit the Garmin 310/910/920XT watches with the QR mount.
Bar Fly has an excellent Lifetime warranty, with a no question asked replacement policy. They sell the 4 Max mount with the three accessory mounts for $39.95.
For additional information refer to barflybike.com and a full review at Review – Bar Fly SLi GoPro Mount Bundle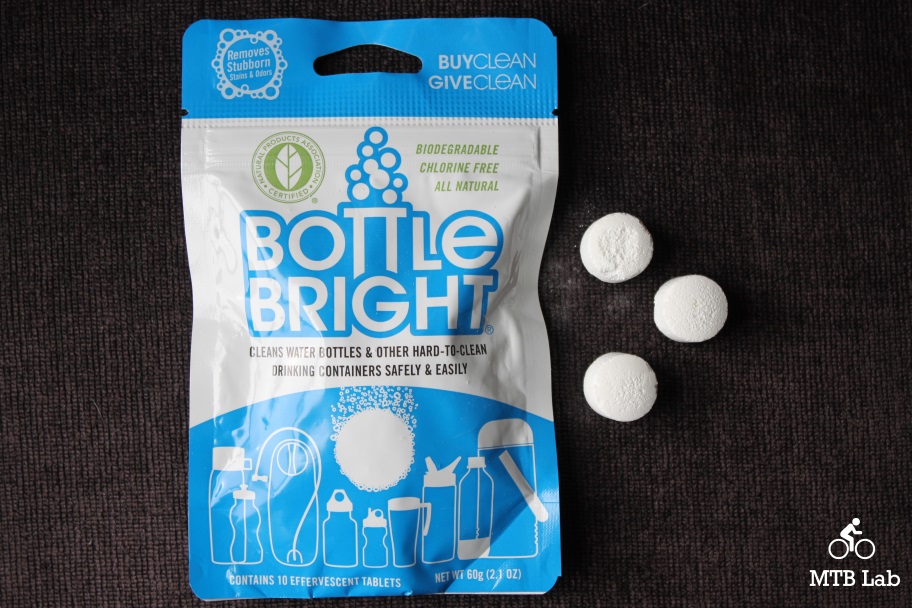 Bottle Bright
Bottle Bright effervescent tablets provide the best solution for cleaning your hydration vessels and containers. Whether it's a water bottle, soft flask, reservoir, travel mug, baby bottle or thermos, we offer the safest and most effective method to care for your hard to clean drinking containers. Our biodegradable and non-toxic formula bubbles away grime and breaks down to inert natural substances and is certified by the Natural Products Association. With every purchase you make, Hydrapak gives an equal amount of Bottle Bright to people in developing nations who are in vital need of clean water containers. Buy Clean. Give Clean.
Available in 10 tablet pack for $7.99.
Features
Removes stubborn stains and odors
Biodegradable, chlorine free, all natural
Safe and environmentally safe – Chlorine-Free
Cleans a large variety of shapes and sizes of hydration vessels and containers
Easy to Use for people of all ages
Cleans dust, dirt, coffee stains, and other stains
Gives your bottle a brand new and fresh look
Gets inside your bottle unlike dishwashers
Certified by The Natural Products Association
Environmentally Friendly Packaging
Made in the USA
For further information refer to bottlebright.com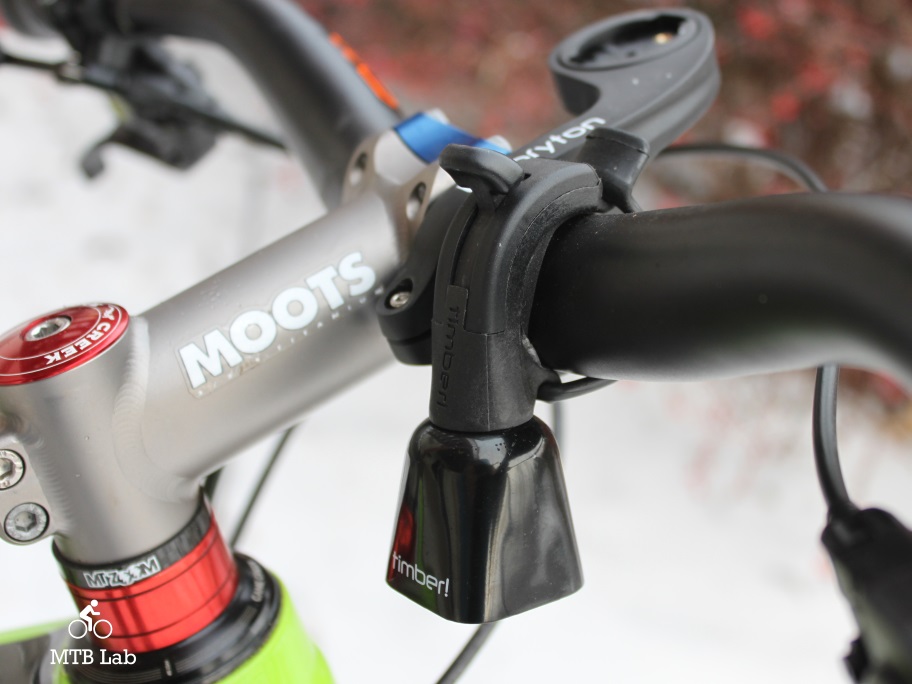 TIMBER
TIMBER is the first bicycle bell designed exclusively for mountain biking. Our goal was simple: awareness when you need it, and silence when you don't. We based the design of our mountain bike bell on the iconic cowbell, only updated with a more modern look. A simple on/off lever controls the internal clapper. Slide it down for on, up for off. Or set it in between for a quieter sound.
The motion of the bike activates the sound. Because the sound is passive, you communicate to other trail users a friendly,  "Hey, I'm just letting you know I'm here."  The advance notice gives hikers or oncoming riders time to find a safe place to move off the trail.  The mountain bike bell mounts on your handlebars within easy reach of your hands. Fits all handlebar diameters: from standard 22mm all the way to 35mm DH style. Mount it on the bars for occasional use, or directly on the grips for instant shifting between silent and ring mode. It's quick release, so you can quickly move it to another bike. The original QR model and the new bolt-on both retail for $20.
For further information refer to mtbbell.com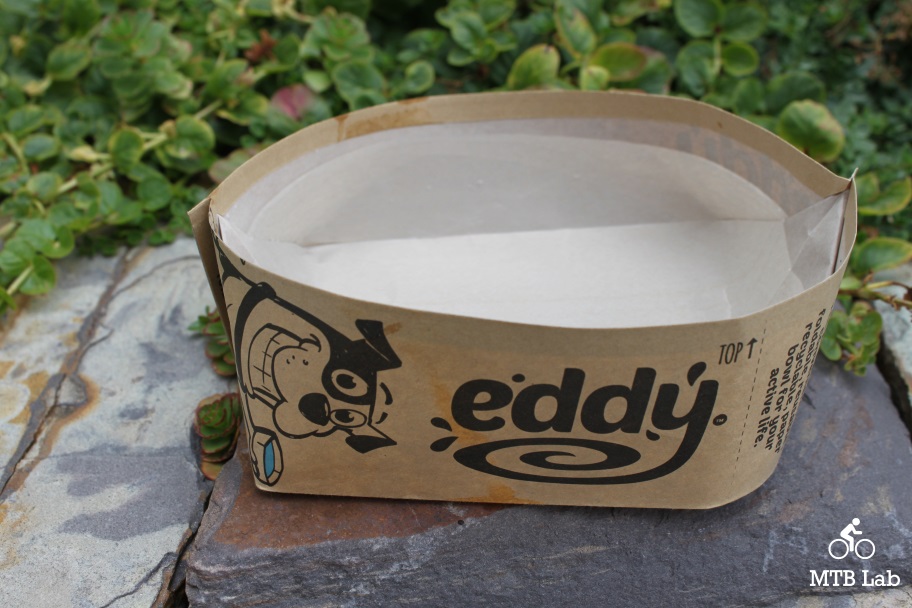 Eddy Bowl
Eddy Bowl is a convenient, portable, reusable, recyclable, sustainably sourced water and food bowl for pets when you're out on the go. Instead of replicating a bowl for your dog by cupping your hands, or carrying a bulky ripstop nylon bowl or a squishy bowl, you now have the compact and functional Eddy Bowl. The Eddy Bowl is extremely compact and lays down flat when not in use, and measures a mere 7.75″ long and 1.75″ wide and 1/32″ thick and weighs just 4 grams. When opened, the bowl fits almost perfectly into the palm of your hand and can hold over 1.5 cups of water or food.
The Eddy Bowl is made from 100% Bamboo fiber and is coated on the inside with PLA for waterproofness. PLA or Polylactic acid is a plant-based aliphatic polyester that is a compostable thermoplastic derived from renewable resources, such as corn starch, tapioca roots, or sugarcane. The Eddy Bowl is recyclable and environmentally sound and doesn't contain any harmful plastics, chemicals, or silicones, so it's pet safe.
The Eddy Bowl is sold in three-packs for $9.99 and 10-packs for $29.99 exclusively online at www.EddyBowl.com. For a full review refer toEddy Bowl Review – Portable, Reusable, and Recyclable Dog Bowl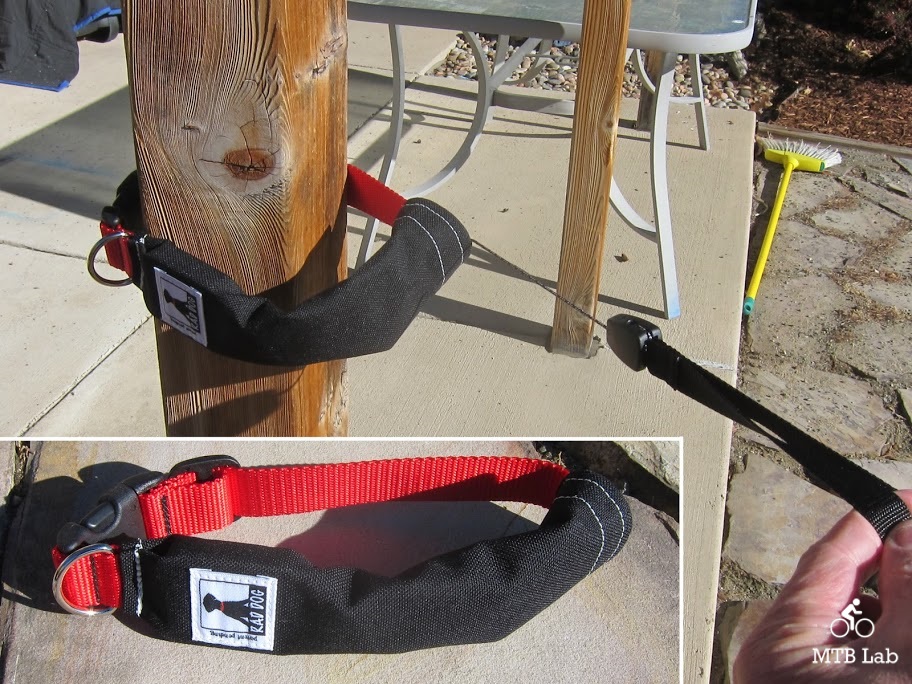 Release N Run Leash Collar
If you regularly take your dog out on rides or hikes with you, there are occasionally times that you need to leash them up. For whatever reason, perhaps you're on a busy street, or you're taking a run down to the coffee shop for an espresso, and you need to look after your companion safely. Or maybe you have an interaction with a cranky hiker/ horse or aggressive dog.  I have resorted to wrapping the leash around my waist or stuffing into a pack or my jacket to carry the thing along with me. The Release N Run is a dog collar with a built-in 4-foot Retractable leash, allowing the strap to fully stow in the dog's collar while not in use. Whenever you need to use the leash, just grab the handle inside the collar and pull on it, and when done, let it go, and it retracts back into the collar. It's made with sturdy Cordura webbing and Spectra cord and comes in four sizes determined by your dog's neck size and approximate weight and retails for $39.95.
For further information refer to myraddog.com